In November 2004, Missouri's SHSP, titled Blueprint for Safer Roadways, was developed in consultation with many safety advocates, including engineers, law enforcement, educators, and emergency responders. Prior to the Blueprint, Missouri never had a statewide safety goal. The Blueprint established the fatality reduction goal of 1,000 or fewer fatalities by 2008.
One of the key principles guiding development of the 2004 Blueprint was deploying targeted strategies at both the state and regional level. The document outlined a strategy to organize 10 regional safety coalitions designed to work in concert with the Missouri Coalition for Roadway Safety (MCRS). As soon as the Blueprint was published, champions pushed very hard to sell the goal and promote shared responsibility through individual meetings within each region. Presentations promoted the "Essential Eight" strategies Missouri must implement to make significant progress in reaching the projected goal. The Champions helped establish regional coalitions and provided the coalitions with safety planning toolkits, including data packages, copies of the Blueprint, and copies of the National Cooperative Research Program (NCHRP) 500 Series.
Before the Blueprint, no forum existed for regional multidisciplinary discussions on safety. Purpose and procedural guidelines now document the organizational structure and activities of the MCRS and Regional Coalitions. The 10 regional coalitions are charged to:
Assist with the implementation of the Blueprint;
Conduct regional data analysis to guide highway safety activities;
Expand regional safety network and partnerships;
Actively participate in MCRS meetings, campaigns, and promotions;
Develop a localized safety plan for the region; and
Facilitate the expenditure of allocated funds.
Participation in the coalitions is open to any national, state, regional, or local organization and any individual. The MCRS includes an Executive Committee with representatives from over a dozen agencies and organizations, and is presided over by a chair and vice chair. Nine subcommittees were also established to effectively address the mission of the Coalition on a statewide level, including: Commercial Motor Vehicle, Elder Mobility and Safety, Enforcement, Impaired Driving, Infrastructure, Legislative, Public Information, Strategic Planning and Implementation, and Traffic Records Coordinating.
In each regional coalition, the corresponding Missouri Department of Transportation (MoDOT) district office and Missouri State Highway Patrol troop help facilitate meetings, expand coalition membership, develop and implement regional strategic highway safety plans, and distribute funding. In addition, MoDOT trained a representative from each district to provide data analysis support to each regional coalition.
Two-million dollars of state road funds are offered each year to support regional safety plans activities. Annual grant applications are submitted to MoDOT for enforcement and education programs supporting Blueprint priorities. Previously, such programs had been supported exclusively through Federal Section 402 funds with project selection by the MoDOT Highway Safety Office. Regional safety plans developed by local stakeholders can provide more targeted programs. MoDOT also utilizes district safety funds to support regional engineering projects.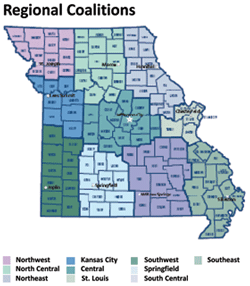 The MCRS meets quarterly, including an Executive Committee meeting and discussion with regional coalition contacts before an afternoon meeting with the broader statewide coalition. Every other year the MCRS holds a Blueprint Conference and uses state funds to bring up to 10 representatives from each regional coalition. The conferences combine presentations with participatory working groups. Statewide and regional coalition members played an active role in the 2008 update, Blueprint to Arrive Alive, which, among other changes, expanded the original "Essential Eight" to the "Targeted Ten" strategies to improve safety. The Blueprint appendices include data for each coalition, which are updated annually. MCRS also sends out a weekly e-mail with updated statewide and regional fatality counts. All of the above activities are designed to keep safety on the forefront and to maintain regular communication and collaboration among safety stakeholders.
Key Accomplishments
Established collaborative, multidisciplinary, regional partnerships pursuing common safety goals.
Funded localized safety programs addressing Blueprint priorities via 10 annual regional safety plans.
Results
Together, the MCRS and Regional Coalitions have embraced the elements of the Blueprint and implemented a comprehensive, coordinated, and focused effort to reduce fatalities and disabling injuries on Missouri roads. Missouri's original fatality reduction goal of 1,000 or fewer fatalities by 2008 was met one year early. Regional Coalitions have expanded their number of partners and regional safety plans include a wider variety of localized safety programs.
Contact
Leanna Depue, Ph.D.
Highway Safety Director
Missouri Department of Transportation
573-751-7643
leanna.depue@modot.mo.gov