The Nevada Departments of Transportation and Public Safety published the State's first Strategic Highway Safety Plan (SHSP) in September 2006. In April 2010, the Departments conducted a series of road show meetings across the state in an effort to further engage safety stakeholders and educate them about the SHSP, provide an opportunity for input into the SHSP update, and market the October 2010 SHSP Summit.
Nevada has created a master SHSP e-mail list that includes engineers, law enforcement officers, transportation planners, education specialists, health care providers, injury prevention practitioners, emergency responders, citizen activists, and anyone else concerned about traffic safety. In April 2010, more than 100 people attended the meetings held in four locations. The format for each of the Road Show meetings involved presentations from the two state leaders of the SHSP and a facilitated discussion with participants.
During the meetings, Road Show participants learned about Nevada's new zero fatality goal. They were also given an opportunity to describe existing programs that address the critical emphasis areas of the SHSP. This exercise in enumerating programs was also used as an opportunity to promote the Nevada Big Book of Safety and identify programs not documented in this clearinghouse for Nevada's traffic safety-related projects and programs. The Big Book of Safety is on-line and intended to be a quick-access, searchable list for agencies and the public to use as-needed for research, contact information, and details on Nevada's traffic safety initiatives. The Big Book is a living document and will be updated as feedback is received from participating agencies and stakeholders about program details, additions, removals, or corrections.
Road Show participants provided ideas and suggestions for safety programs and activities that could be included in the SHSP update. Finally, participants heard about funding and other resource opportunities.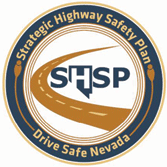 Key Accomplishments
Engaged over 100 stakeholders representing 4Es of safety and different levels of government.
Held 4 road show meetings to collect stakeholder input to inform SHSP update process.
Renewed enthusiasm for the statewide safety efforts.
Results
Presenters and attendees agreed the meetings were a success and accomplished the objectives – stakeholders learned about the SHSP process, their interest was piqued, and it created opportunities for potential synergies among the various safety groups. It was also a good way to get people energized and interested in the upcoming Traffic Safety Summit. Not one of the meetings ended early and most people wanted to continue to talk. The press attended two meetings, including a local Las Vegas television station.
Contact
Chuck Reider
Chief Safety Engineer
Nevada DOT
775-888-7335
creider@dot.state.nv.us