On December 4, 2015, the Fixing America's Surface Transportation Act of 2015 (the "FAST Act" or "Highway Funding Act") was signed into law replacing MAP-21. Please review below the summary of ERFO Program changes brought about by the FAST Act.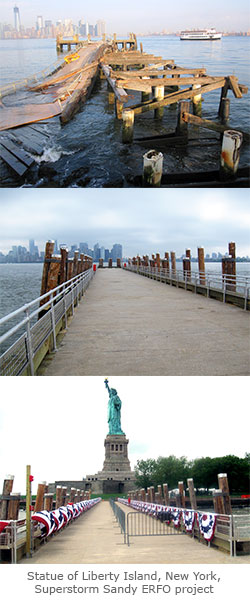 The Emergency Relief for Federally Owned Roads Program, or ERFO Program, was established to assist federal agencies with the repair or reconstruction of tribal transportation facilities, federal lands transportation facilities, and other federally owned roads that are open to public travel, which are found to have suffered serious damage by a natural disaster over a wide area or by a catastrophic failure.
The intent of the ERFO program is to pay the unusually heavy expenses for the repair and reconstruction of eligible facilities.
The ERFO program is not intended to cover all repair costs but rather supplement Federal Land Management Agency (FLMA) repair programs. Repairs are classified as either emergency or permanent repairs.
Emergency repairs are those repairs undertaken during or immediately after a disaster to restore essential traffic, to minimize the extent of damage, or to protect the remaining facilities. Prior approval is not required, however all other eligibility requirements of the program still apply.
Permanent repairs are those repairs undertaken after the occurrence of the disaster to restore facilities to their pre-disaster conditions. Prior approval is required.
The ERFO program provides assistance to other federal agencies whose roads meet the definition of "open to public travel" such as: Bureau of Reclamation; Department of Energy (previously under jurisdiction of the Bureau of Reclamation, i.e., owned by the Western Area Power Association); Department of Defense (Military Installation roads); and Surface Deployment and Distribution Command (Defense Access roads).
The Federal share payable for the repair of tribal transportation facilities, federal lands transportation facilities, and other federally owned roads is 100 percent under the ERFO Program. Funds for the ERFO Program are provided from the Highway Trust Fund and the General Fund through the Emergency Relief Program for Federal-aid Highways. ERFO funds are not to duplicate assistance under another Federal program or compensation from insurance, cost share, or any other source.
The Office of Federal Lands Highway is responsible for efficient and effective management of public funds entrusted by Congress and for ensuring that the ERFO Program is administered consistent with laws, regulations, and policies.
Applicants are expected to prioritize the repair of ERFO projects that are in the public's best interest, based on available funds. Federal agencies and local government entities have the responsibility to perform emergency repairs, shift project and program priorities, give emergency relief work prompt attention and priority over non-emergency work, and assist the Office of Federal Lands Highway in its stewardship and oversight responsibilities.
Updated:
Monday, July 31, 2023