The Office of Federal Lands Highway (FLH), of the US Department of Transportation (USDOT), Federal Highway Administration (FHWA), was established to promote effective, efficient, and reliable administration for a coordinated program of federal public roads and bridges; to protect and enhance our Nation's natural resources; and to provide needed transportation access for Native Americans. Our primary purpose is to provide financial resources and transportation engineering assistance for public roads that service the transportation needs of Federal and Indian lands. The FLH provides these services in all 50 states, the District of Columbia, Puerto Rico, and US Territories through our Headquarters, Eastern, Central, and Western Federal Lands Highway Division offices.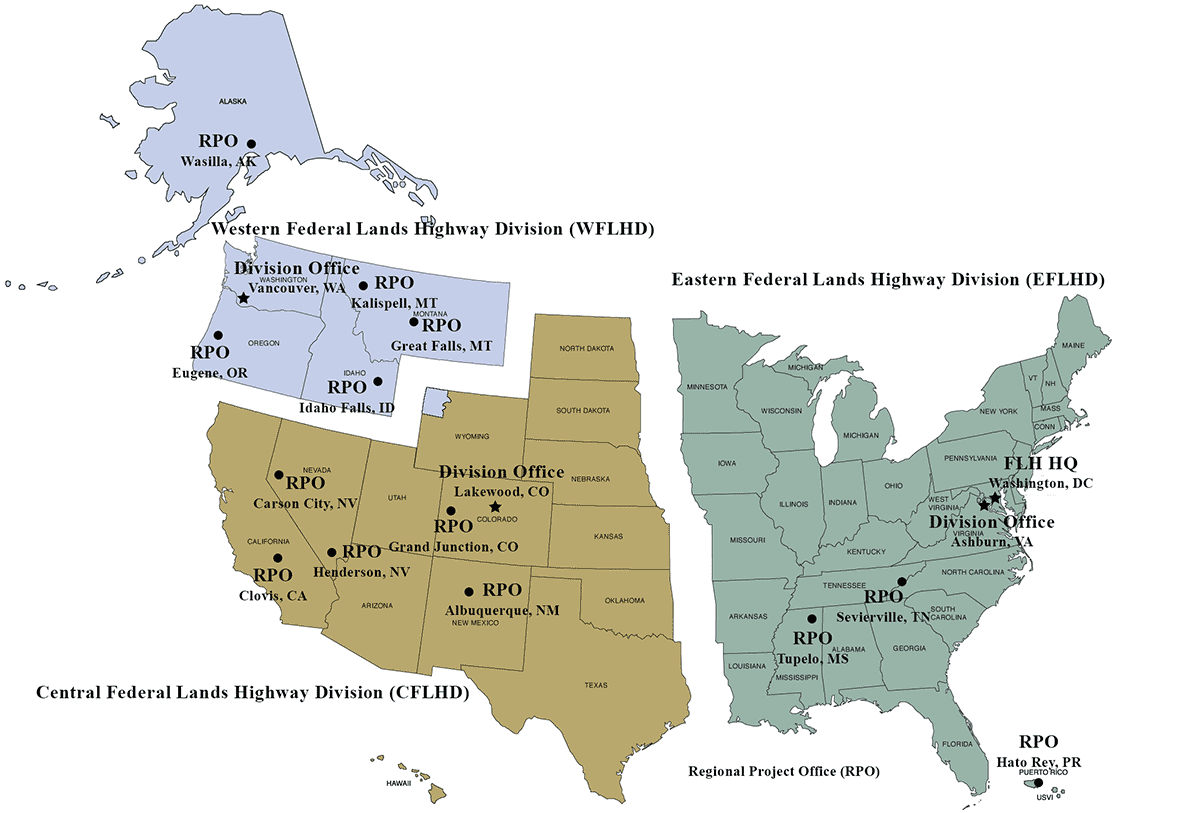 Who We Are
FLH is enabled and entrusted to administer many different programs and types of funds to facilitate transportation improvements for our many Federal Land Management Agency Partners such as: the National Park Service (NPS); USDA Forest Service (Forest Service); U.S. Fish and Wildlife Service (USFWS); Bureau of Indian Affairs (BIA) and Tribal Governments; Bureau of Land Management (BLM); Department of Defense (DOD); U.S. Army Corps of Engineers (USACE); and the Bureau of Reclamation (BOR).
Our partners rely upon FLH to solve and manage unique program and project challenges that are wide-ranging in environment, geography and complexity, through engineering solutions that are sensitive to the context of the land. Each Division office provides training, technology deployment, engineering services, and products to an increasing array of customers.
We are often confronted by unique terrain, challenging work restrictions, and uncompromising deadlines. Whether it is building highly visible and political projects, constructing roads that are national landmarks, or providing critical access on rural low-volume transportation facilities, FLH is at the forefront delivering consistently distinct and sound engineering projects.
What We Do
Since the early 1900's, the Office of Federal Lands Highway (FLH) has assisted its federal land management agency partners in the design and construction of aesthetically pleasing and environmentally sensitive highway and bridge projects. This includes the original planning, design and construction of many roads within our National Parks and National Forests. FLH delivers projects through strong project management from inception to completion, working closely and coordinating constantly with our partners to facilitate delivery. To ensure successful delivery, FLH must apply innovative and diverse solutions to the unique projects we undertake. Context sensitivity, a design philosophy ingrained in our culture, is critical to meeting the unique missions, values and needs of our partners and the public. The FLH works with its partners to build roads that meet the transportation community's standards while balancing, respecting and protecting the resources in which they are located.
As demonstrated over the last 100 years, FLH continues to be called upon to facilitate a wide variety of complex or non-traditional projects involving new or multiple partners. The Federal public roads we service protect and enhance natural and cultural resources, sustain economic development in rural areas, support recreational travel and tourism, resource management and electric power generation, and provide needed transportation access for Native Americans and Alaska/Pacific Natives. Some roads serve as a critical lifeline to communities such as the Metlakatla Indian Tribe who depend on Walden Point Road near Ketchikan, Alaska. The FLH was asked to lead such regionally significant projects as the construction of the Hoover Dam Bypass over the Colorado River Gorge in Nevada and Arizona and the reconstruction of Pennsylvania Avenue in front of the White House in the District of Columbia. The FLH also works with the Department of Defense, the Fish and Wildlife Service, the Bureau of Land Management, the Bureau of Reclamation and state departments of transportation to assist with a variety of federal and state projects. Great examples are some of the major projects delivered as part of the Defense Access Road Program. Hawaii's Saddle Road, an important cross-island link, provides military and public access to a base, as well as to public lands and forest areas. In Virginia Fort Belvoir's, Mulligan Road Project reopened public roads within the Fort that were closed after the 9/11 terrorist attack. Many FLH projects receive honors and recognition for excellence in design, construction, project management, aesthetics, historic preservation and environmental sensitivity.
Vision
A safe, reliable, equitable, and resilient transportation system for all those accessing Federal and Tribal Lands.
Mission
We deliver innovative and context sensitive transportation solutions in alignment with our partners' missions and values.
Updated:
Thursday, July 13, 2023