Welcome to the Federal Lands Highway Program, of the Federal Highway Administration (FHWA), Freedom of Information Act web page. The following information is intended to familiarize you with the specific procedures for making a request for records controlled by Federal Lands Highway.
The Freedom of Information Act (FOIA), Title 5 of the United States Code, section 552, generally provides that any person has the right to request access to federal agency records of information. All agencies of the U.S. Government are required to disclose records upon receiving a written request, except those records that are protected from disclosure pursuant to nine exemptions and three exclusions of the FOIA. The FOIA applies only to federal agencies and does not create a right of access to records held by Congress, the courts, or by state or local government agencies. Any requests for state or local government records should be directed to the appropriate state or local government agency.
Please follow the steps listed below when submitting a FOIA Request for Federal Lands Highway Program documents:
All requests should be made in writing and should include: requestor's name, mailing address, email address (if applicable) and a telephone number (provide time frames for contact during regular business hours
Clearly indicate that the request is being made under the FOIA
Provide information describing the documents being sought
Requests should be sent to the corresponding Federal Lands Division Office as per the state for which you are inquiring, please refer to this map for indication of which Division Office to contact: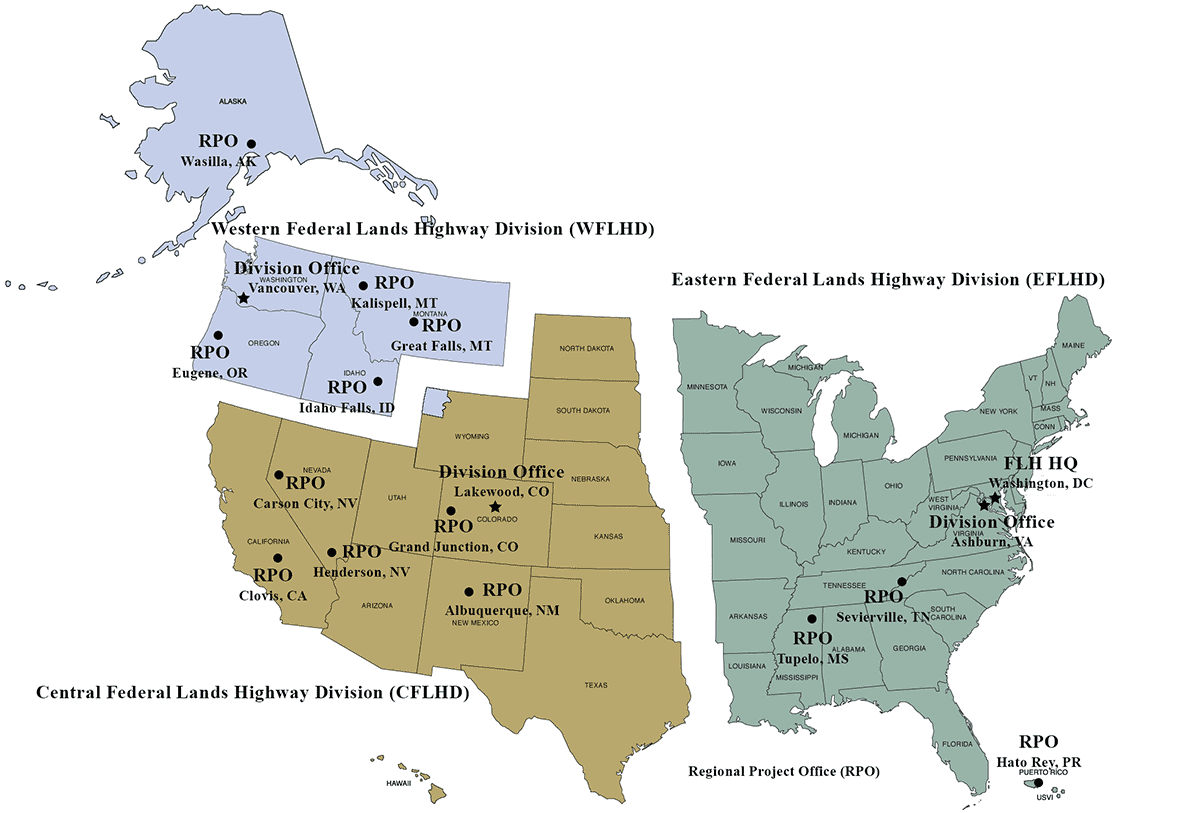 Please contact the Federal Lands Highway Headquarters FOIA Officer for requests related specifically to FLH programs and policies.
Office of Federal Lands Highway (FLH HQ)

Attn: FOIA Officer
1200 New Jersey Avenue, SE.
Washington, DC 20590
Email: Jewell.Bolding@dot.gov
Phone: 202-366-9493
Fax: 202-366-7079
Please contact the Federal Lands Highway Division Office responsible for your state, as per map above.
Eastern Federal Lands Highway Division (EFL)

Attn: FOIA Officer
22001 Loudoun County Parkway
Building E2, Suite 200
Ashburn, VA 20147
Email: tiffany.kesler@dot.gov
Phone: 703-948-1400
Fax: 703-404-6217
Central Federal Lands Highway Division (CFL)

Attn: FOIA Officer
12300 Dakota Ave.
Lakewood, CO 80228
Email: shannon.schreiner@dot.gov
Phone: 720-963-3488
Fax: 720-963-3466
Western Federal Lands Highway Division (WFL)

Attn: FOIA Officer
610 E 5th Street
Vancouver, WA 98661
Email: WFLFOIA@dot.gov (Christine Swift)
Phone: 360-619-7700
Fax: 360-619-7846
Updated:
Tuesday, May 24, 2022