Career entry and student employment programs enable students to obtain job experience in their field of interest and engage in public service. Most of our student interns have the opportunity to work on one of our construction job sites located across the country, while some work in one of the Federal Lands Highway Division offices located in Ashburn, Virginia; Lakewood, Colorado; and Vancouver, Washington.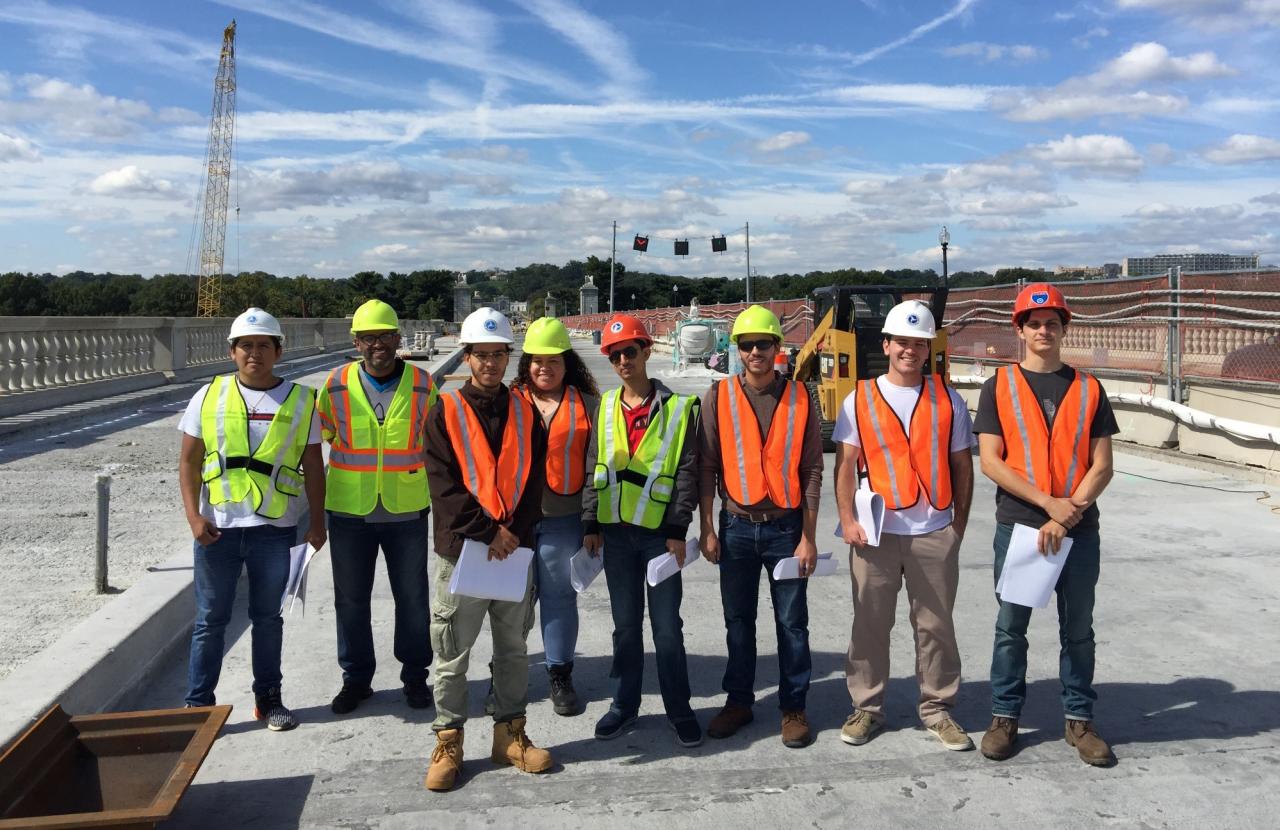 Arlington Memorial Bridge Reconstruction Field Trip, Washington DC
Through the Pathways Program, the Division offices hire college students majoring in Civil Engineering, Construction Engineering Management, Geomatics (Surveying) Engineering, Environmental Engineering, etc. to fill short-term staffing needs. This program is a mechanism for recruitment into entry-level positions within FLH. The program provides an excellent opportunity for on-the-job experience, preparing the student for potential future consideration for employment with the Federal Highway Administration and the transportation industry.
Eligibility Requirements
Current students must be U.S. Citizens in an accredited college (including 4-year colleges/universities, community colleges, and junior colleges); advanced degree programs; or other qualifying educational institution pursuing a qualifying degree or certificate.
Features of the Program
You may be employed year-round and appointments may be made at any time during the year, including summer.
You may work full-time or part-time schedules. You can adjust your work hours to fit your schedule, without exceeding 40 hours per week. Your work schedule should not interfere with your academic schedule.
Students in the program may be non-competitively converted to a career or career-conditional appointment when they have:
Completed at least 640 hours of career-related work
Completed the educational requirements for graduation
Received a positive performance evaluation and recommendation from the office in which they worked as an Intern.
Interns are assigned under many different disciplines based on their focus area and the needs of the division office. Assignments may include travel throughout the U.S. These Disciplines include: 
Benefits of Program Participation
Flexible work schedule
Professional work environment
Annual leave, Sick leave & Paid holidays
Health benefits and Life insurance
Salaried position
Public Transportation subsidy (where applicable)
Veteran preference candidates are encouraged to apply.
Pathways Program for College Students & Recent Graduates
For more information on the Pathways Program and to start the application process visit USAJOBS Pathways.
How to Apply
Vacancies for the Pathways Internship program are posted on USAJOBS. Interested candidates should establish an account on USAJOBS, and may sign up for email notifications on job postings. FHWA vacancies will be posted under the heading "FHWA Pathways Internship".
Create your USAJOBS Account in advance. Go to USAJOBS and click on "My Account".
Upload or create a resume: From "My Account", select "Resumes".
Review the vacancy announcement.
Keep your account updated.
If you are in need of help with the USAJOBS website and application process please visit the USAJOBS Help Center.
Student Summer Internships
The U.S. Department of Transportation (USDOT), Federal Highway Administration (FHWA) provides The Summer Transportation Internship Program for Diverse Groups (STIPDG) a unique opportunity to gain valuable professional experience and skills that will complement your academic pursuits. This hands-on program is designed to mentor and cultivate tomorrow's leaders, strengthen their understanding of the transportation industry and prepare them for future public service opportunities.
The STIPDG is a paid internship program open to all qualified candidates without regard to their race, gender, color, religion, sexual orientation, national origin, age, physical or mental disability, veteran status, or any other characteristic prohibited by state or local law.
For more information on the STIPDG Program visit the FHWA STIPDG page.
Updated:
Wednesday, February 8, 2023