Road Safety Fundamentals
Concepts, Strategies, and Practices that Reduce Fatalities and Injuries on the Road
November 2017

New Web-based Training Opportunity

Road Safety Fundamentals (FHWA-NHI-380124A) is a web-based introductory roadway safety course that covers main concepts included in the Road Safety Fundamentals textbook.

The course is free!
The Road Safety Fundamentals textbook introduces fundamental concepts of road safety. These concepts cover areas such as the nature of road safety issues, human behavior in the road environment, and identifying and solving road safety problems. The goal of this book is to equip the reader with a broad base of knowledge about road safety.
There are two primary audiences for the text book:
Practitioners with jobs that address some aspect of roadway safety, particularly in a public agency setting. This is especially relevant for individuals who have been tasked with managing road safety but who do not have formal training in road safety management. In order to show practical applications of each road safety concept, this book contains many examples that demonstrate the concepts in real-world settings.
Professors and students in a university setting who use the textbook to explore concepts and practices in roadway safety.
Professionals with a background in engineering, planning, public health, law enforcement, and other disciplines will also benefit from the concepts presented here.
Get Started
This book is divided into five units according to major topics of road safety knowledge. Each unit is divided into multiple chapters that address the primary concepts of the unit. The book is available in PDF (print version) and HTML.
Please send questions and comments about Road Safety Fundamentals to rspcb@dot.gov.
---
Unit 1. Foundations of Road Safety
Chapter 1: Context of Road Safety
Chapter 2: Road Safety Through the Years
Chapter 3: Multidisciplinary Approaches
Chapter 4: Road Users
Unit 2. Human Behavior and Road Safety
Chapter 5: Understanding Human Behavior
Chapter 6: Changing Human Behavior
Unit 3. Measuring Safety
Chapter 7: Importance of Safety Data
Chapter 8: Types of Safety Data
Chapter 9: Improving Safety Data Quality
Unit 4. Solving Safety Problems
Chapter 10: Road Safety Management Process
Chapter 11: Site-Level Safety Management
Chapter 12: System-Level Safety Management
Unit 5. Implementing Road Safety Efforts
Chapter 13: Who Does What
Chapter 14: Road Safety Research
Chapter 15: Strategic Communications
Chapter 16: Advancing Road Safety
PRINT VERSION
The full version of Road Safety Fundamentals. All units, all chapters.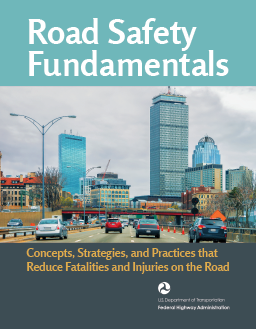 Road Safety Professional (RSP) 1 Certification
The Road Safety Fundamentals textbook is one of the main reference materials used in Road Safety Professional (RSP) Level 1 and Level 2 certification. Learn more about Road Safety Professional (RSP) Certification.
Last updated: Wednesday, October 5, 2022