Section 508 Compliance and Remediation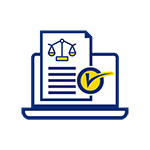 Agency Responsibilities
Those who develop, procure, maintain, or use ICT in a category required to be Section 508 conformant are responsible for ensuring compliance. Do you:
Request documents be posted on the web site, intranet, or SharePoint.
Create or procure services to develop websites, software, or other electronic documents.
Create training material.
Author or finalize a memo or GovDelivery bulletin for distribution either internally or externally.
Send an email or document, either for yourself or on behalf of someone, to other internal or external offices.
Send benefits notices or personnel actions to employees.
Procure multifunction printers, phones, or other telecommunication equipment.
A highly accessible the source product is easier to create the Section 508 conformant version. See Making ICT Accessible for more information.
The FHWA Section 508 Coordination team is not responsible for remediating documents. The program office is accountable for ensuring their 508 conformant products. Contact the FHWA Section 508 Coordination Team with questions.
Report accessibility issues or file a formal complaint
If you have feedback, questions, or concerns relating to the accessibility of any content that interferes with your ability to access the information on the Federal Highway Administration's Information and Communication Technology (ICT), please contact the FHWA Section 508 Coordination Team for assistance.
If you believe that the ICT used by the Federal Highway Administration does not comply with Section 508 of the Rehabilitation Act, you may file a 508 complaint by contacting the FHWA Section 508 Coordination Team. To enable us to respond in a manner most helpful to you, please indicate the nature of your accessibility problem and your contact information.
To file an external or internal program complaint under the American with Disabilities Act (ADA)/Section 504, Anti-Harassment, Equal Employment Opportunity (FHWA employees, applicants only-Title VII), and/or Title VI, please visit the FHWA Civil Rights "File a Complaint" site.

Disclaimer: FHWA is committed to making its Information and Communication Technology (ICT) accessible by meeting the requirements of Section 508 of the Rehabilitation Act of 1973. The tools, resources, criteria and other items provided herein are for internal use by FHWA for ICT it procures, develops, maintains, and utilizes. The U.S. Government assumes no liability for the use by third parties of the information contained in this website. The U.S. Government does not endorse products or manufacturers. Trademarks or manufacturers' names appear on this website only because they are considered essential to the objective of the information.
Last updated: Friday, March 3, 2023