Focus on Reducing Rural Roadway Departures
Why Focus on Reducing Rural Roadway Departures (FoRRRwD)?
Roadway departures (aka lane departures) on the rural road network account for one-third of traffic fatalities. Systemic application of proven roadway departure countermeasures, such as rumble strips, friction treatments, and clear zones, helps keep vehicles in their travel lanes, reduce the potential for crashes, and reduce the severity of those crashes that do occur.
This initiative encourages agencies to address lane departures on all public roads.
Rural RwD Deaths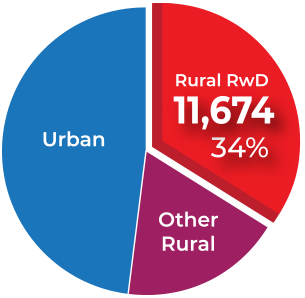 Rural RwD Crash Types
Source: NHTSA FARS 2014-2016
30 people will die today from rural roadway departure crashes.

Let's save the people behind the numbers.
FoRRRwD is supported by four pillars
The pillars work together to help solve this problem in your area. Click on the links below to learn more.
ALL PUBLIC
ROADS
Roadway departure crashes are a major problem on all public rural roads. More than 40 percent of them happen off State networks.
READ MORE ABOUT ALL PUBLIC ROADS »
PROVEN
COUNTERMEASURES
There are many flexible cost-effective countermeasures that are proven to reduce these crashes.
READ MORE ABOUT THE COUNTERMEASURES »
SYSTEMIC
APPROACH
A fundamental challenge on rural roads is that roadway departure crash locations are random and change from year to year.
READ MORE ABOUT THE SYSTEMIC APPROACH »
SAFETY
ACTION PLANS
Documenting the systemic analysis into a simple safety action plan is a powerful way to prioritize safety improvements.
Last updated: Friday, August 25, 2023