Community Pairing Program
The Vision Zero Community Pairing Program provides a platform for sharing information and best practices, assessing strategies and actions, and forging beneficial learning relationships among Vision Zero peers. The ultimate goal of the Program is to help communities prevent fatal and serious injury traffic crashes by creating and fostering long-term partnerships dedicated to saving lives.  
The Community Pairing Program features two types of partnerships. The first type is a mentor-mentee partnership in which a more experienced Vision Zero community is paired with one that is less experienced. In this partnership, a mentee community receives a learning opportunity from a mentor community, and the mentor community may get fresh ideas to improve its current Vision Zero related activities. The second type is a peer partnership in which both communities are in similar stages of adopting their Vision Zero programs. They share experiences, policies and practices and use one another as a sounding board to address their concerns and goals. 
The paired communities focus on topics of mutual interest. The topics can be technical such as quick-build and the Safe System Approach; and non-technical such as community outreach and staffing. 
BACKGROUND
In 2022, FHWA piloted the Community Pairing Program. FHWA adapted select elements from a model in North Carolina. This model focuses on collaborative Vision Zero planning and work, which the University of Carolina at Chapel Hill has been developing for the past several years. 
The FHWA pilot included three community pairs.  The following is a description of the pilot, the successes and lessons learned.  
Participants
The pilot community pairs were:
Richmond, VA and Tampa, FL: mentor/mentee
Portland, OR and Minneapolis, MN: peers
Metro (Portland area MPO), OR and Broward County MPO, FL: mentor/mentee
Pilot Activities
Quarterly Forums
Every quarter in 2022, the pilot communities, including communities that had applied but not been paired in the pilot, met virtually to share some of their efforts.
In February, Mike Sawyer and his colleagues from Richmond, VA presented on their quick build projects. Following the presentation, participants shared their experiences through their practices, lessons learned, and challenges they are working to overcome.
In May, Lake McTighe from Metro (Portland area MPO) and Clay Veka from Portland presented on their joint efforts to address safety on urban arterials in Portland.
In August, Lisa Foster and Robert Vance from Alameda and Alana Braiser from Tampa spoke about their respective communities' Vision Zero staffing recruitment and retention practices. Following their discussions, participants shared their staffing experiences, including challenges and ways to overcome the challenges. Major discussion themes included interdepartmental coordination, dedicating staff to Vision Zero, recruiting and retaining staff, and managing staff burnout.
In November, Ethan Fawley from Minneapolis discussed the city's community engagement and outreach efforts. Following the presentation, participants shared community engagement experiences, best practices, and current challenges. Major discussion themes included prioritizing engagement efforts, finding bandwidth for engagement, evaluating engagement efforts, and coordinating with non-transportation sectors.
Site Visits
Staff from Richmond, VA traveled to Tampa, FL and staff from Tampa traveled to Richmond in April and May, respectively, to learn and gain feedback from one another's Vision Zero implementation efforts. Read a summary of these visits.
Pilot Successes
Participants shared their feedback at the end of the pilot:
Collaborating and sharing stories with another community helped communities prioritize their activities.
It was helpful to build on topics that paired communities had in common and learn from topics they differed on. 
It was helpful to be able to talk about things as they came up throughout the 1-year pilot, rather than packing everything into a two-day (or more) peer exchange. 
Some participants planned to continue meeting beyond the pilot.
The mentorship helped a new VZ community feel comfortable and confident, like it was setting out on the right foot.
Being a mentor helped one MPO reflect on the role of an MPO in Vision Zero - what an MPO can do to be most supportive to cities and counties. 
Being a mentor helped raise a Vision Zero program's level of stature and credibility.
The in-person visits were instrumental in fostering the relationship between the two communities. Participants benefited from collaborating with various local agencies and organizations; and being in-person prompted questions that may not have come up virtually. 
Monthly meeting with FHWA and Volpe was helpful in keeping the participants on track.
The quarterly webinars gave ideas for topics to touch on in the one-on-one meetings.
Improvements from Pilot
Participants also shared their suggestions for improvements:
The monthly meetings with FHWA and Volpe could be more structured and include:

Subject matter experts.
Updates on national level efforts, funding opportunities or programs on the horizon.
Discussion of what the participants can do at the State level to support national level efforts.
Potentially fewer meetings.

For the next round, select one or two particular topics for each pair to focus on. Focus examples include: updating Vision Zero action plans, a particular legislative agenda, and specific infrastructure implementation.
2023 VISION ZERO COMMUNITY PAIRING PROGRAM
The Vision Zero Community Pairing Program advanced from the pilot to the actual Program in 2023. Six community pairs kicked off their two-year partnerships in January 2023:
Daly City, CA - Deerfield Beach, FL: mentor/mentee              
Richmond, VA - Trenton, NJ: mentor/mentee
New York City, NY - Greensboro, NC & Alameda, CA: mentor/2 mentees
Bellevue, WA - Houston, TX: peers
Boston, MA - Hoboken, NJ: peers
DRCOG (Denver Regional Council of Governments), CO - Metro (Portland area MPO), OR: peers
The Program format follows that of the pilot with several changes and improvements. To make the most out of the partnerships, the partners will focus on fewer topics that are critical to the communities' efforts to reach their goals of zero road fatalities and serious injuries.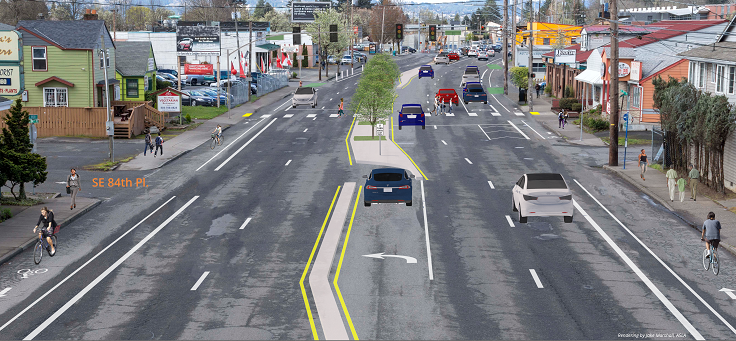 Last updated: Tuesday, March 28, 2023