Pavement Markings Regulations / Standards
On August 5, 2022, FHWA published a final rule in the federal register adding new provisions to the Manual on Uniform Traffic Control Devices (MUTCD) relating to maintaining minimum levels of pavement marking retroreflectivity. The new provisions in this final rule will be incorporated into Revision 3 of the 2009 edition of the MUTCD.
Visit the MUTCD website for additional information on this and other changes to the MUTCD.
For hard copies of documents with publication numbers, please send a request to report.center@dot.gov and include the publication number and title, along with the number of copies and your mailing address and phone number. Requests will be filled based on availability.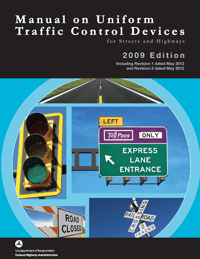 For information about traffic control devices and the Manual on Uniform Traffic Control Devices (MUTCD), other than visibility or retroreflectivity, please see FHWA's MUTCD website
Last updated: Friday, August 25, 2023