Location and Height of Signs
When installing a sign for the first time or as a replacement to an existing sign, the sign technician should be aware of the requirements for its position on the roadside. Signs are positioned longitudinally along the road, laterally from the edge of the road, and vertically above the ground. If a sign replacement is warranted, the sign technician should not assume the original sign was placed correctly. It is important to check the location of the support and the mounting height of the sign above the roadway to ensure the sign is visible and crashworthy.
The longitudinal location of the sign is dictated by the sign type and the specific situation. There are too many different situations to cover in this guide, so refer to the current edition of the MUTCD, your State standards and/or directives, and your agency's requirements.
The figures on the next page represent the recommended height and lateral location as provided in the MUTCD.
WHEN INSTALLING A NEW SIGN CHECK WITH YOUR UTILITY COMPANY AND ANY OTHERS WHO MAY HAVE UNDERGROUND CABLES AND CONDUITS.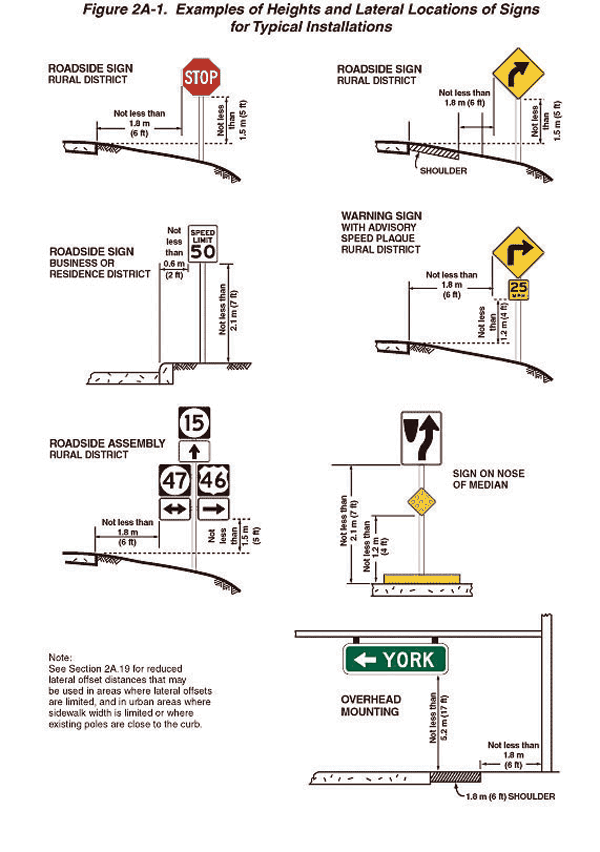 Source: MUTCD, 2009
Positioning Signs
To obtain maximum retroreflection from traffic signs, yet eliminate specular glare, signs should be correctly aligned. Specular glare is the mirror type reflection characteristic of any glossy surface. Under severe circumstances, such as direct sunlight, specular glare can make the sign legend unreadable. Often this becomes apparent from driver complaints. To avoid the occurrence of specular glare, signs should be positioned slightly more than perpendicular to the roadway (93 degrees is recommended by sheeting manufacturers).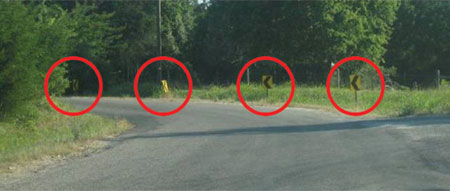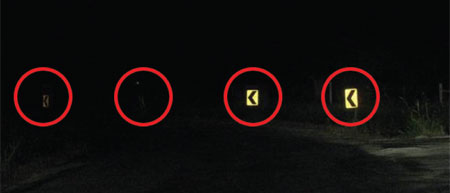 When signs are out of proper alignment, they will not be as visible at night.