NOTEWORTHY PRACTICE
FHWA-SA-19-016
A major focus of the Birmingham Metropolitan Planning Organization's regional safety plan is to improve driver behavior on the region's roadways.
High-Risk Behavior
The Birmingham Metropolitan Planning Organization (MPO) coordinated with the Alabama Department of Transportation and the Regional Planning Commission of Greater Birmingham (RPCGB) to establish the Birmingham Regional Safety Coalition.1 The coalition identified the top four emphasis areas for the Birmingham area:
Distracted driving.
Impaired driving.
Speed-related crashes.
Young drivers.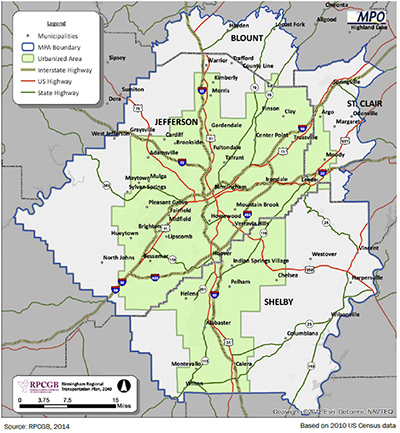 Behavioral Safety Initiatives
The Birmingham Regional Safety Coalition established partnerships and identified funding opportunities to better develop and implement behavioral safety initiatives at the regional level. The approaches for two of the emphasis areas (distracted driving and young drivers) are highlighted below:
Distracted-Driving Emphasis Area
The University of Alabama at Birmingham (UAB) partnered with the MPO to develop strategies to address distracted driving.2 These include:
Increase awareness of distracted driving.

Use media and other outreach methods to increase public awareness of distracted driving.
Expand the use of simulators to educate drivers on the dangers of distracted driving.
Address distracted-driving legislative policy issues.

Increase distracted-driving enforcement.

Make safety target and coordinate enforcement.

Implement infrastructure improvements to reduce the severity of injuries sustained in distracted-driving crashes.

Install edge line and centerline rumble strips on at-risk rural roads to alert drivers of possible lane departures.
Continue installing guardrail appropriately and repairing when needed.
Install lighting and dynamic warning signs at rural intersections.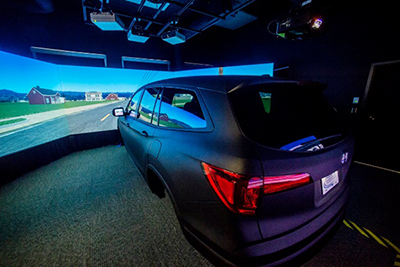 Young-Driver Emphasis Area
To address crashes involving young drivers, the Birmingham MPO and UAB initiated a distracted-driver simulator program to educate young drivers on the dangers of distraction. To support these safety initiatives, the MPO increased planning funds for safety initiatives with matching funds from UAB.
The approach is to increase public awareness of young driver issues by:
Implementing a media campaign to help the public understand Alabama's graduated driver licensing (GDL) requirements.
Communicating safe driving behaviors to young drivers and prepare preteens for the responsibility of safe driving.
Educating parents about the issues related to teen driving.
In response to this initiative, Alabama recently passed a new GDL law.3 The law strengthens the GDL program by implementing provisions that require 50 hours of supervised driving in the learner stage (age 15), and nighttime and passenger restrictions for the intermediate stage (age 16 through 18). It also increases penalties for young drivers and their parents.
Contact Information
Michael Kaczorowski, Principal Planner, Regional Planning Commission of Greater Birmingham, mkaczorowski@rpcgb.org, (205) 264-8444.
References
1 Alabama Department of Transportation. Appendix B: Regional Planning Commission of Greater Birmingham Regional Safety Plan. Alabama Strategic Highway Safety Plan. July 2017. https://www.dot.state.al.us/dsweb/divted/TrafficSOS/pdf/Alabama_SHSP_081117.pdf.
2 The University of Alabama at Birmingham. First-of-Its-Kind Driving Simulator Lab at UAB Powered by Donation from Honda Manufacturing of Alabama and ALDOT. April 21, 2016. https://www.uab.edu/news/research/item/7253-first-of-its-kind-driving-simulator-lab-powered-by-donation-from-honda-manufacturing-of-alabama-and-aldot.
3 Alabama Legislative Services Agency. 2017-358, HB29. https://legiscan.com/AL/text/HB29/2017.
Page last modified on November 18, 2019