Showcasing Highway Research
FHWA recently put its work on display at an inaugural event to highlight innovative technologies.
Unmanned aerial systems provide high-quality data and imagery where traditional data collection practices are inadequate or sites are difficult to access for bridge inspection, field surveys, geotechnical investigations, and routine construction inspection.
Research and technology are key ingredients for helping the Federal Highway Administration reach its mission to enable and empower the strengthening of a world-class highway system.
On September 18, 2019, FHWA hosted its first-ever Research Showcase at the U.S. Department of Transportation's headquarters in Washington, DC. The event featured innovations developed through FHWA's Office of Research, Development, and Technology (RD&T), located at the Turner-Fairbank Highway Research Center (TFHRC), and other FHWA offices.
The FHWA Research Showcase featured 25 exhibits and demonstrations, and 3 presentations that provided representatives from USDOT modes and other highway stakeholders with a first-hand look at the latest transportation technology. During the event, attendees had the opportunity to interact with leading researchers and innovative technologies such as:
CARMASM, which enables automated vehicles to share information with each other and roadway infrastructure, and to manage complex traffic issues that human drivers deal with daily.
Ultra-high performance concrete (UHPC), the most technologically advanced concrete available in today's market. UHPC is 5 times stronger and 10 times more durable than conventional concrete.
A hand-held spectrometer, which offers the potential to improve infrastructure performance by making it possible to very quickly determine whether materials brought to the project site meet agency requirements.
An FHWA Hydraulics Research Program's mobile robotic system that automates the current riverbed material testing process, which can be time consuming and labor intensive.
The event also highlighted the importance of multimodal collaborations that support "one DOT." FHWA Administrator Nicole R. Nason noted how the "incredible research work being conducted by the FHWA plays an important role in improving our current and future highway and bridge infrastructure and its benefits are seen across nearly all modes of the USDOT," most notably in the multimodal efforts related to connected and automated vehicle research.
In addition, TFHRC plays a key role in ensuring that FHWA research extends beyond USDOT. At the event, U.S. Secretary of Transportation Elaine L. Chao said, "The research being conducted at the Federal Highway Administration's Turner-Fairbank Highway Research Center—in partnership with universities, startups, and industry stakeholders—has helped to advance transportation innovation. This work includes development of innovations in materials, designs, operations, and safety." She also noted that the research and technology developed at TFHRC "has enabled the highway system to move people and freight more safely and has contributed to the economic success of our country."
Stacy Balk, who supports TFHRC's Human Factors program, shows a showcase visitor how to use FHWA's virtual reality bicycle. This technology provides an opportunity to explore and investigate new infrastructure and safety enhancing techniques, without the safety risks of real-world evaluation.
Secretary Chao welcomes visitors to the FHWA Research Showcase.
Administrator Nason inspects a hand-held spectrometer with Terry Arnold, a chemist at TFHRC. The technology can quickly assess the composition of highway materials to detect the presence or absence of various constituent materials.
The RABIT™ bridge deck assessment tool collects comprehensive data on surface and subsurface conditions.
David Kuehn, program manager of the Exploratory Advanced Research (EAR) Program, engages visitors at the EAR table. The EAR Program addresses the need to conduct longer term and higher risk breakthrough research with the potential for transformational improvements to plan, build, renew, and operate safe, congestion free, and environmentally sound transportation systems.
Secretary Chao discusses the value of research in front of a large audience at the event.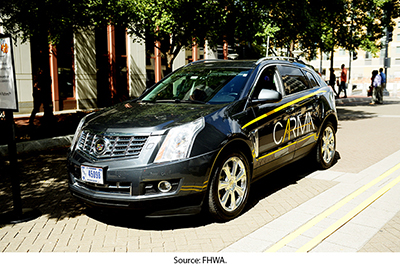 Visitors to the Research Showcase could view the CARMA vehicles parked on the Third Street Plaza between the West and East buildings of USDOT headquarters.
---
Kelley McKinley is a marketing and communications specialist at TFHRC, where she is responsible for developing communications strategy for FHWA's research and technology. She holds a B.S. in communication studies from Northwestern University and an M.S. in communication management from Temple University.