Everyone Is a Pedestrian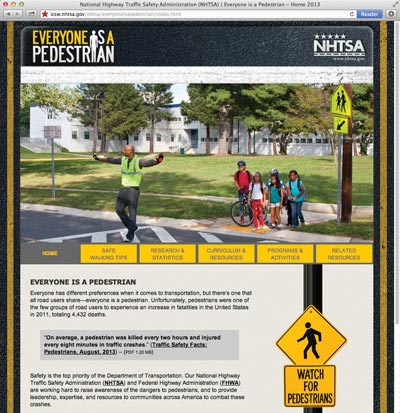 According to data from the National Highway Traffic Safety Administration (NHTSA), 4,432 pedestrians were killed in traffic crashes in 2011--an 8-percent increase since 2009. Three out of four pedestrian deaths occurred in urban areas, and 70 percent of those killed were at nonintersections. In addition, 70 percent of deaths occurred at night and many involved alcohol.
Since 2009, the Federal Highway Administration (FHWA) has committed more than $3.8 billion to more than 11,000 projects that make roads safer for pedestrians and bicyclists. One of the newest is a Web site developed jointly with NHTSA: "Everyone Is a Pedestrian." Launched in August 2013 at www.nhtsa.gov/nhtsa/everyoneisapedestrian, the site provides resources for anyone interested in improving pedestrian safety, including parents and educators, local leaders, advocates, and transportation planners.
Collaborating to Build Awareness
The Web site has dual purposes: to generate public awareness for pedestrian safety and to provide resources to help get it done. The agency heard from advocacy organizations that many at the community and city levels often did not know where to turn to get information that would help them implement programs for pedestrian safety. "Everyone Is a Pedestrian" was created to address that need as a central hub for this information.
Although many of the materials now housed on the site already existed elsewhere, they were segmented across a variety of sources, including FHWA, NHTSA, and other Web sites. Together, FHWA and NHTSA developed a Web portal that any audience--local planner, law enforcement officer, private citizen- -can visit to access basic information and referrals to other sites for additional details.
The site's development required contributions from across the U.S. Department of Transportation, including staff representing safety, planning, information services, and public affairs. Each program office examined its existing resources and determined what materials and references to include on the site. The development team worked to ensure that the site was easy to navigate and presented the appropriate messages for a variety of audiences. FHWA provided lists of key information to make available, and NHTSA took the lead ensuring that all the priorities were included.
An Audience-Oriented Site
From the "Everyone Is a Pedestrian" home page, visitors can select tabs for safe walking tips, research and statistics, curriculum and resources, programs and activities, and additional resources. Each page is then broken down by target audience, such as pedestrian safety officials, parents and caregivers, and pedestrian safety advocates. Audience-specific information, for example, includes tips on how parents can teach children to walk safely, guides for community safety advocates, and reports on effective projects for State highway offices. The development team chose to present the materials by audience so that each type of user can quickly spot the information needed.
The site also provides links to materials from a wide variety of vetted sources. These include documents from academic transportation centers, like the walkability checklist on the University of North Carolina's Highway Research Center Web site. Resources from nonprofit advocacy groups also are listed, such as "pocket guides" from the congressionally commissioned Easter Seals Project ACTION: Accessible Community Transportation in Our Nation. The footer of the site provides links to a handful of other key sites: NHTSA.gov, Safercar.gov, TrafficSafetyMarketing.gov, EMS.gov, 911.gov, and Distraction.gov.
Safety is the U.S. Department of Transportation's top priority, and NHTSA and FHWA designed "Everyone Is a Pedestrian" to fill a recognized need for an information hub to help communities meet the safety needs of pedestrians. The result has been a success: from launch to the end of 2013, the site received more than 15,000 unique visitors.
"To help stop the recent increase in deaths and injuries, we need everyone to play a role in pedestrian safety," says NHTSA Administrator David Strickland. "Working with partners on the Federal, State, local, and individual levels, we hope to turn this concerning trend around."
For more information, visit www.nhtsa.gov/nhtsa/everyoneisapedestrian.
---
Carrie Boris is a contributing editor for Public Roads.