Ultra-High Performance Concrete
UHPC: A Robust Solution for Highway Infrastructure
---
Advances in the science of concrete materials have led to the development of a new class of cementitious composites called ultra-high performance concrete (UHPC). The links above will direct you to pages detailing UHPC projects, bridges with UHPC components, articles that focus on UHPC research, and the main contact at Turner-Fairbank Highway Research Center (TFHRC) for UHPC.
The mechanical and durability properties of UHPC make it an ideal candidate for use in developing new solutions to pressing concerns about highway infrastructure deterioration, repair, and replacement. Since 2000, when UHPC became commercially available in the United States, a series of research projects has demonstrated the capabilities of the material. A handful of State departments of transportation have deployed UHPC components within their infrastructure, and many more are actively considering the use of UHPC.
UHPC is a cementitious composite material composed of an optimized gradation of granular constituents, a water-to-cementitious materials ratio less than 0.25, and a high percentage of discontinuous internal fiber reinforcement. The mechanical properties of UHPC include compressive strength greater than 18.0 kilopounds per square inch (ksi) (124 Megapascals (MPa)) and sustained postcracking tensile strength greater than 0.72 ksi (5 MPa). Ultra-high performance concrete has a discontinuous pore structure that reduces liquid ingress, significantly enhancing durability compared to conventional and high-performance concretes.
UHPC is being considered for use in a wide variety of highway infrastructure applications. The high compressive and tensile strengths allow for the redesign and optimization of structural elements. Concurrently, the enhanced durability properties facilitate a lengthening of design life and allow for potential use as thin overlays, claddings, or shells. In the United States, UHPC has been used in prestressed concrete girder simple-span bridges, precast concrete deck panels, and field-cast connections between prefabricated bridge components.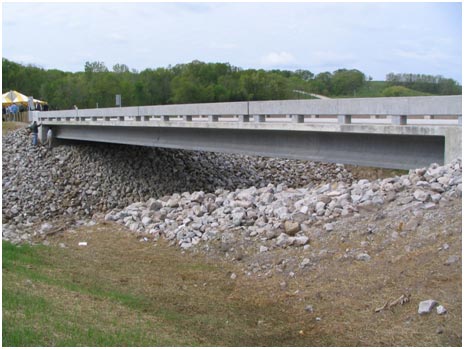 Figure 1. This Wapello County, Iowa structure was the first UHPC bridge constructed in the United States. The bridge includes three UHPC prestressed I-girders spanning a creek in rural Iowa.
Ultra-high performance concretes have demonstrated exceptional performance when used as a field-cast closure pour or grout material in applications requiring the onsite connection of multiple prefabricated elements. This use of UHPC has gained significant momentum recently, with States around the country considering the application. Figure 2, courtesy of New York State department of transportation (DOT), shows UHPC being field-cast into the deck-level connections between two deck-bulb-tee prestressed girders.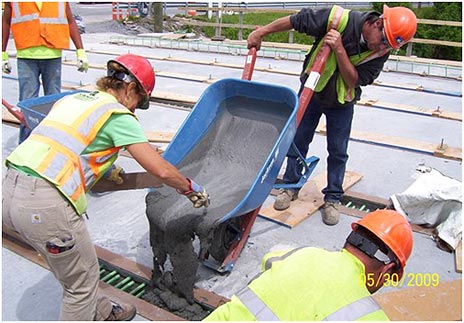 Figure 2. Longitudinal connections are cast between deck-bulb-tee girders on the Route 31 Bridge in Lyons, NY. Field-cast UHPC can simplify connection details and ease constructability. This photo shows the casting of fluid ultra-high performance concrete (UHPC) from a wheelbarrow into the void space between the top flanges of two deck-bulb-tee prestressed concrete girders. The rebar can be seen extending from the girders into the void. The UHPC is self-consolidating. Source: New York State Department of Transportation.
UHPC is also being investigated for use in a variety of other applications. These applications include precast concrete piles, seismic retrofit of substandard bridge substructures, thin-bonded overlays on deteriorated bridge decks, and security and blast mitigation applications. In a general sense, UHPC has proven to be particularly relevant in applications where conventional solutions are lacking. For example, conventional connection solutions have hindered the use of prefabricated elements; field-cast UHPC allows for a redesign and simplification of the system while simultaneously promoting long-term durability.
Bridges with UHPC components are open to traffic in the United States and Canada. A listing can be found here.
Further introductory information on UHPC can be found in Ultra-High Performance Concrete: A State-of-the-Art Report for the Bridge Community (FHWA-HRT-13-060). The report compiles more than 30 years of worldwide research, more than 600 English-language references, and the first12 years of Federal Highway Administration (FHWA) research and development on UHPC. This report spurred further innovation in the field as innovators have had an easier time building on the work of their predecessors. It also provided support to technical experts around the United States as they began facilitating deployment of UHPC technology.
The use of UHPC for connections between prefabricated bridge elements (PBE) is continuing to gain acceptance across the United States. UHPC for PBE was part of the FHWA Every Day Counts program from 2014-2017, resulting in significant engagement by owners, designers, and constructors. To support this application, FHWA published Design and Construction of Field-Cast UHPC Connections (FHWA-HRT-19-011).
The use of UHPC for bridge preservation and repair is a current hot topic in the bridge sector. This topic is being promoted and supported by the current round of FHWA Every Day Counts initiatives. Owners across the country are beginning to use UHPC in overlays to repair deteriorated bridge decks, in link slabs to replace failing expansion joints, and in other structural element repair scenarios.
Looking forward, FHWA is working with the bridge design community to help address their desire for UHPC structural design guidance. Through an extensive research program, FHWA has developed critical knowledge on the mechanical and structural behavior of UHPC.  FHWA has also focused on developing standardized methodologies for assessing UHPC performance. Development and refinement of a framework for UHPC structural design is underway. It is anticipated that, within a few years, the efficiencies and opportunities made possible by UHPC will begin to be realized within primary structural components in bridges in the U.S.
Last updated: Thursday, June 16, 2022