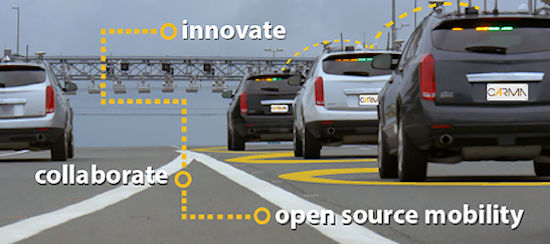 What Is CARMA?
The Federal Highway Administration (FHWA) developed the innovative CARMA platform to encourage collaboration with the goal of improving transportation efficiency and safety. FHWA's interest in advancing Transportation Systems Management and Operations (TSMO) strategies with automated driving technology focused on how infrastructure can move traffic more efficiently.
CARMA enables Automated Driving Systems (ADS) to facilitate cooperative tactical maneuvers with other vehicles and roadway infrastructure though communication. CARMA was designed using open source software and is available on GitHub. The unique platform was created to be vehicle and technology agnostic. CARMA enables the research and development (R&D) of cooperative automated driving system (CADS) capabilities to support TSMO. CARMA will develop a concept of operations for new TSMO strategies, such as identifying Traffic Incident Management (TIM) scenarios that provide new strategies for first responder use cases interacting with ADS. Beyond reducing traffic congestion and improving transportation safety, CARMA will support industry collaboration and expand on existing automation capabilities to reduce R&D time and advance cooperative automated driving technology.
To learn more about the design and evolution of the CARMA software platform as well as opportunities to collaborate with CARMA, please visit our open platform page, collaboration page, GitHub site, and Confluence site.
| Learn more about CARMA! | Collaborate with us! |
| --- | --- |
| Find out how CARMA's flexible and open-source architecture was designed. | Discover opportunities to collaborate with the FHWA on the CARMA software platform. |
Updated:
Tuesday, June 11, 2019