CARMA Evaluation
The CARMASM Program is leading efforts to transform surface transportation through the research, development, and testing of cooperative driving automation (CDA) features. As a critical part of this effort, evaluation enables the assessment of CDA features through simulation, 1Tenth vehicles, testing, and analytics.
Source: FHWA.
Figure 1. Illustration. CARMA evaluation strategies.
Simulation
CARMA everything-in-the-loop (XiL) or simulation includes hardware-in-the-loop (HIL), model-in-the-loop (MIL), and software-in-the-loop (SIL) simulations, with multiple CDA systems in the loop equipped with CARMA.
Source: FHWA.
Figure 2. Photo. Simulation testing at Turner-Fairbank Highway Research Center.
Simulation capabilities are still under development, but once established, will work with the CARMA Cloud℠ to enable traffic management center (TMC) simulation. Future simulations will also have the capability to perform certain defined CDA systems applications on the Turner-Fairbank Highway Research Center (TFHRC) testbed.
1Tenth
CARMA 1Tenth involves the assessment of CDA features using scaled-down vehicles called 1Tenth cars. 1Tenth cars are equipped with a slightly modified CARMA Platform℠ stack and enable CDA research on a low-cost robotic platform without compromising functionality.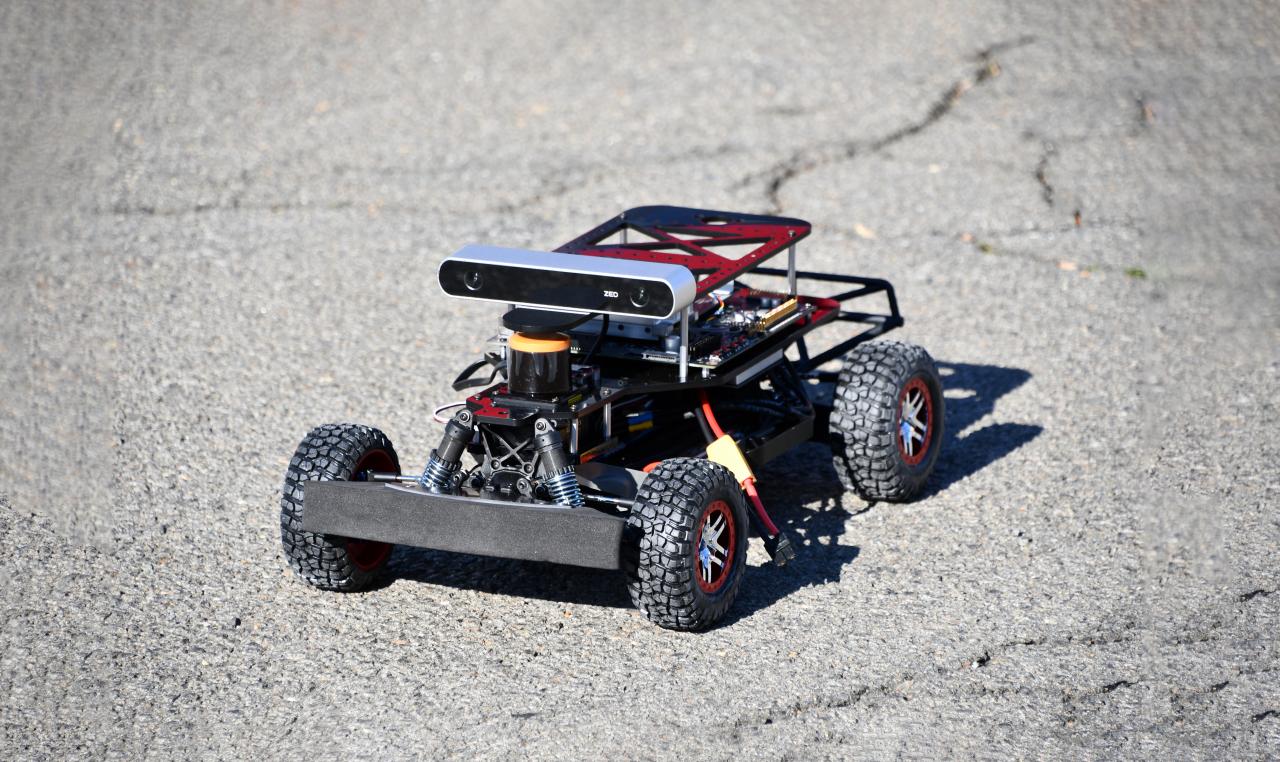 Source: FHWA.
Figure 3. Photo. CARMA 1Tenth vehicle.
Once a CDA feature is validated on 1Tenth vehicles, CDA can be installed on a full-scale cooperative automated driving system (C-ADS) vehicle for testing, making 1Tenth vehicles a safe and practical mechanism for the initial development and testing of CARMA capabilities. In addition, 1Tenth vehicles increase the flexibility of testing time by decreasing dependence on costly test tracks. As a cost-effective substitute for conducting CARMA research, 1Tenth vehicles engage a larger research community to accelerate CDA research. The CARMA 1Tenth video provides a closer look at how CARMA 1Tenth vehicles contribute to and accelerate CDA research.
Testing
CARMA testing aims to educate stakeholders on CARMA, enable users to test their CARMA capabilities, and build awareness for the benefits of CDA application to transportation. Testing is conducted across the Nation at locations including:
American Center for Mobility (ACM) in Ypsilanti, MI.
Department of Homeland Security (DHS) Federal Law Enforcement Training Center (FLETC) in Cheltenham, MD.
Florida Department of Transportation (FDOT) SunTrax in Auburndale, FL.
Summit Point Raceway in Summit Point, WV.
Transportation Research Center (TRC), in East Liberty, OH.
TFHRC in McLean, VA.
U.S. Army Aberdeen Test Center (ATC) in Aberdeen Proving Ground, MD.
CARMA Safety is specific to human factors testing in the field through driver-in-the-loop (DIL) simulation. As part of safety testing, the TFHRC Highway Driving Simulator (HDS) and CARMA systems will be capable of testing automated driving system (ADS), cooperative ADS, and manual vehicles.
Analytics
CARMA analytics involve CDA evaluation through the CARMA Analytics platform, a cloud-based data management plan supporting the fusion, analysis, and management of cooperative, automated vehicle, and traditional transportation data. The solution helps with data ingest and transfer, storage and fusion, and analytics. Built using open source software (OSS) and through Amazon Web Services (AWS), CARMA Analytics will be deployable in both Google Cloud and Azure.
Last updated: Wednesday, April 27, 2022