The CARMASM Program actively engages stakeholders in Government, academia, consulting, and technical industry to accelerate advancements in cooperative driving automation (CDA) research, development, and testing. CARMA engagement is a two-pronged approach, including the CARMA Collaborative and CARMA Support Services.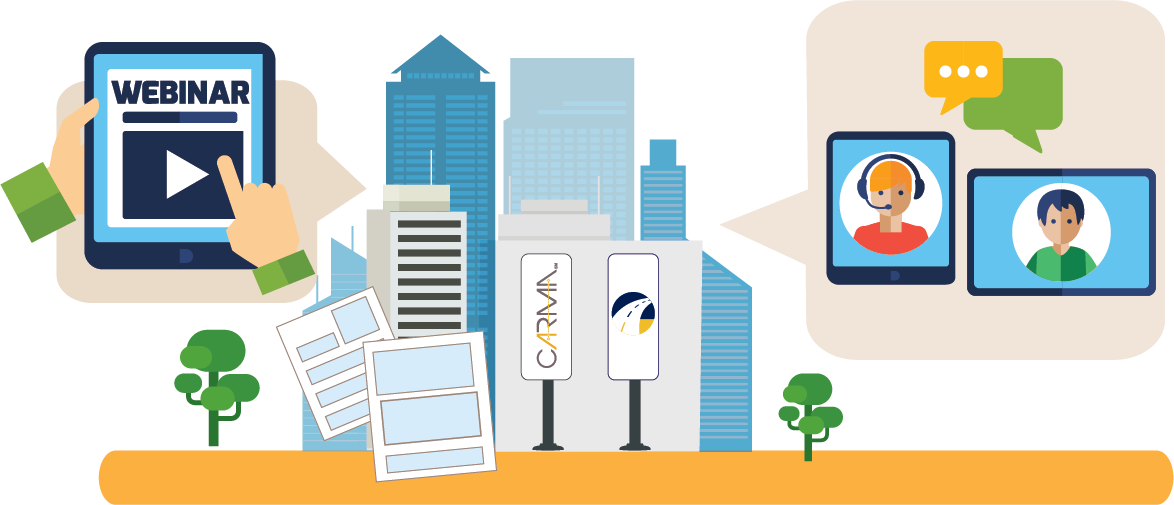 Source: FHWA.
CARMA Collaborative
The CARMA Collaborative is growing a community of CARMA users, prospective users, and other stakeholders working to advance CDA through shared expertise.
The CARMA Collaborative:
Cultivates investments toward public benefit with CDA.
Fosters strategic planning and investments to leverage connected and automated vehicles (CAVs).
Educates stakeholders on CDA and CARMA to support future product development and adoption.
Facilitates the advancement of research, training, and industry expertise regarding CAVs and CDA.
Promotes participation with its community of researchers to improve understanding of CDA using open source software (OSS).
Is launching Technical Working Groups (TWGs) to provide a forum for partners with similar interests to actively work together to advance CDA.
The CARMA Collaborative conducts numerous outreach activities to enhance stakeholder awareness and participation, including virtual engagements (webinars, conferences, meetings), active engagements (conferences, demonstrations, events, meet-ups), and content releases (website, publication, social media, multimedia).
The CARMA Collaborative facilitates strategic partnerships to promote the use of CARMA in CDA research and encourage industry adoption.
Join Today!
Please complete the CARMA Collaborative Contribution Form to join the CARMA Collaborative. For more information on the CARMA Program, email CARMA@dot.gov.
CARMA Support Services
CARMA Support Services provide industry, academia, infrastructure owners and operators (IOOs), and other agencies with knowledge and technical support on the CARMA product suite to accelerate CDA research.
Source: FHWA.
Figure 2. Illustration. CARMA Support Services scope.
Support services provide the necessary resources and assistance to enhance collaborations supporting CARMA development and deployments at no additional cost to users.
Staff from the CARMA development team at the Saxton Transportation Operations Laboratory (STOL) provide the tools and expertise to all levels and types of CARMA implementers at universities, State departments of transportation, and organizations with contracts to deploy CAV technology, among others.
Support services address issues and/or questions regarding:
CARMA software troubleshooting.
CARMA systems architecture.
CARMA-developed message sets.
Open standards.
Data storage (i.e., robot operating system [ROS] bag).
Existing documentation, tools, and points of contact.
Technical remote and onsite assistance for module development or testing.
Training and presentations on CARMA benefits and applications.
Email CARMAsupport@dot.gov for assistance with CARMA software, architecture, or any other questions. The CARMA Support Services Help Desk is available Monday to Friday, from 8 a.m. to 5 p.m. EST and DST (excluding holidays). Responses are provided within 24 business hours.
Updated:
Wednesday, February 3, 2021