CARMA Projects

Advance cooperative driving automation (CDA) functionality through collaborative research.
Through use cases, products, evaluation methods, and engagement strategies, CARMASM projects champion the advancement of CDA and the transportation system.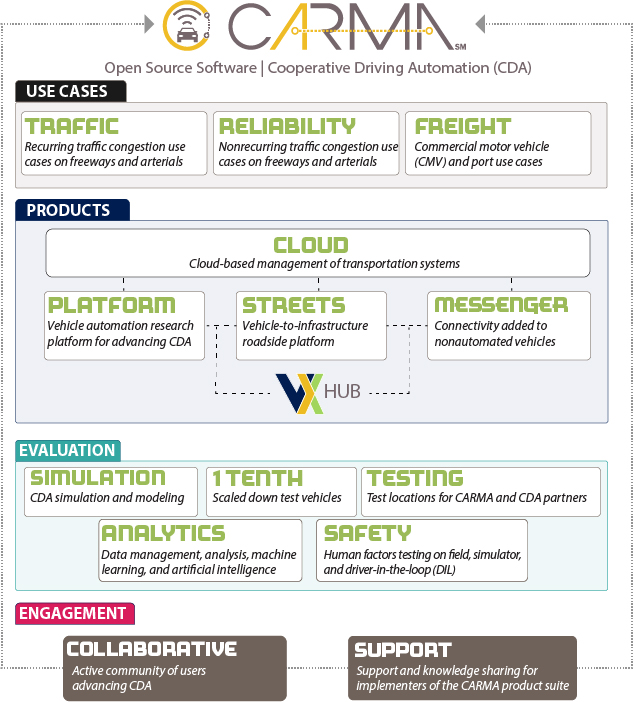 CDA has the potential to improve transportation safety, efficiency, and reliability—and at a lower cost than traditional methods, such as widening road lanes. The Federal Highway Administration (FHWA) is spearheading CDA research through CARMA, an open source software that enables researchers and engineers to develop and test CDA features on properly equipped vehicles. CARMA comprises a full suite of use cases, products, evaluation methods, and engagement strategies supporting the testing and evaluation of CDA concepts.
Use Cases
The CARMA Program is developing several use-case scenarios that aim to encourage stakeholder collaboration and accelerate the deployment of CDA technology. The use-case scenarios will explore traffic, reliability, and freight operations:
Traffic uses cases will explore the application of CDA features to recurring traffic congestion on freeways and arterials.
Reliability uses cases will explore the application of CDA features to nonrecurring traffic congestion on freeways and arterials.
Freight uses cases will explore the application of CDA features to commercial motor vehicle (CMV) and port operations.
Products
The CARMA product suite consists of four tools supporting the research and development of informed and dynamic cooperation among vehicles:
CARMA Platform℠. The CARMA Platform bestows cooperative research functionality to an automated driving system (ADS). The CARMA Platform is what allows vehicles with automated technology to work together.
CARMA Cloud℠. The CARMA Cloud is a downloadable, cloud-based, open source service that enables communication between cloud services, vehicles, infrastructure, and road users, thereby facilitating their cooperation. The CARMA Cloud provides cloud-based management of transportation systems and bidirectional communication, data exchange, and multiple remote vehicles simultaneously.
CARMA Messenger. CARMA Messenger is a vehicle-based platform for manually driven vehicles that enables their communication with automated vehicles. CARMA Messenger integrates nonautomated vehicles into the CDA system through an onboard unit that transmits information to automated vehicles.
CARMA Streets. CARMA Streets is a vehicle-to-infrastructure (V2I) roadside platform that enables communication between infrastructure and various modes, vehicles, and road users to optimize transportation system management, operations, and safety.
CARMA works in tandem with the Vehicle-to-Everything (V2X) Hub, a separate multimodal open source software system that enables networked, wireless communications between automated vehicles, infrastructure devices, and personal communications devices. V2X Hub essentially connects the CARMA Platform, CARMA Messenger, and CARMA Streets systems to enable data exchanges between transportation infrastructure and road users.
Evaluation
The CARMA Program utilizes several methods for evaluating CDA technology:      
The CARMA simulation project aims to develop the capability of hardware-in-the-loop (HIL) simulation with multiple CDA systems components, such as vehicles equipped with CARMA, in the loop as well as the capability of performing certain defined CDA systems applications on the Turner-Fairbank Highway Research Center (TFHRC) Test Bed.
CARMA 1tenth uses 1/10th scale vehicles (1tenth cars) that possess all of the necessary hardware and software to conduct CDA research, but which are significantly cheaper than full-size ADS vehicles. The 1tenth cars have a modified CARMA stack and are a cost-effective substitute for conducting CARMA experiments.
Testing. CARMA testing will be conducted at several locations across the United States and will help educate stakeholders on CARMA, enable users to test their cooperative automation capabilities, and generate awareness for the benefits of cooperative automation.
CARMA Analytics is a data management plan and cloud-based platform that supports the fusion, analysis, and management of cooperative, automated vehicle, and traditional transportation data.
CARMA Safety involves human factors testing in the field and simulator, as well as through driver-in-the-loop simulation.
Engagement
CARMA stakeholder engagement is amplified through two avenues:
The CARMA Collaborative effort consists of a growing community of CARMA users, prospective users, and other stakeholders, and aims to facilitate the use of CARMA to propel CDA research and development and encourage industry adoption.
CARMA Support Services provide resources and support to implementers of the CARMA product suite, and solicits and responds to user feedback to maintain customer satisfaction. Support services include a help desk, process documents, and a web portal tool.
By leveraging information from infrastructure and all connected roadway users, CDA can improve transportation safety and mobility to help boost the overall performance of the existing transportation system. The CARMA ecosystem provides a multipronged, comprehensive approach to conducting CDA research in pursuit of transforming the transportation system and enhancing the mobility of millions of Americans.
An exhaustive repository of projects and project data is available through the FHWA Research Projects Search.
Last updated: Thursday, June 11, 2020