---
Overview
The goal of the Long-Term Bridge Performance (LTBP) Program's data collection effort is to inspect, evaluate, and periodically monitor representative samples of bridges nationwide to achieve the following:
Collect, document, maintain, and manage high-quality quantitative performance data over an extended period of time.
Construct a research-quality database on bridge condition and performance.
Assist with the development of improved design methods and maintenance/preservation practices.
This data collection effort will benefit the following:
LTBP Program: Will advance research in deterioration and predictive models and provide improved inspection and condition information through nondestructive evaluation (NDE) and structural health monitoring (SHM).
Bridge owners: Will have access to tools that will help them tailor management practices to optimize resource allocation and quantify the effectiveness of various maintenance, repair, and rehabilitation strategies.
Stakeholders and the LTBP Community: Will develop long-term relationships across government, industry, and academia, leading to a collaborative, sustainable, long-term research and development effort.
What Data is the LTBP Program Collecting?
The LTBP Program is collecting quantitative, research-quality bridge performance data on a national basis over time to help quantify the effects of external factors and internal attributes at the individual bridge and network level.
The initial data collection effort is focused first on untreated concrete bridge decks and then on treated concrete bridge decks. Data collection for joints and bearings occurs concurrently with deck evaluations which permits addressing several of the LTBP Program's high priority issues concurrently. As time progresses the program will expand to include additional bridges and will collect data more efficiently in subsequent cycles.
Legacy Data Mining
Mining bridge documentation and legacy data provides a broader context and comparative framework for the reference and cluster bridges (see below) and allows for the identification of potential trends that may merit further examination.
High Priority Bridge Performance Issues
Bridge performance is a multifaceted issue involving performance of: materials and protective systems, individual components of the bridge, and the structural system as a whole. The LTBP Program was initiated to collect, store, and analyze the data necessary to better understand high priority bridge performance issues. The success of the program depends on identifying the most important performance issues that bridge owners face. To identify these issues, feedback was sought from those bridge owners and other key stakeholders. As part of this outreach, bridge experts from 15 State transportation departments were interviewed and asked to name the performance issues in their bridge inventory that are most common and/or most difficult to solve. The findings of these interviews are included in report FHWA-HRT-14-052, LTBP High Priority Bridge Performance Issues, published in 2014.
To supplement these interviews and identify high priority issues related to bridge substructures, a workshop on substructure performance issues was held. The findings from the interviews and the substructure workshop were used to develop a list of 22 high priority performance issues. From this, a shorter list of six bridge performance issues was recommended as the first group of issues for study under the LTBP Program.
Based on input from stakeholders and considering current resources of the program, the following key topics in table 1 will initially be addressed:
Table 1. Initial study topics for the LTBP Program.

| Category | Issue |
| --- | --- |
| Decks | Untreated concrete bridge decks |
| Decks | Treated concrete bridge decks |
| Joints | Bridge deck joints |
| Bearings | Bridge bearings |
| Steel Bridges | Coatings for steel superstructure elements |
| Prestressed concrete bridges | Detection of the condition of embedded pretensioned strands and post-tensioning tendons |
Each of these high priority performance issues will be examined in detail, and the specific data necessary to study the issues will be identified.
How is the LTBP Program Collecting Data?
To ensure that LTBP Program data are collected in a consistent manner over the duration of the program, data collection protocols are being developed by the Federal Highway Administration (FHWA) for use by practitioners, LTBP researchers, and decisionmakers involved with the research, design, construction, inspection, maintenance, and management of bridges. Report FHWA-HRT-16-007, Long-Term Bridge Performance (LTBP) Program Protocols, Version 1, was published in January 2016.
More information about the LTBP Program Protocols can be found on the Products page.
Where is the LTBP Program Collecting Data?
The LTBP Program is currently collecting data on 17 bridges in the Gulf cluster (AL, AR, FL, LA, and TX)—9 steel and 8 prestressed. Figure 1 shows the locations for the data collection efforts.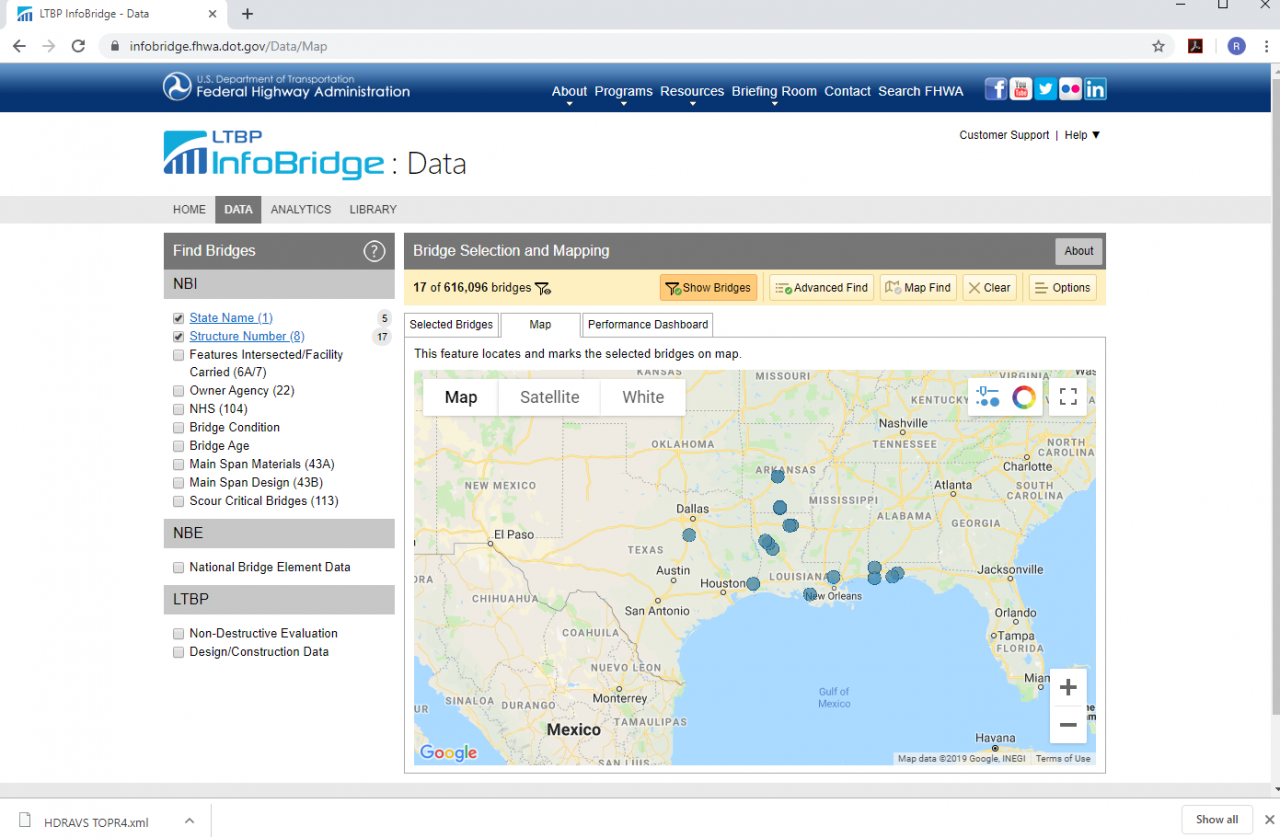 Figure 1. Original Map: © Google. Modifications: FHWA.
Bridge Selection Methodology
Given the large and diverse population of bridges throughout the United States, one of the most significant challenges to the LTBP Program is selecting a sample of bridges that is large enough and diverse enough to be representative, yet small enough to permit data collection efforts within current resource constraints. To meet this challenge, the LTBP Program designed a multi-tiered sampling approach. The following are the primary steps taken during bridge selection:
Step 1: Determine the most common bridge types. Specifically, the program focused on the performance of the following three types of bridges as these represent a majority of the National Bridge Inventory:

Steel multigirder.
Prestressed concrete multigirder.
Prestressed/post-tensioned concrete box girder.

Step 2: Identify representative clusters of each primary bridge type within various regions of the United States, considering the following factors:

Climate/environmental conditions and regional/State maintenance practices. Based upon the analysis of previous and current research, the LTBP program decided to use the climatic zones defined by the Department of Energy (DOE).
Concentrated geographic areas to allow for cost-effective data collection efforts.

Step 3: Determine the level of detail appropriate for data collection efforts for each bridge within geographic clusters and corridors. It is important to recognize that carrying out the most detailed NDE, structural characterization through field instrumentation, material sampling, visual inspection, etc., for each bridge identified—which number in the thousands—is neither realistic nor cost effective.

Step 4: Perform legacy data mining for all the candidate bridges to determine which bridges will be a cluster or a reference bridge within a geographic clusters or corridors.

Candidate bridges summary

Number of bridges: Every bridge in a geographic cluster or corridor is a candidate bridge.
Data collection: All available information, including plans, inspection reports, maintenance records, etc. (Legacy Data Mining)
Purpose: From this population, bridges will be selected for field data collection.

The following specific selection criteria were used to filter recommended candidates:

Untreated deck (for untreated deck clusters).
State owned.
Bridge types:

Steel multigirder bridges.
Prestressed multigirder bridges.
Adjacent prestressed box beam bridges and cast-in-place (CIP) box girder bridges.

Not over a railroad.
Max span length is between 10 and 50 m.
Maximum of four lanes on bridge.
Average daily traffic (ADT) is less than 50,000 (removed for corridor bridges).
Built after 1960.

Step 5: Select the clusters and reference bridges in a geographic cluster on which to conduct the data collection. The supplemental interstate corridor sampling provided an opportunity for the maximum number of States to participate in the program and to leverage efficiencies related to corridor analysis. For the selection of bridges in various corridors, the LTBP Program removed the ADT criteria, performed similar steps for cluster bridge selection, and examined the distribution of climatic environments for corridor bridges.

Cluster bridges summary

Number of bridges: Approximately 40 to 60 bridges per geographic cluster and approximately 20 to 30 bridges per corridor will be selected as cluster bridges using a methodology known as design of experiments. This experimental design consists of a two-level, full-factorial design with primary variables of age, span length, and average daily truck traffic (ADTT). This methodology ensures a sample with the diverse bridge attributes and inputs required to understand how such factors influence performance.
Data Collection: NDE, field instrumentation, and visual inspection. The data collection effort will be less frequent or for shorter durations to permit the inclusion of the larger number of bridges.
Purpose: These bridges provide "context" to the reference bridges and contribute to the understanding of why certain performances are observed.

Reference bridges summary

Number of bridges: Between two and five for each geographic cluster and corridor.
Data collection: Very detailed data collection efforts to fully understand their various performances.
Purpose: These bridges have the most common characteristics (e.g., median span length, age, ADTT, etc.) and are considered to be the most representative or common bridges.
The goal of this general framework is to allow the influences of various external factors and bridge attributes on the performance of bridges to be uncoupled and better understood. For example, by comparing the results of geographic clusters/corridors, the influence of climate and environmental conditions may be identified. Within each geographic cluster/corridor, the influence of more detailed attributes (e.g., deck cover, span length, age, skew, and girder spacing) and inputs (e.g., ADT, ADTT, maintenance activities, and winter deicing operations) can be studied and identified. In addition, this framework will allow for the possibility of bridges being moved within the various categories if their performances warrant.
Clusters and Corridors
The LTBP Program has identified 14 clusters and 10 corridors encompassing over 6,000 bridges. They group together bridges with similar attributes (steel, prestressed concrete, and concrete box multigirder bridges) in varying environmental regions; these groupings form the population of candidate bridges for data collection.
Figures 2 through 4 present the location of the 14 clusters with the following distributions:
Five steel multigirder bridge clusters (figure 2).

Northeast.
Mid-Atlantic.
East Central.
Gulf Coast.
Rocky Mountains.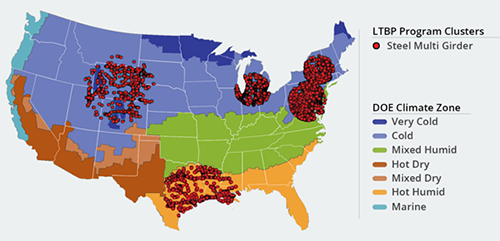 Figure 2. Map. Five steel multi-girder bridge clusters.
Six prestressed multigirder bridge clusters (figure 3).

Mid-Atlantic.
East Central.
Midwest.
Gulf Coast.
Rocky Mountains.
Northwest.
 
Figure 3. Map. Six prestressed multi-girder bridge clusters.
Three concrete box girder bridge clusters (figure 4).

Mid-Atlantic adjacent box beam cluster.
East Central adjacent box beam cluster.
Southwest (CIP) post-tensioned box girder cluster.
 
Figure 4. Map. Three concrete box girder bridge clusters.
Ten corridors on existing interstate highway alignments (figure 5) were identified in the analysis, thereby providing complete State coverage and enabling the investigation of bridges on corridors that span multiple climate zones while maintaining heavy truck traffic. The following are the 10 corridors the LTBP Program identified:
East-West: I–40, I–70, I–80, I–90, I–94.
North-South: I–5, I–15, I–29, I–35, I–95.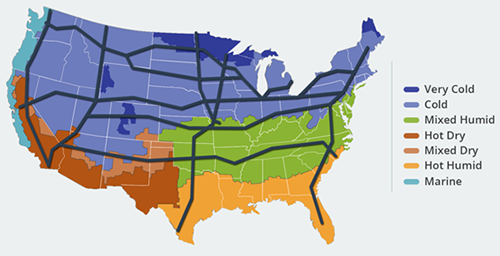 Figure 5. Map. Interstate corridors included in the LTBP Program.
Bridge Data Collection and Legacy Data Mining Study
Bridge documentation was collected for 434 bridges in the 4 clusters of the Mid-Atlantic and Northeast cluster regions of the United States:
179 steel multigirder bridges with untreated Cast-in-Place (CIP) concrete decks in the Mid-Atlantic cluster region.
104 prestressed concrete multigirder bridges with untreated CIP concrete decks in the Mid-Atlantic cluster region.
75 prestressed concrete box beam bridges with untreated CIP concrete decks in the Mid-Atlantic cluster region.
76 steel multigirder bridges with untreated CIP concrete decks in the Northeast region.
Updated:
Monday, January 27, 2020