Human Factors Laboratory Overview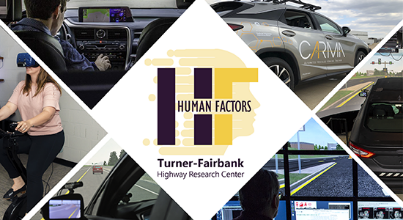 Source: FHWA
What Is Human Factors?
Human factors is an interdisciplinary area of research that applies what we know about people's capabilities to better design environments in which people function. Human factors research focuses on real-world applications, such as product design, workplace safety, ergonomics, human-machine interfaces, and transportation. The goal of human factors research is to maximize performance and safety by creating products, equipment, machines, and environments that complement human capabilities.
Human Factors and Transportation Safety
The mission of the Human Factors laboratory is to improve transportation safety by strengthening our understanding of user needs, and making recommendations for roadway design, signing, and advanced transportation technology. Our work supports the U.S. Department of Transportation and Federal Highway Administration's (FHWA) goal of reducing transportation-related fatalities and serious injuries across the transportation system.

Located at FHWA's Turner-Fairbank Highway Research Center (TFHRC) in McLean, Virginia, the Human Factors team uses state-of-the-art tools to conduct behavioral research on drivers, pedestrians, bicyclists, and other road users. Using virtual and real-world methodologies, the Human Factors team identifies solutions to potential safety concerns in existing and future roadway scenarios. The research topics explored in the Human Factors Laboratory include:
Human factors issues related to driving automation
Driver comprehension of roadway infrastructure
Human factors issues related to heavy-vehicle operations
Vulnerable road user (VRU) safety
The Human Factors Team supports the Traffic Control Devices (TCD) Pooled Fund Study (PFS), which is a consortium of regional, State, and local entities; organizations; and FHWA. The goals of the pooled fund are to: 1) facilitate collaboration and information sharing among members, 2) identify human factors and operational issues related to traffic control devices, 3) select and evaluate new and existing TCDs, 4) initiate and monitor research projects, and 5) disseminate results.
Innovative Research to Support Roadway Safety Today and in the Future
Over its nearly 60-year history, the Human Factors team has contributed to significant advancements in roadway safety. Some notable projects are summarized below.
Diverging Diamond Interchange (DDI)

Source: FHWA
The diverging diamond interchange (DDI) involves drivers crossing from the right side of the road to the left side and then back, combining left-turning and through-traffic movements. Research conducted in the Human Factors laboratory's driving simulator plays an important role in addressing DDI issues. Driving simulator visualization and testing has helped alleviate safety concerns about the DDI design. Video clips from the simulation scenarios were used to facilitate outreach to the public.
View clips of the DDI simulation on the Videos web page.
Traffic Control Device Pooled Fund (TCD)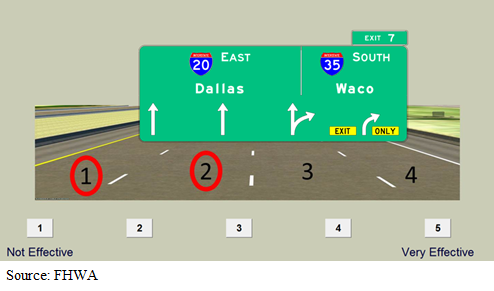 The Human Factors team is currently researching the evaluation of arrow sizes for overhead arrow per lane (OAPL) guide signs to support the traffic control device (TCD) pooled fund. The research investigates drivers' understanding of, response to, and preferences for various arrow sizes on OAPL signs at single and multiple exit interchanges.
Vulnerable Road User (VRU) Safety
The Human Factors team uses state of the art research tools to enhance roadway safety for vulnerable road users (VRU). These tools include virtual reality, articulating pedestrian dummies, highway driving simulators, and a Turner Fairbank Highway Research Center vehicle-to-pedestrian (V2P) test bed. The team is evaluating the ability and appropriateness of forward-looking infrared sensors to detect VRUs and its count data. Improving the collection of count data can help better understand VRU exposure.
Last updated: Monday, July 25, 2022