Human Factors Laboratory Overview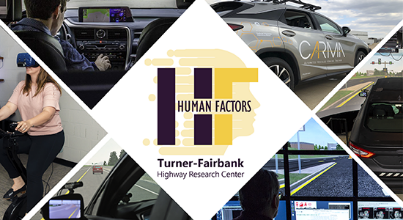 Source: FHWA
What is Human Factors?
The field of human factors applies what we know about the capabilities and perceptual limitations of people to better design the environments in which they function. It is an interdisciplinary area of research that focuses on a number of real-world applications, including product design, workplace safety, ergonomics, human-machine interfaces, and transportation. The goal of human factors research is to maximize performance and safety by creating products, equipment, machines, and environments that complement human capabilities.
Human Factors and Transportation Safety
The mission of the Human Factors Laboratory is to improve transportation safety by strengthening the understanding of user needs and making recommendations for roadway design, signing, and advanced transportation technology. Our mission and work supports the U.S. Department of Transportation's and Federal Highway Administration's (FHWA) goal of reducing transportation-related fatalities and serious injuries across the transportation system. Located at FHWA's Turner-Fairbank Highway Research Center (TFHRC) in McLean, Virginia, the Human Factors Laboratory includes a variety of state-of-the-art tools used to conduct behavioral research on drivers, pedestrians, bicyclists, and other road users. Using a combination of virtual and real-world methodologies in the Human Factors Laboratory, the research team identifies and recommends solutions to potential safety concerns in current and upcoming roadway scenarios.
Some of the recent topics explored in the Human Factors Laboratory include:
Level 2 and Level 3 automated system interactions with roadway infrastructure and transportation system management operations.
Safety and driver comprehension when traveling near truck platoons.
Safety and effectiveness of a connected bicyclist warning application.
Acceptance and preferred following distance of adaptive cruise control.
Adaptation to low-level automation.
Comprehension and safety at alternative signalized interchanges.
Adaptive cruise control and driver engagement.
Comprehension of novel sign designs for lane guidance and road user safety.
The Human Factors Team supports the Traffic Control Devices (TCD) Pooled Fund Study to conduct research relevant to States across the Nation. The TCD Pooled Fund Study is a consortium of regional, State, and local entities; appropriate organizations; and the FHWA. The goals of this pooled fund are to: (1) facilitate collaboration and information sharing among members; (2) identify human factors and operational issues related to traffic control devices; (3) select and evaluate new and existing TCDs; (4) initiate and monitor research projects; and (5) disseminate results.
Innovative Research to Support the Safety of Today's and Future Roadways
Over its nearly 60-year history, the research performed in the Human Factors Laboratory has contributed to significant advancements in roadway safety. In addition to roadway and sign design, emerging connected and automated vehicle technology has led to increased interest in driver interactions with driver assistance and driving automation systems. The Human Factors Team explores these and other issues to support transportation safety in an evolving transportation landscape. Several notable outcomes produced by the Human Factors Laboratory are summarized below.
Diverging Diamond Interchange (DDI)

Source: FHWA
Research conducted in the Human Factors Laboratory's driving simulator plays an important role in addressing human factors issues related to the DDI. In comparison to a conventional diamond interchange, a DDI involves drivers crossing from the right side of the road to the left side and then back, thus combining left-turning and through-traffic movements. Although research suggested that the DDI could reduce delays by up to 60 percent and increase throughput by up to 30 percent, there were concerns that the new design may confuse drivers when it was first implemented in the United States in 2009. To evaluate this concern, the Human Factors Team created visualizations of various driving scenarios in the driving simulator to support the design phase of the Nation's first DDI. Transportation engineers visited the Human Factors Laboratory to virtually drive through the simulated model. The laboratory's researchers also provided feedback and suggestions for improving user compliance and understanding of the design. The visualization and testing in the driving simulator helped to alleviate safety concerns about the new design, and video clips from the simulation scenarios were used to facilitate outreach to the public.
View clips of the diverging diamond interchange simulation on the Videos page.
Cooperative Adaptive Cruise Control (CACC)

Source: FHWA
CACC is an emerging, advanced driver assistance technology that uses external vehicle sensors and wireless communications to transmit and receive data between CACC vehicles. This constant data transfer facilitates automatic adjustment to changes in the speed and location of nearby CACC vehicles. Although passenger vehicles equipped with CACC technology are expected to be deployed in the near future, human factors concerns regarding drivers' ability to safely operate and interact with other CACC vehicles remain. The Human Factors Team identified potential safety issues related to operating a CACC vehicle within a closely following group, or platoon, and assessed these concerns by conducting a series of four experiments in the driving simulator. The results of these studies offer important insights into driver behaviors such as workload, distraction, and trust, as well as merging, emergency braking, and preferred following distance in a CACC vehicle platoon. These findings support safer development of CACC and increase the likelihood of successful deployment.
Learn more about these CACC studies on our Publications page.
Restricted Crossover U-Turn (RCUT)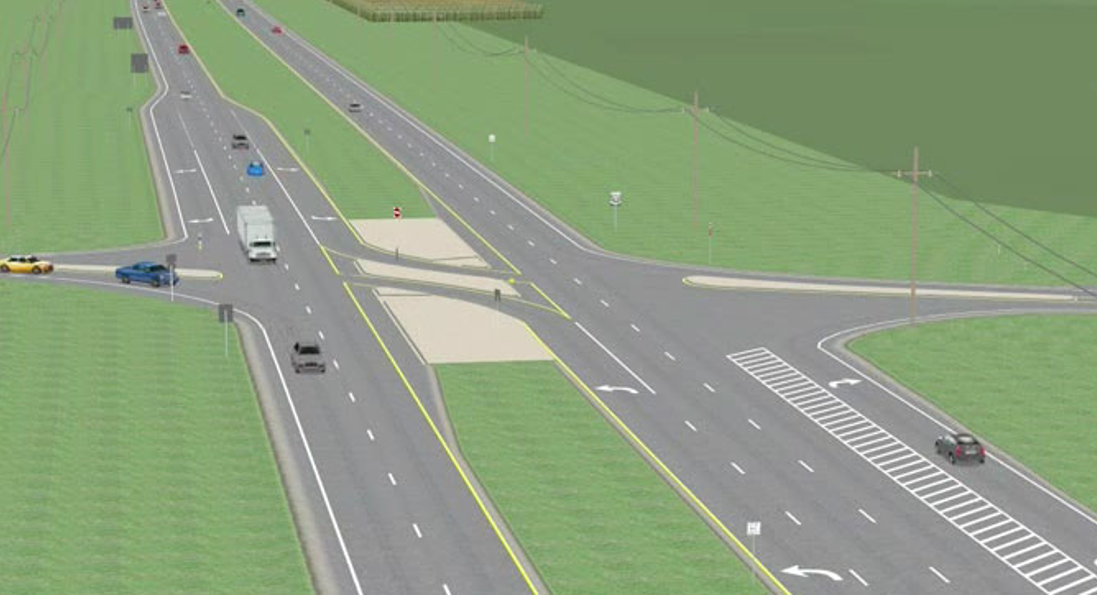 Source: FHWA
An RCUT intersection is defined as a three- or four-approach intersection where minor street left-turn movements are rerouted to one-way, downstream U-turn crossovers. To alleviate safety concerns associated with the RCUT design, the Human Factors Team analyzed crash data from a conventional intersection, a real-world RCUT implementation, and an intersection before and after it had been converted from a conventional to an RCUT design. The results showed that the RCUT design reduced annual crashes by 28 percent and resulted in less severe crashes. These findings, combined with a simulation of the RCUT intersection produced in the driving simulator, were used to support public acceptance and proper use of the design and motivate adoption by State agencies.
View clips of the RCUT simulation on the Videos page.
Last updated: Tuesday, June 7, 2022