Geotechnology Research Program
History

Figure 1. Lab instrumentation of a pipe pile for field load testing in clay.
The roots of the Federal Highway Administration's (FHWA's) geotechnical research program trace back to the 1970s when FHWA field personnel and State Highway Agency (SHA) engineers requested assistance in solving numerous soil behavior and foundation engineering problems. The FHWA Office of Research responded by establishing three broad geotechnical-related research projects:
(1) Foundation Engineering.
(2) Ground Improvement.
(3) Soil and Rock Behavior
Together, these research projects and a few other "standalone studies" were grouped to form the FHWA geotechnology research program. This was especially important considering that bridge foundations, retaining wall systems, cut and fill operations, embankments, and ground improvements account for more than 50 percent of the total cost of most highway construction projects.
Other pertinent past research topics and activities of the geotechnical research team is the development of the deep foundation database, Automated Geotechnical Information and Design System (AGIDS), National Geotechnical Experimentation Sites (NGES), geotechnical risk and reliability, and in situ soil testing.
The following link contains a summary report of past FHWA research activities in bridge foundations, ground improvement, and soil and rock behavior. More information about these studies and other FHWA geotechnical research projects up to 2000 can be found in FHWA Publication No. RD-98-139, titled "A Quarter Century of Geotechnical Research."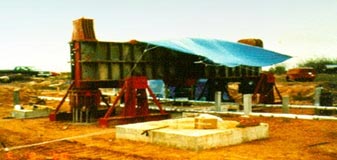 Figure 2. Load testing of large model spread footing

Figure 3. Reinforced soil test wall
Last updated: Monday, June 6, 2022