Planned Research
Based on broad scanning activities conducted each year inside and outside traditional areas of highway research inquiry, the Federal Highway Administration (FHWA) identifies exploratory advanced research topics that (1) involve discoveries in science of new technology that have the potential to lead to revolutionary change; (2) address significant current or anticipated issues in highway transportation; (3) can engage researchers and facilities with the capacity to solve complex problems that cut across or push the frontiers of traditional disciplines; and (4) would not move forward without FHWA funding.
Research Associateship Program
The National Research Council's (NRC) Research Associateship Program (RAP) provides highly skilled and exceedingly promising postdoctoral and senior scientists and engineers with opportunities to research problems that are compatible with the interests of sponsoring laboratories.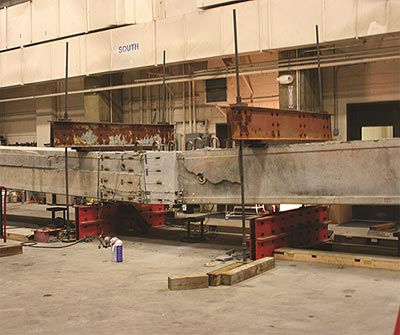 Figure 1. Photo. Full-scale flexural test of a beam splice connection made of Ultra-High Performance Concrete (UHPC) was performed by one of the NRC associates.

Figure 2. Screen Capture. An intersection based on the research of one of the NRC associates for a study on "Operational and Safety Analyses of Alternative Intersection/Interchange Designs."
Over the years, associates have researched topics as diverse as nanoadditives for concrete and asphalt, alternative intersection and interchange design, and modeling to predict collisions based on driver behavior and environmental conditions.
For a complete listing of FHWA's current RAP opportunities, visit the National Academies of Sciences.
For more information about the EAR Program, visit the R&T Agenda.
Last updated: Friday, April 29, 2022