Federal Highway Administration's National Highway Institute Has a New Look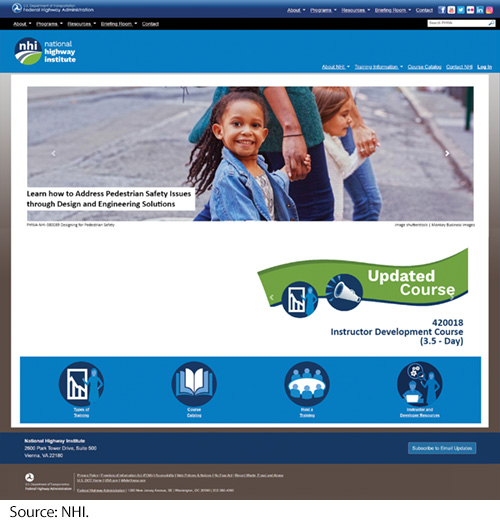 The Federal Highway Administration's (FHWA's) National Highway Institute (NHI) will be launching a redesigned website and new Learning Management System (LMS) soon. This comprehensive update will provide learners and partners with a more dynamic and engaging environment to access the training resources needed to continue improving the Nation's highway transportation system.
NHI always strives to be on the cutting edge of innovation by using technology that supports a robust and flexible learning environment. NHI has partnered with the well-known Blackboard® LMS platform, now part of Anthology®, to provide stakeholders with a streamlined registration process, easier access to course information, and enhanced content delivery methods to create a modern learning environment.
Blackboard will enable NHI to continue supporting transportation professionals in meeting their educational goals and excelling in their careers by providing a phenomenal learning experience for training participants, and simplifying processes for hosts, instructors, and developers to manage their courses. In addition, NHI will provide new communication channels between instructors and students to ensure a better learning experience.
All current NHI student data will automatically migrate to the new system, including course completion records, accreditation information, and student profile information. The entire NHI course catalog will also be moved into the new LMS environment in the coming months. Blackboard will completely replace the former NHI learning system.
If you have any questions or need assistance using the new NHI learning system, please contact the customer service center at NHICustomerService@dot.gov.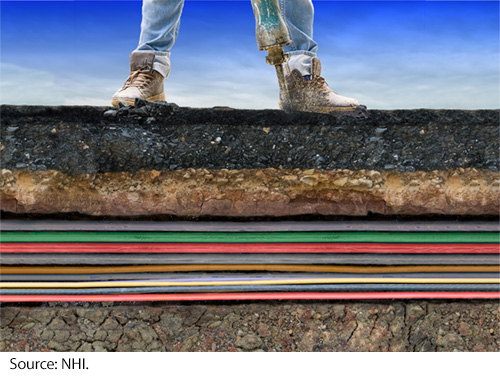 Learn How to Mitigate Utility Issues with Utility Conflict Management
Issues in utility construction are considered one of the major reasons for project delays. Utility conflict management (UCM) thoroughly identifies and resolves utility conflicts as part of the transportation project delivery process. These conflicts are often the result of inaccurate and incomplete information about existing utilities, unsuccessful coordination between State transportation agencies and utility companies, or the lack of understanding of each other's processes. NHI has created a course that covers the importance of conducting effective UCM and how to integrate it throughout the project development process.
NHI has developed a course to mitigate the issues in utility projects through UCM for transportation personnel who manage preconstruction utility coordination and design for highway projects, including utility managers, highway designers, consultants, utility companies, highway contractors, construction personnel, and surveyors.
Achieving Successful Utility Conflict Management with NHI
Utility Conflict Management (FHWA-NHI-134209) is a self-directed training course (formerly Web-based training) that emphasizes the importance of integrating utility investigations into the identification and resolution of utility conflicts by applying the UCM outputs to facilitate relocations and other process activities throughout the project delivery. Participants will learn how to effectively apply UCM strategies and activities, and compare these implementations throughout the process. These methods will help learners apply the principles to minimize and mitigate UCM issues. Applying these methods will result in improved design plans and fewer unnecessary utility relocations.
How to Attend or Host a Course
NHI invites all transportation professionals interested in a course to visit https://www.nhi.fhwa.dot.gov/ to learn more information on how to register or host a course. The course catalog lists over 350 courses in 19 program areas.
NHI is an approved Accredited Provider by the International Accreditors for Continuing Education and Training (IACET). As an IACET Accredited Provider, NHI offers continuing education units for its programs that qualify under the American National Standards Institute/IACET Standard.
Stephen Martinez is a learning management specialist for NHI.
Julie Johnston is a utilities and value engineering program manager for FHWA.
Sabrina Sylvester is a contracted senior marketing analyst for NHI.