The Highway Safety Improvement Program: Paving the Road to a Safer Future
This section of highway has multiple roadway departure countermeasures, including rumble strips, guardrails, high friction surface treatment, and horizontal curve signs.
The Highway Safety Improvement Program (HSIP), which sets the funding and policy tone for national safety implementation efforts, is a key place to begin advancing implementation of the Safe System Approach. The HSIP includes the States' Strategic Highway Safety Plan (SHSP) and the program of highway safety improvement projects (or States' HSIPs), as well as foundational elements of the HSIP that influence both program areas. In the informational report Integrating the Safe System Approach with the Highway Safety Improvement Program (FHWA-SA-20-018), the Federal Highway Administration identified opportunities and noteworthy practices to align the Safe System principles with the foundational elements of the HSIP, SHSPs, and States' HSIPs.
The SHSP data analysis, goals and emphasis areas feed into HSIP problem identification; the SHSP strategies feed into HSIP countermeasure identification; SHSP priorities and action plans support HSIP project prioritization; implementation of HSIP projects supports SHSP implementation; and HSIP evaluation feeds into the evaluation and update of the State's SHSP.
Overview of the HSIP 
The FHWA oversees the HSIP, which is a core Federal-aid highway program, with the purpose to significantly reduce fatalities and serious injuries on all public roads through the implementation of highway safety improvement projects. The HSIP is a federally funded, State-administered program that requires each State to develop and administer a program that best meets its safety needs. The HSIP requires a data-driven, strategic, and performance-based approach to improving highway safety on all public roads.
As part of the HSIP, States are required to develop an SHSP that provides a comprehensive framework for reducing traffic fatalities and serious injuries on all public roads. The SHSP guides investment decisions made in the HSIP toward projects that focus on mitigating the highest priority safety issues in each State. The SHSP is an opportunity for highway safety programs and partners in the State to work together to align goals, leverage resources, and collectively address the State's safety challenges.
According to FHWA's Highway Safety Improvement Program Manual (FHWA-SA-09-029), "The SHSP influences decisions made during each step of the State HSIP process." Thus, emphasis areas and strategies identified in the SHSP inform the development and selection of viable safety projects in the State's HSIP process and guide a State's investment decisionmaking. These safety projects include infrastructure countermeasures that further a State's specific goal of reducing fatalities and serious injuries. The results of implementing and evaluating the HSIP in turn inform future SHSP and HSIP planning efforts. 
Integrating the Safe System within SHSPs 
One of the first opportunities to incorporate the Safe System Approach is within the State SHSP. The SHSP provides a unique opportunity to integrate the Safe System principles and core elements within the current SHSP framework. It also provides an opportunity to reframe the SHSP by refocusing countermeasures and strategies to align with the Safe System Approach. There are several opportunities that a State can take to begin integrating the Safe System Approach, including committing to a goal of zero fatalities, reorganizing the SHSP emphasis areas and strategies, and refocusing the speeding emphasis area.
Commit to a Zero Goal 
The first step a State can take in updating the SHSP is to adopt a goal of zero fatalities. This supports the Safe System principle that deaths and serious injuries are unacceptable. Adopting a zero-death goal ensures that the SHSP's top priority and focus is on achieving a reduction to zero. Many States have already begun committing to zero-death goals in the SHSP. For example, the Washington State 2019 Strategic Highway Safety Plan has a Target Zero goal that represents the vision of zero deaths and serious injuries on Washington roadways by 2030. Maryland is another State that has made a commitment to zero deaths. According to the 2021–2025 Maryland State Strategic Highway Plan, the State's zero death strategy "incorporates principles from Vision Zero and other proven safety programs to provide a broad systems perspective that considers the interaction of the road user with the road design as a necessary component to achieve zero deaths on our roads."
"In Maryland, we consider even one roadway death to be unacceptable," says Christine Nizer, Administrator at the Maryland Department of Transportation Motor Vehicle Administration. "By focusing on proven strategies to reduce fatalities and serious injuries, our SHSP reinforces what works and provides all our safety partners with a comprehensive framework including behavioral and engineering strategies to reduce and eliminate deaths and serious injuries."
Reorganize SHSP Emphasis Areas and Strategies 
Another way the Safe System Approach can be integrated into the SHSP is by organizing the SHSP around the Safe System's six core principles and five elements. For example, a State may choose to fully replace emphasis areas with the five elements, and each of the elements would then incorporate all of the Safe System principles. Or States could revise emphasis areas within the framework of the five elements to become the overarching framework for the SHSP emphasis area strategies.
Before transitioning to a Safe System Approach in the SHSP, States would benefit from performing a Safe System assessment to determine how well the current SHSP's emphasis area structure aligns with the Safe System elements and principles. By performing this assessment, States will have a better roadmap for pivoting to the Safe System Approach and creating a focus on the core principles and elements within the SHSP. States will also want to engage safety partners and stakeholders early to collaborate and encourage engagement while also shifting to more effective and measurable actions.
Several States have already begun developing SHSPs that reflect a Safe System Approach. Missouri's 2021–2025 SHSP, Show-Me Zero: Driving Missouri Toward Safer Roads, aims to address four key behaviors (occupant protection, distracted driving, speed and aggressive driving, and impaired driving) and three roadway user groups (teen drivers, older drivers, and pedestrian and other nonmotorized users). Missouri selected these emphasis areas and user groups to represent "virtually every road user" and to ensure "no group or demographic is unrepresented." Missouri believes that this shift will help address the primary underlying causes of most fatal traffic crashes within the State and help move in a direction to achieve its zero goal.
Another State that has embraced the Safe System Approach is New Jersey, with the update of its 2020 SHSP. The New Jersey SHSP added a fifth "E" to the "4 E's" of highway safety (engineering, enforcement, education, and emergency medical services) to place a new focus on equity for all of its safety investments.
"For the first time, New Jersey Department of Transportation (NJDOT) is recognizing equity as a priority in highway safety as part of our Strategic Highway Safety Plan," says NJDOT Commissioner Diane Gutierrez-Scaccetti. "NJDOT is working diligently to ensure that all strategies and activities emanating from the plan fairly consider the needs of all users and all communities—particularly minority populations, economically depressed communities, and those that are differently abled."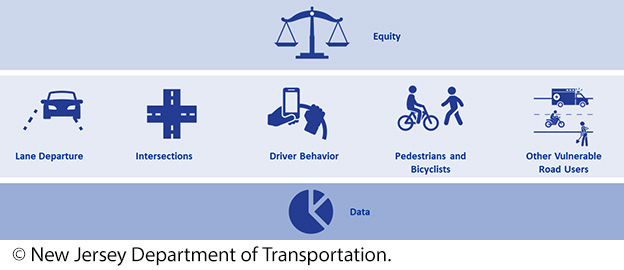 New Jersey's 2020 SHSP emphasis areas include equity to ensure highway safety investments are inclusive of the interests of traditionally underserved populations and is considered more deliberately.
Refocus the Speeding Emphasis Area 
The Safe System element for safe speeds represents another opportunity that can be directly addressed in the SHSP. Refocusing the speeding emphasis area on speed management and roadway design shifts the traditional application of education and enforcement strategies to using roadway design to reduce speeding-related crashes. It also addresses the Safe System principles that humans are vulnerable, responsibility is shared, and redundancy is crucial. Addressing designing for safe speeds and speed management in the SHSP can help States make progress toward the zero-fatality goal.
States can take a similar approach to what Minnesota and the city of Sacramento, CA, have done to address speeding. Minnesota addresses speeding as an emphasis area in its 2020–2024 SHSP. In addition to developing strategies that only focus on education and enforcement, Minnesota has also included a strategy to improve road design and speed limit signing by seeking to use appropriate speed limits to account for roadway design, traffic, land use, and context. Sacramento has also identified roadway design in its 2018 Vision Zero Sacramento Action Plan as a primary tool to align enforcement efforts with reducing fatal crashes that occur at high speeds—whether the cause of the crash was speeding or not. The plan makes a clear connection between crash severity and speed, even in cases where the posted speed limit is deemed to be reasonable.
Integrating the Safe System within the HSIP
A roadway safety management process, which is the foundation of the State HSIP, forms a strong basis from which to integrate the Safe System Approach. This includes processes for problem identification, countermeasure identification, project prioritization, and evaluation.
Problem Identification
Safety programs and identified improvement projects are based on a robust, data-driven process that considers both historic crash patterns and a proactive assessment of the crash causation factors that can lead to future crashes. Changing network screening methods to primarily focus on fatal and serious injury crash reduction opportunities can help refocus problem identification on the Safe System principle that deaths and serious injuries are unacceptable.
Many agencies also screen their transportation network using a systemic approach to safety. The systemic approach to safety aligns with the Safe System principle that safety is proactive, by identifying locations for potential safety improvement based on the presence of risk factors that are correlated with specific severe crash types. Most States implement systemic safety improvement projects through the HSIP. As described in Virginia's Highway Safety Improvement Program 2020 Annual Report, the State "identified $136.7 million in potential funding through [fiscal year] 2025 in order to implement eight systemic countermeasure initiatives" on roadways maintained by the Virginia Department of Transportation. "The systemic countermeasure implementation projects in this initial Systemic Improvement Plan [are] estimated to save 61 lives and 1,174 injuries per year statewide once implemented."
Some agencies are also beginning to consider equity in the problem identification process. Agencies can incorporate socioeconomic data as a potential risk factor in systemic safety analysis. The Minnesota Department of Transportation (MnDOT) created the Suitability of Pedestrian and Cyclist Environment (SPACE) tool, an index of 19 publicly available data measures from the U.S. Census and State agencies that includes measures of demographic populations, environmental justice factors, latent demand, and trip generator factors. Layering the SPACE score with crash data revealed that communities with a SPACE score greater than 50 represent 71 percent of crashes at 15 percent of road miles in the State. This demonstrates that an equity index, like the SPACE score, can be used as an effective predictive risk factor tool for crashes that result in fatalities and serious injuries.
"The SPACE score has helped us prioritize nonmotorized scoping efforts and understand the latent demand in the community," says Sonja Piper, a pedestrian and bicycle safety engineer at MnDOT. "Additionally, the systemic risk attributed to the score has helped us rate HSIP projects. We're looking at ways that SPACE can help prioritize our overall program delivery and have used the concepts of leveraging public data to generate similar analysis for other processes."
The SPACE Score identifies latent demand for nonmotorized infrastructure by combining public data on (1) statewide pedestrian plan priority populations, (2) under-served communities, (3) current commuting patterns, and (4) trip generators. Of the 19 factors, only 1 is based on the existing infrastructure: a proactive risk assessment of MnDOT intersections to identify high risk locations for nonmotorist fatal and serious injury crashes. Note that the SPACE Score primarily identifies social geography and does not necessarily change with an engineering solution: it is one of multiple layers used to identify appropriate solutions.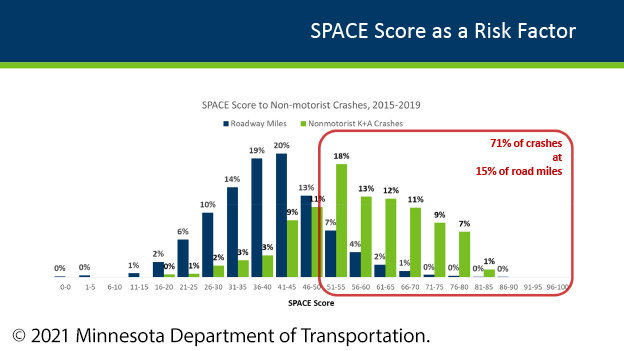 Similar to the proactive risk assessments in MnDOT safety plans, MnDOT analyzed whether there was over-representation of fatal and serious injury crashes based on the SPACE score. This graphic depicts the distributions of centerline miles on all public roads compared to nonmotorist crashes. Scores of 51 and above, where the site exceeds the thresholds for 10 or more of the SPACE factors, show over-representation. This is striking as the definition for SPACE was derived based on latent demand and priority populations and not necessarily a safety analysis.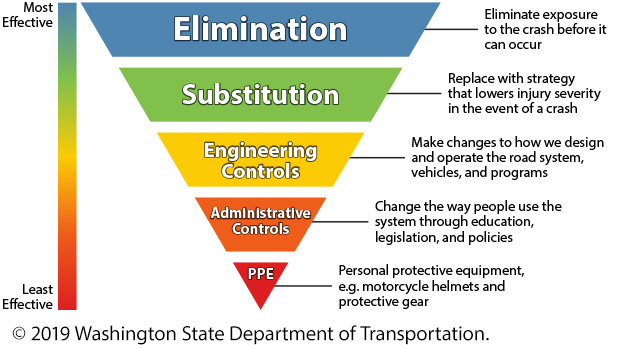 The hierarchy of controls illustrates the different approaches to user safety. The strategies that focus on elimination are at the top: these approaches are more effective in reducing fatalities and serious injuries because they eliminate exposure to the crash before it can occur. Substitution follows, where the focus is on strategies that lower the severity of injuries in the event of a crash. Next is engineering controls, where changes are made to the design and operation of the road system, vehicles, and programs. Administrative controls change the way people use the system through education, legislation, and policies. The final and least effective approach is personal protective equipment such as motorcycle helmets and protective gear.
Countermeasure Identification 
As part of countermeasure identification, agencies identify proven effective safety countermeasures that address the specific crash patterns and factors present. Changing countermeasure identification to primarily focus on fatal and serious injury crash reduction opportunities can help refocus this evaluation on the Safe System principle that deaths and serious injuries are unacceptable. The Washington State Department of Transportation's SHSP describes a hierarchy of controls to support countermeasure identification. The Washington State Strategic Highway Safety Plan 2019 states, "Prioritizing efforts in this way creates a system that is generally more effective and protective. While the most effective approaches may in some cases be more difficult or costly to implement initially within existing systems, total lifecycle benefits and avoided tragedies should be greater."
Agencies can consider additional opportunities to incorporate human factor research (such as applying psychological and physiological principles to engineering and design) into the countermeasure identification process. Safety improvement projects should identify opportunities to minimize the potential for road users to make mistakes (such as intersection designs that reduce conflict points) as well as incorporate shared responsibility and design redundancy in the system to prevent crashes. This principle is currently integrated into some road infrastructure safety strategies, such as roadway departure, where the first priority to avoid a roadway departure crash is to keep vehicles on the road (rumble strips, etc.). In the event a vehicle has left the travel lane, the second priority is to provide an opportunity for the vehicle to safely recover and reenter the travel way (clear zone). And last, the goal is to minimize the severity if roadway departure crashes do occur (such as using guardrails).
Each State HSIP should address Safe System elements and principles in a coordinated and systemic manner, and not in silos. This can be accomplished by broadening the focus of engineering countermeasures to include roadway design or control elements that specifically support each Safe System element. This approach provides a buffer or redundancy in the system that can reduce the level of severity when a crash does occur. The countermeasure identification process is also a way to meaningfully engage populations that are traditionally underserved in shared decisionmaking for projects. Improving the safety for all road users is an important consideration for all highway safety improvement projects.
Project Prioritization 
Agencies use a variety of methods to prioritize safety projects, including benefit-cost analysis, ranking, and optimization approaches. Changing project prioritization methods to primarily focus on opportunities to reduce fatal and serious injury crashes aligns with the HSIP purpose and the vision of zero serious and fatal crashes. Including only the most serious injury crashes may result in a project prioritization different than when all crashes are factored in the calculation. The FHWA Selecting Projects and Strategies to Maximize Highway Safety Improvement Program Performance guide (FHWA-SA-20-001) explored this concept further with two pilot case studies using data from Ohio and Utah. In these case studies, using the benefit-cost ratio only for fatalities and serious injuries resulted in selecting projects expected to prevent more fatal and serious-injury crashes than the current project selection methods used by the two States.
In addition to benefit-cost ratio, States often consider other factors in the project prioritization process. These factors might include project readiness, geographical distribution, or public inputs. Agencies can also consider equity in project prioritization through the HSIP.
The Ohio Department of Transportation (ODOT) made changes to its formal safety application process in the summer of 2021 for the fall round of applications. These changes included modifying the scoring criteria to give higher priority to projects that address crash severity and projects in communities with higher levels of poverty based on census data. Specifically, communities that reach certain thresholds for poverty/economic distress can receive up to 10 points toward their safety application and may be eligible for a reduced local match.
These changes are necessary, notes Michelle May, ODOT's highway safety program manager. "Traffic deaths in Ohio have risen six of the past seven years," she says. "Focusing on severity will help ODOT better address these crashes. In Ohio, fatal and serious injury crashes are overrepresented by 10 percent within census block groups that have a poverty rate at or above 10 percent, when adjusted for population. ODOT wants to help Ohio communities with fewer financial resources struggling to make critical safety investments."
Evaluation 
Evaluation is a key component of the HSIP and of the roadway safety management process in general. Evaluation enables agencies to determine the effectiveness of individual projects, countermeasures, and programs, and monitor and track progress toward annual safety performance targets and long-term safety goals. While many agencies have adopted a goal of zero deaths by 2050, States also set annual safety performance targets that serve as interim performance measures to monitor and track progress toward long-term goals. These interim performance measures enable agencies to take a step back, measure progress, and make course corrections if needed.
Agencies should also consider adopting key performance indicators specific to roadway infrastructure safety. A key performance indicator for road infrastructure should show the safety quality of a road network independent of road user behavior or vehicle technology. Ideally, agencies would estimate the level of safety of existing roads and establish indicators to improve the level of safety over time. However, this may be complicated to estimate, and data may not be readily available. In the interim, agencies may establish other relevant key performance indicators such as the provision of additional infrastructure by length (for example, miles of rumble strips) or installation of additional infrastructure as a percentage of the road network (such as a percentage of areas with pedestrians where sidewalks are provided).
Valuable insights gained in the evaluation process are fed back into the road safety decisionmaking process to enable proactive roadway safety changes. Through continued process and program improvement, agencies will achieve their safety performance goals.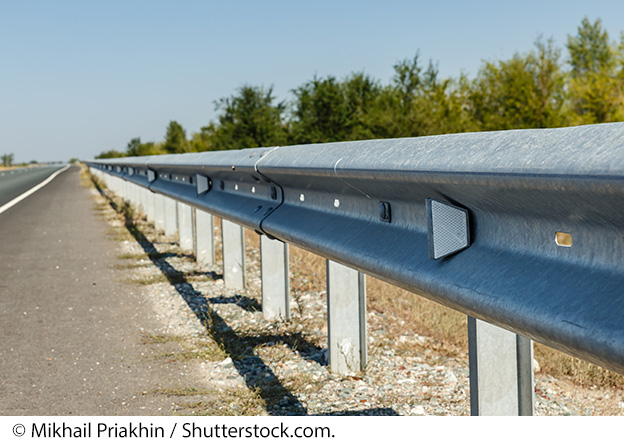 This photo shows a guardrail segment with reflectors, which demonstrates redundancy. The reflectors will help keep vehicles on the road, but if needed the guardrail will prevent vehicles from leaving the road.
What's Next? 
Over the past couple of years, FHWA has been educating safety partners about the Safe System Approach. While there is general support and buy-in from major safety partners, practitioners are also seeking clarity about what the Safe System Approach looks like in practice and how to best integrate this approach into business practices and daily activities.
Establish Safe System Work Group and Conduct Pilot Projects 
FHWA encourages agencies to establish a Safe System work group including representatives from various departments (planning, design, civil rights, enforcement, operations, maintenance) to determine the best path forward. FHWA will also be facilitating Safe System pilot projects in which a review team will conduct a road safety assessment of an existing or proposed project through a Safe System lens.
Prioritize Equity
To adequately address equity in transportation safety, agencies should consider incorporating nontraditional data sources in their data-driven safety analysis. There are many free, publicly available, and easily accessible data sources to use to conduct equity analysis and target investment to address disparities in crash fatalities and serious injuries. These data include: (1) public health models in State and local agencies; (2) the Environmental Protection Agency's Environmental Justice Screening and Mapping Tool, available at https://ejscreen.epa.gov/mapper; and (3) U.S. Census data. Agencies can then layer these models with crash data, infrastructure data, or transportation safety funding data to determine which communities are experiencing disparities and target HSIP funding in those locations. Engaging with State and local stakeholders such as departments of health will help to better understand what data are available to support safety data analysis.
Conduct Additional Research
Additional research is necessary to fully integrate Safe System principles and elements into existing safety programs and projects. This research includes developing predictive models that focus on fatalities and serious injuries, rather than all crashes. Understanding kinetic energy transfer (crash magnitude) related to different modes, crash types, and roadway conditions could help States identify and prioritize projects. Research should also identify how kinetic energy models can help States identify and prioritize projects, including how the models can be used to complement or supplement crash prediction models.
Moving forward, agencies may also leverage backcasting, which identifies the infrastructure and funding that will be required to achieve zero traffic deaths in a future horizon year, and then set interim funding, policy, and program milestones between the current year and horizon year. This approach will enable States to show the level of investments necessary to reach long-term goals.
Transportation safety professionals play a key role in helping everyone get home safely—every trip, every time. By integrating Safe System principles and elements into existing safety programs and projects, safety professionals can lead by example, developing model practices that can be integrated at all levels of roadway planning and engineering and across all disciplines that have a hand in supporting roadway safety.
Danielle Betkey is a program manager with the FHWA Office of Safety. She holds a B.A. degree in business management from Towson University and an M.A. in business administration in technology management from the University of Phoenix.
Karen Scurry is a program manager with the FHWA Office of Safety. She holds both a B.S. and an M.S. in civil engineering from Rutgers University and is a registered professional engineer in the State of New Jersey.
The authors would like to thank Anthony Boutros, a Truman-Albright Fellow in the FHWA Office of Safety, for his contributions to this article.
For more information, visit https://safety.fhwa.dot.gov/hsip, or contact Danielle 
Betkey (202-366-9417; danielle.betkey@dot.gov) or Karen Scurry (202-897-7168; karen.scurry@dot.gov).