Coming Back from Disaster
After the most devastating hurricane to hit Puerto Rico in recent history, FHWA helped the island recover.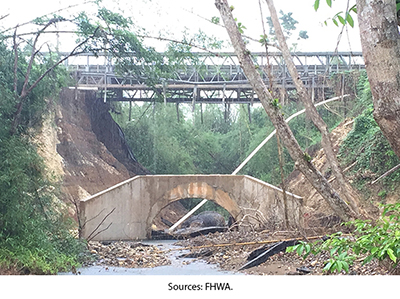 Hurricane Maria devastated Puerto Rico when it hit the island in September 2017, destroying many bridges and roads. High winds and heavy rain caused major damage to this bridge on PR-111 in Moca, Puerto Rico.
Atlantic hurricane season begins on June 1 each year and lasts through November 30. In 2017, a historic series of hurricanes tore through the Caribbean, including two that made direct hits on U.S. territories that are home to approximately 3.3 million U.S. citizens.
On September 6, Hurricane Irma struck the U.S. Virgin Islands with recorded winds of 105 miles per hour (170 kilometers per hour). And on September 17—although landfall for the slowly moving storm would not occur until September 20—Hurricane Maria began to pummel Puerto Rico with winds that would reach up to an estimated 155 miles per hour (250 kilometers per hour). Meteorologists have no land-based records of Maria's maximum winds on Puerto Rico because the storm damaged the island's wind sensors, designed to withstand winds of 135 miles per hour (220 kilometers per hour), before making landfall.
"After surviving two Category 5 hurricanes within 2 weeks, Puerto Rico and the U.S. Virgin Islands were changed forever," says Michael Avery, the associate division administrator of FHWA's Puerto Rico and U.S. Virgin Islands Division.
To an area still reeling from the aftermath of Hurricane Irma, Hurricane Maria caused about $90 billion in damages, making it the third costliest hurricane in U.S. history behind Harvey and Katrina. The total included more than $575 million in damage to federally eligible roads and bridges in Puerto Rico. The island suffered a total loss of power, and in some places, electricity was not restored for a year.
The damage literally hit home for the Federal Highway Administration. With power and communications down across the territory, buildings and bridges destroyed, and roads impassable, some employees of FHWA's local division office could not be located for more than a week following landfall. Those that could began reporting to their workplace the day after the disaster, beginning the agency's immediate emergency response.
Emergency relief work included reconstruction of the PR-111 bridge, shown here after completed repairs.
Assessing the Damage
The day after Hurricane Maria made landfall, Puerto Rico was a different island. The storm destroyed the communication system, including cellphone towers, making contact among families as well as emergency responders nearly impossible. The damage to the power grid seriously curtailed the operation of gas stations, and in the days following, waiting lines of 8 hours to get gas were normal. Officials reported more than 6,000 separate incidents on heavily damaged transportation infrastructure, including 388 on bridges and 400 related to landslides caused by the extreme rainfall. Nearly 20 percent of Puerto Rico's bridges were damaged, including 26 that collapsed completely.
Despite destruction, damage, injury, and death, residents rallied to help one another. Michael Figueroa, a transportation finance manager with FHWA's Puerto Rico and U.S. Virgin Islands Division, was one of the first employees to arrive at the Division's San Juan office.
"Soon I could make out the sound of heavy equipment and chainsaws," Figueroa says, describing the scene in his neighborhood. "[It was] the rush of volunteers scrambling to move debris from the roads to clear a path to the highway. The community was taking a stand."
Along with Figueroa, several employees managed to get to the division office in San Juan the day after the hurricane to assess the destruction, which included extensive water damage to files and computers. It took more than a week to locate and account for every FHWA employee—thankfully, all were safe.
Emergency Response
While dealing with its own recovery efforts, FHWA responded quickly to the island's catastrophe.
"We provided the Puerto Rico Highways and Transportation Authority with immediate guidance on emergency-related topics and worked side by side throughout the first critical days," says Avery, the division's associate administrator.
One of the immediate needs of the Puerto Rico government was funding, and FHWA provided more than $40 million in quick release Emergency Relief funds within 10 days of the event. The agency released additional Emergency Relief funds in the months following the hurricane as recovery efforts continued.
On September 18, before the hurricane even made landfall on Puerto Rico, President Donald J. Trump declared a state of emergency in the territory already suffering from the approaching storm. The declaration enabled the Federal Emergency Management Agency (FEMA) and the Department of Homeland Security to mobilize and coordinate disaster relief efforts. Within days, thousands of FEMA and other U.S. Government personnel began to arrive.
FHWA employees served as key partners in emergency support duties and coordinated with multiple Federal, Puerto Rico, and U.S. Virgin Islands agencies. The active involvement in the initial response and then recovery phases of the emergency required significant resources and additional help. FHWA provided satellite phones and equipped backpacks for engineers. Mainland FHWA division staff provided food and other essentials to the Puerto Rico and U.S. Virgin Islands Division to ensure it could serve local residents and emergency responders.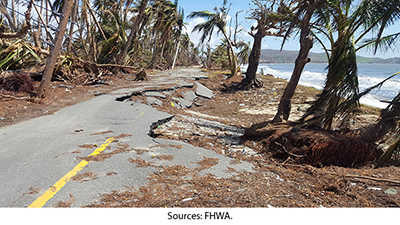 Hurricane Maria destroyed roads such as this one near Naguabo, Puerto Rico.
More than 40 FHWA volunteers from 15 States came to Puerto Rico between October 2017 and December 2018 to help supplement the division office's emergency response and recovery efforts. The volunteers conducted field assessments and inspections, prepared detailed damage inspection reports, and provided essential onsite guidance to all stakeholders. This help from FHWA had a direct impact on how effectively Puerto Rico recovered from the emergency, reinforcing the capacity of the agency to execute tasks necessary for a quick and efficient response.
Government executives, including President Trump and U.S. Secretary of Transportation Elaine L. Chao, also visited the island to see firsthand the damages caused by the hurricanes.
Long-Term Recovery
At of the end of 2017, nearly half of Puerto Rico's residents were still without power, and by the end of January 2018, recovery efforts had restored electricity to only about 65 percent of the island. Full restoration of power and water took a year after the hurricane hit.
FHWA's involvement continues long after the initial emergency response. The Eastern Federal Lands Highway Division (EFL) has been a fundamental partner in the recovery of Puerto Rico and the U.S. Virgin Islands, as it is performing the majority of the long-term recovery work in Puerto Rico. EFL is designing projects and preparing environment; right-of-way; and plan, specification, and estimate documents for construction projects. The EFL division is also advertising, awarding, and administering contracts for road construction, bridges, traffic signage, safety improvements, and landslide repairs. In all, EFL provides design, procurement, and construction management services valued at close to $1 billion.
A landslide blocks PR-191 near Naguabo, Puerto Rico. The residents in the area wrote on the rocks to warn of the road closure.
The response to Hurricane Maria was unprecedented. It was the largest and longest Federal response to a domestic disaster in the history of the United States. Although much work remains to be done over the next 3 to 5 years, progress is being made in getting Puerto Rico and the U.S. Virgin Islands back to normal. Recovery efforts successfully restored power, communications systems, water, fuel, and other essential services to both territories. As a result, tourism is on the rise. Many construction projects are still underway, providing jobs to local workers and growing the economy—the Association of General Contractors estimated that hurricane reconstruction would require an additional 50,000 employees over 3 years.
"Irma and Maria hit us hard," says Andres Alvarez, the division's engineering team leader, "but both territories have bounced back and are ready to receive visitors from all over the world."
---
Ferdinand Ortiz is a financial specialist in FHWA's Puerto Rico and U.S. Virgin Islands Division Office. He holds a B.A. in accounting from the University of Puerto Rico at Humacao and an MBA in finance and accounting from the Pontifical Catholic University of Puerto Rico.
For more information, contact Ferdinand Ortiz at 787–771–2538 or ferdinand.ortiz@dot.gov.