Technical News
Along the Road is the place to look for information about current and upcoming activities, developments, trends, and items of general interest to the highway community. This information comes from U.S. Department of Transportation (USDOT) sources unless otherwise indicated. Your suggestions and input are welcome. Let's meet along the road.
USDOT Completes D2X Hub Field Test
Researchers in FHWA's Office of Operations Research and Development are developing the Mobile Device-to-Everything (D2X) software platform, called the D2X Hub, to enable mobile devices to share data in the formats unique to connected vehicles, roadside infrastructure using intelligent transportation systems (ITS) technology, and other travelers using mobile devices. In June 2017, researchers conducted a prototype field test in Columbus, OH, to evaluate the feasibility of sharing data with connected mobile devices and the hub's ability to support the translation of these messages to be used by connected vehicles and ITS devices.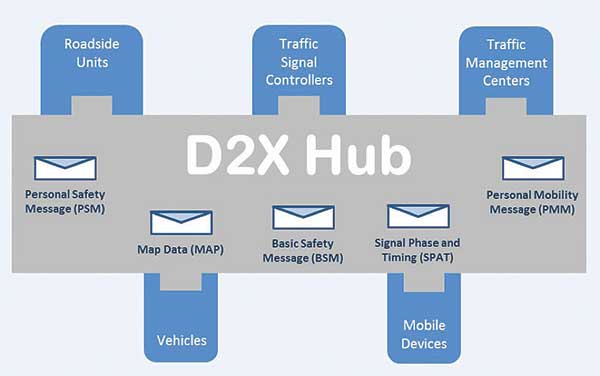 The D2X Hub translates, aggregates, and coordinates the exchange of data using software applications within its platform. These applications must be installed on each connected mobile device, vehicle, ITS and traffic control device, or traffic management system. Through the field test, FHWA demonstrated D2X Hub capabilities to assess mobile devices sending and receiving messages using different communication mediums (such as Wi-Fi, cellular, or Bluetooth®) with traffic management systems, transit vehicles, and connected vehicles.
Funded by the USDOT ITS Joint Program Office, the D2X Hub will provide public agencies with a platform to facilitate the exchange of data to improve how they provide transit services and manage traffic and the safety and mobility of travelers using connected mobile devices. The D2X Hub prototype and supporting documents are available to download at www.itsforge.net/index.php/community/explore-applications#/45/135.
For more information, contact Jon Obenberger at 202–493–3265 or jon.obenberger@dot.gov.
TxDOT Uses New Technology for Flood Relief
After Hurricane Harvey made landfall on August 25, 2017, and devastated cities along the Texas coastline, the Texas Department of Transportation (TxDOT) quickly moved to mitigate extreme flooding. As the storm moved north toward Houston and Beaumont and with waters rising, TxDOT crews from several area districts received and deployed an innovative technology called AquaDam, which enabled the delivery of aid to victims who otherwise would have been cut off because of flooding.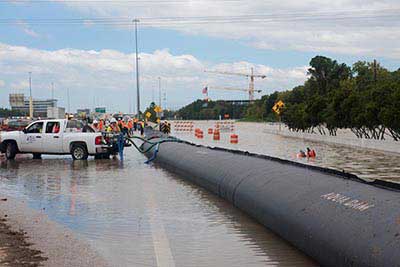 AquaDam is a large mobile dam that can be installed to block off up to 30 inches (76 centimeters) of flood-water, either rising or already in place. A water-filled tube uses existing floodwater to create a barrier, effectively taking the problem and turning it into a solution. The installation during Hurricane Harvey was TxDOT's first use of the technology.
"If the water is stagnant, you can install the AquaDam with a crew of 12," says Cory Taylor, the director of maintenance for TxDOT's Beaumont District. "If the water is moving, installation can be more challenging and require as many as 40 crew members."
Purchased from Louisiana, the AquaDam equipment was delivered directly to five sites for immediate use and proved to be highly effective. Installation time ranged from 4 to 8 hours, depending on conditions at each location. One of the installations—measuring just under 1 mile (1.6 kilometers) long—opened up approximately 15 miles (24 kilometers) of I–10. TxDOT plans to continue using the technology in the future.
For more information, contact TxDOT Media Relations at mediarelations@txdot.gov or 512–463–8700.
TxDOT
MDOT Improves Work Zone Visibility
After a successful test of wet reflective paints for use in work zones, in June 2016, the Michigan Department of Transportation (MDOT) mandated the use of temporary wet reflective tape and paint in work zones, which went into full effect in 2017. The requirement is the first of its kind in the United States.
In 2015, MDOT teamed up with a local contractor to test and create wet reflective paints for performance in dark, wet work zones to improve nighttime visibility, particularly in rainy conditions. The developed products proved so effective that MDOT set new guidelines and standards for work zones throughout the State. The temporary paint is designed to hold wet reflective optics for a 2-month work zone.
"We're always trying to innovate and we are motivated by safety," says Chris Brookes, a work zone delivery engineer with MDOT. "Thirty-five percent of work zone crashes happen on rainy nights and we believe this new standard will make a big difference."
MDOT
Public Information and Information Exchange
FHWA Releases Report on Photovoltaic Noise Barriers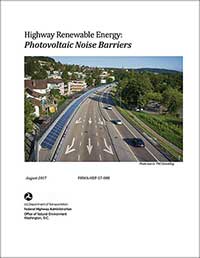 In August 2017, FHWA released Highway Renewable Energy: Photovoltaic Noise Barriers (FHWA-HEP-17-088). The report describes the experience of using photovoltaic noise barriers to lessen the impact of noise while producing renewable energy. Photovoltaic noise barriers represent the combination of noise barrier systems and photovoltaic systems. Photovoltaic systems use solar cells to convert light energy directly into electricity. The report explores pilots underway by State transportation agencies, the business case for photovoltaic barriers, and the potential for solar energy production on U.S. noise barriers.
First deployed in Switzerland in 1989, photovoltaic noise barriers are now found in several countries where transportation agencies have looked for multiple uses for their infrastructure. The experience of these countries, documented in literature and supplemented through a series of interviews by the report's authors, provides evidence that noise barriers can be designed to produce renewable energy without compromising the safety or ability to reduce noise.
Researchers estimate that, given the substantial use of noise barriers in the United States, the potential for solar energy production from photovoltaic barriers is likely at least 400 gigawatt hours annually. That amount is roughly equivalent to the annual electricity use of 37,000 homes.
The business case for these barriers often hinges on the availability of subsidies or other incentives that promote the renewable energy market. Although no U.S. transportation agencies have built photovoltaic barriers to date, at least two State departments of transportation are currently working with partners to pursue pilot projects.
For more information, visit www.fhwa.dot.gov/environment/sustainability/energy/publications/photovoltaic/fhwahep17088.pdf.
SCDOT Launches 10-Year Plan and Web Site
The South Carolina Department of Transportation (SCDOT) has mapped out a decade-long plan designed to rebuild decayed roads and replace structurally deficient bridges across the State. With the passage of the State's Roads Bill, which went into effect July 1, 2017, the agency has an increased and sustainable revenue stream to enable consistent improvement.
The Roads Bill implemented the first increase of the State's gas tax since 1987, with 2 cents added in July 2017 and an additional 2 cents per year for a total of 12 cents at the end of a 6-year period. The bill also raised the vehicle sales tax and other vehicle-related fees.
The State's 10-year plan includes projects to improve highway safety, structurally deficient bridges, interstate widening, and road resurfacing. South Carolina has the highest fatality rate on rural roads in the Nation. SCDOT will address the "worst-of-the-worst" roads by improving 100 miles (160 kilometers) per year with a customized plan to make the roads safer in 10-mile (16-kilometer) segments.
The agency also will replace more than half of its 750 structurally deficient bridges, begin 11 or 12 interstate widening projects, and use 50 percent of the new revenue to resurface State highways. About 80 percent of the 42,000 miles (68,000 kilometers) of State-maintained highways need resurfacing or rebuilding. The 10-year goal is to bring half of those roads up to a "good" rating.
SCDOT will make periodic reports on the progress of the 10-year plan as revenue accumulates and projects move forward to construction. To help keep the public informed of its progress, the agency launched a Web site for the 10-year plan at www.scdot.org/tenyearplan. The site lists all projects statewide as well as broken out into four regions. The site also includes a link to SCDOT's interactive Project Viewer, which provides a more detailed look at in-progress projects.
SCDOT
NHTSA Releases Report on Marijuana-Impaired Driving
The U.S. National Highway Traffic Safety Administration recently released a report to Congress that explores the effects of driving while using marijuana. Marijuana-Impaired Driving: A Report to Congress (DOT HS 812 440) was prepared in accordance with the Fixing America's Surface Transportation (FAST) Act, and presents information on training for law enforcement to detect marijuana impairment in drivers.
Marijuana Laws in the United States as of June 20161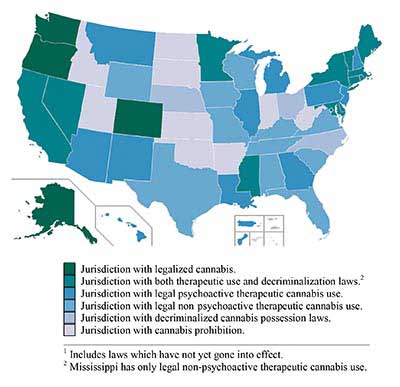 The report describes the absorption, distribution, and elimination of delta-9-tetrahydrocannabinal (THC), the primary psychoactive substance in marijuana, in the body. Researchers contrast this process with the absorption, distribution, and elimination of alcohol in the body, as they are very different processes.
The report also discusses the poor correlation of THC concentrations in the blood with impairment and the corresponding implications for setting limits. It reviews some of the challenges of measuring driving impairment resulting from marijuana use and presents State laws relating to marijuana and driving, as well as what is known about the prevalence of marijuana-impaired driving and the associated crash risks.
In addition, the report discusses the feasibility of developing an impairment standard for driving under the influence of marijuana and recommendations for increasing data collection regarding the prevalence and effects of marijuana-impaired driving.
For more information, visit www.nhtsa.gov/sites/nhtsa.dot.gov/files/documents/812440-marijuana-impaired-driving-report-to-congress.pdf.
NHTSA
NDDOT Opens New Lewis and Clark Bridge
The North Dakota Department of Transportation (NDDOT) recently opened the single largest infrastructure project bid in NDDOT history: the new Lewis and Clark Bridge located on U.S. 85 south of Williston. The project is part of the U.S. 85 four-lane expansion, which included more than $340 million of State money invested into the bridge, two bypasses, and 60 miles (97kilometers) of highway between Watford City and Williston.
The $80 million bridge project included construction, engineering, and design of a new four-lane bridge, replacing the former two-lane bridge originally built in 1973. Other parts of the project included bridge lighting, rebuilding the roadway leading up to the bridge, and the construction of a wildlife crossing specifically designed for moose located south of the bridge. This specific kind of wildlife crossing is a first for North Dakota.
The new Lewis and Clark Bridge is a steel girder design with four 12-foot (3.6-meter) driving lanes divided by a center median. The new bridge will accommodate larger, wider truck loads than the old bridge.
Currently, the bridge is open to two lanes of traffic. Contractors are continuing to dismantle and remove the old bridge and complete the final elements of the project. The Lewis and Clark Bridge will be open to four lanes of traffic once all work is complete.
NDDOT
ADOT Partners with Tribes on Construction Academy
In September 2017, members of the Pascua Yaqui Tribe of Arizona earned their certification to work as flaggers on tribal construction projects through a free Construction Academy sponsored by the Arizona Department of Transportation (ADOT).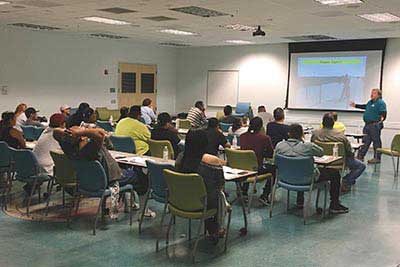 After completing a series of weekend courses, 27 participants in the Pascua Yaqui Reservation Tribal Employment Rights Organization Construction Academy are qualified to work on road projects on the reservation, located in the southwest Tucson area. Fifteen participants will serve as flaggers for 6 months on road projects administered by the Tribal Employment Rights Organization, while the remaining 12 will work as general laborers. After 6 months, participants will switch roles.
The Construction Academy is a pre-apprenticeship training program offered through ADOT's On-the-Job Training/Supportive Services Program, part of the agency's Business Engagement and Compliance Office. All Construction Academy programs are designed to remove barriers to construction careers for women and minority individuals and to help participants move on to construction apprenticeships and eventually reach journeyman status, with ADOT continuing to provide support and guidance.
Flagger certification is just one of the training opportunities available to women, minorities, and members of economically disadvantaged groups, including those who are out of work, through these ADOT programs. Individuals also can receive training that will help them become concrete finishers, block masons, highway surveyors, heavy equipment operators, and commercial drivers. ADOT covers training costs and fees for participants and provides support including transportation and child care assistance, job-readiness training, and safety gear such as hard hats and protective eyewear.
For more information, visit https://azdot.gov/BECO or call 602–712–7761.
ADOT
Personnel
Trentacoste Receives Distinguished Service Award
In recognition of his outstanding service to the Transportation Research Board (TRB) and to transportation research, Michael F. Trentacoste received the 2017 W.N. Carey, Jr., Distinguished Service Award. Trentacoste retired as FHWA's Associate Administrator for Research, Development, and Technology on September 30, 2017. The Carey Award—named in honor of W. N. Carey, Jr., TRB's Executive Director from 1967 to 1980—recognizes individuals who have given leadership and distinguished service to TRB.
Trentacoste served as member and then chair of TRB's Standing Committee on Transportation Safety Management. He was the Federal liaison to the Second Strategic Highway Research Program (SHRP2) Technical Coordinating Committee for Safety Research that helped oversee SHRP2's Naturalistic Driving Study, which resulted in the largest collection of data on driving behavior. In addition, Trentacoste was a key player in development of the strategies designed to ensure that SHRP2's research results are implemented. Trentacoste also was a member of and Federal liaison to nine other committees, panels, and task forces.
A frequent contributor to TRB's Executive Committee, Trentacoste used his more than 40 years of service to the transportation community, including 31 years with FHWA, to help TRB fulfill its mission and sustain the vitality of its programs.
As Associate Administrator for Research, Development and Technology, Trentacoste was responsible for leading a comprehensive national research, development, and technology program designed to meet the needs and goals of the highway community and the Nation's highway transportation system. He also served as the director of FHWA's Turner-Fairbank Highway Research Center.
TRB