Surveying Freight Transport Around the World
The B4 Freight Technical Committee of the World Road Association examines issues involving cargo transport. The committee's B4.1 working group investigates national policies for freight transport and logistics. Since its kickoff in 2016, the working group has focused on researching multimodal freight transport policies in developing countries, countries in transition, and developed countries. In many nations, policies for freight transport are neglected or undervalued. Well-functioning freight transport systems are crucial for prosperous economies and thriving societies.
To improve understanding of multimodal freight policies, the working group developed a survey to look for national case studies, best practices, and lessons learned. Sixteen countries responded: Argentina, Australia, Austria, Bolivia, Canada, Czech Republic, Finland, Italy, Japan, Norway, Peru, South Africa, Sweden, Switzerland, United Arab Emirates, and the United States of America. Belgium also committed to completing the questionnaire.
Each respondent provided a detailed explanation of the modal split in its country, the governing structure of its national freight policy, successful best practices, and information about challenges and opportunities. Two responses are discussed here.
U.S. FAST Act
The Fixing America's Surface Transportation (FAST) Act of 2015 specifies goals for improving the performance of the National Multimodal Freight Network to ensure that it provides a foundation for competing in the global economy. Specifically, the FAST Act establishes a National Multimodal Freight Policy with goals to guide decision making and requires the development of a strategic plan to implement the goals.
The FAST Act also creates a discretionary freight-focused grant program that will invest $4.5 billion over 5 years. States, metropolitan planning organizations, local and tribal governments, special purpose districts, and public authorities (including port authorities) can apply for funding to complete projects that improve safety and help to eliminate freight bottlenecks. The legislation also establishes a National Highway Freight Program with $6.3 billion in formula funds over 5 years for States to invest in freight projects. Up to 10 percent of the funds can be used for intermodal projects.
Creating a freight transportation funding mechanism is a best practice that other countries could replicate. Tracking spending on freight networks could provide a process for prioritizing projects and could be critical to economic stability.
Switzerland HVC
In 2001, Switzerland introduced a heavy vehicles charge (HVC) that all transport companies have to pay on all public roads. The tariffing is based on maximum gross weight, kilometers driven, and emissions category, replacing a previous flat rate for trucks. An electronic collection system makes it possible to charge without interrupting the flow of traffic. The revenues are used mainly for new rail infrastructure and improving existing road and rail infrastructure.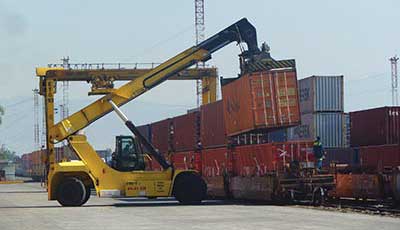 The system's impacts and benefits include an increase in the average size of truck loads and reduction of the number of truck trips, including empty trips; decreased truck mileage by 20 percent; reduced freight traffic on transalpine roads; and an increased number of environmentally friendly vehicles in the fleet. The requirements resulted in no significant shift to vans or minor roads and only a limited increase in inflation and a limited detour of traffic to Austria and France.
These successes resulted from effective preparation for implementation; the HVC's simplicity, reliability, and cost efficiency; uniform implementation on all public roads; sound calculation of the charges; costs based on maximum permitted weight and not load (an incentive to increase loads and reduce empty trips); and public acceptance.
Future Final Report
These two examples and other information gleaned from the survey will support the development of a final report for the 2019 World Road Congress. The report will focus on trends and challenges impacting multimodal freight transportation, the drivers behind national multimodal freight policies, a summary of key survey findings, and options for future research. The report also will highlight best practices from the survey that domestic audiences, such as State partners in the United States, can replicate.
This sharing of information provides valuable firsthand insights not readily available by other means. According to Hinko van Geelen of Belgium, co-leader of the working group, "The group's research is important because it is about sharing experiences and finding common ways to improve multimodal freight policies."
---
Tiffany Julien is leader of the working group and a transportation specialist at the Federal Highway Administration's Office of Freight Management and Operations.