Smart Contracting
Today, project delivery requires better and faster ways of doing business. One way is to use the construction manager/general contractor method of procurement. Here's how it works.
"Competent men in every position, if they are doing their best, know all that there is to know about their work except how to improve it," wrote author and scholar W. Edwards Deming in Out of the Crisis. If this sounds like a challenge, it should.
As budgets become tighter and governments are faced with deciding how to better spend public funds, transportation agencies have a responsibility to improve their work. Specifically, deteriorating infrastructure nationwide and increasing population create pressure to move projects more quickly from design to construction. One way for owners such as transportation agencies to improve is to lead their departments away from traditional, more costly methods of contracting.
All major capital projects involve intrinsic risks. Today's risks can stem from political or economic changes, climate impacts, technological changes, new materials, environmental issues, and many more. Traditional risk-transfer contracting models are proving inadequate to deal with these 21st century risks.
Often, the traditional design-bid-build (that is, low-bid) method is hindered by project delays, as well as paying for the risks versus strategizing as a team early on about how to minimize them. Traditional low-bid designs often build in risk, but this costs the owners and results in reducing or de-scoping the project. Moreover, in traditional contracting models, the owner owns the design and therefore is responsible for the cost of any errors or omissions encountered during construction.
Dealing with risks requires rethinking established practices and changing individual mindsets. In terms of measurable cost and time savings, nontraditional procurement methods—commonly known as alternative contracting methods (ACMs)—can benefit transportation programs substantially by offering several advantages that result in flexibility in project delivery.
Early Contractor Involvement
Albert Einstein once said, "We can't solve problems by using the same kind of thinking we used when we created them."
Above all, project owners need to think critically to solve problems. Early contractor involvement, fueled by ACMs, is the key to improved thinking and hence better project planning and design. Achieving these results requires removing transportation industry fears of involving a contractor "too early" in the process. Ultimately, early contractor collaboration results in smart construction, transportation benefits, and life-saving improvements delivered faster and more efficiently, along with added value to the owners, as pointed out by the National Cooperative Research Program (NCHRP) in Report 787, published in 2014. When used early in the planning and design phases, ACMs outshine design-bid-build in harnessing contractors' technical expertise and construction management experience.
Departments of transportation can achieve remarkable time savings through early partnering and collaboration between the contractor and the entire project team. In fact, strategically employing ACMs offers the greatest opportunity to fast-track construction. To illustrate, ACM procurement can deliver projects reliably up to 50 percent faster than traditional contracting methods. In turn, this saves the owners money, according to a 2016 Federal Highway Administration webinar, "Quantification of Cost, Benefits and Risk Associated with Alternative Contracting Methods and Accelerated Performance Specifications."
According to NCHRP Report 787, the most effective type of ACM for mitigating project risks is the construction manager/general contractor (CM/GC) delivery method. Enhanced results from using CM/GC arise from collaborating early and sitting down often with the entire project team, including the owner, designer, independent cost estimator, and subcontractors. It is important to note that the subcontractors are not traditional low-bid subcontractors. On the contrary, the subs are preselected with the contractor's original proposed team. In other words, CM/GC, if used optimally, requires that subcontractors in each specialty area be present from the project's inception and available to assist in the development of the project.
Construction Manager/General Contractor
The first contract phase of the CM/GC process is design, commonly referred to as the preconstruction phase. The preconstruction phase enables the project owner to work with a designer and contractor to identify risks, provide cost projections, and refine the project schedule. Project risks then can be mitigated through several options. Working together, the team can develop innovative design options based on contractor input using optimum means and methods, minimize schedule impacts using contractor input on effective phasing, or agree to share risks when the team is uncertain if the risk would actually be realized.
Average Duration Under Various Contract Methods
for Projects Between $10 Million and $50 Million

Timing of Award Under Various Contract Methods
for Projects Between $10 Million and $50 Million
In CM/GC, the owner holds two contracts, one with its designer and one with its contractor. This varies from design-build, where the designer and contractor are united contractually. CM/GC enables the project owner to retain complete control of the design because the designer works directly for the owner agency. More important, this phase enables the owner to have input from the builder prior to making costly design decisions.
Perhaps the most important feature of CM/GC is the way this contracting method encourages, allows, and even requires innovation during the design process. Unquestionably, CM/GC incentivizes innovation to a greater extent than any other delivery system. What makes this possible is the owner, designer, and the contractor's team coming together at the project's conception.
This early relationship facilitates critical thinking because the intensity of the design effort is focused on planning construction versus producing plans. This focus ultimately leads to smart engineering—and innovations—as well as defining the true problems prior to construction. By generating innovations, CM/GC provides improved quality and performance—"smart construction."
Furthermore, CM/GC generates measurable overall project savings because the owner, contractor, subcontractors, independent cost estimator, design consultants, and stakeholders work cooperatively to develop and maintain an aggressive and cost-effective schedule, and to minimize project risks or to assign them to the party best equipped to mitigate those risks. The schedule and budget drive the project and all project decisions, not the other way around.
In other words, when decisions are being made, the team needs to ask whether the decision will contribute to bringing the project in ahead of schedule and under budget. If the answer is no, then it is not a good decision. In short, design details do not drive the weekly team meetings, the schedule and budget do.
CM/GC Success Story: Pueblo of Acoma
"After engaging in CM/GC, it's now my preferred delivery method," says Gregg Hostetler, P.E., project leader for the Acoma CM/GC design and senior vice president and senior structural engineer with Infrastructure Engineers. "As a matter of fact, I struggle to get enthusiastic about doing it any other way!"
In 2015, the Pueblo of Acoma in New Mexico decided to bundle nine construction projects under a single CM/GC contract in order to deliver the projects rapidly and create an economic stimulus package for the local community. The projects ranged from simple repair and stabilization of a retaining wall to full-depth roadway reconstruction. In addition to the various types of projects, multiple funding sources and stakeholders added to the complications involved in managing the project.
The team kicked it off in January 2016 with the goal to stretch the existing funding by capturing savings gained through innovations and risk reductions. The team started without designs and with environmental clearance for only one project. The suite of projects was developed using multiple early work packages in an effort to meet an accelerated schedule of 18 months. The team broke ground on the first project on May 12, 2016.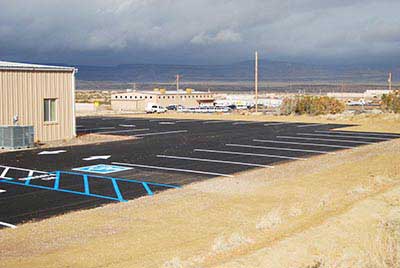 The Pueblo of Acoma achieved $1.15 million in cost savings out of a $6.9 million budget. Stretching this budget through smart engineering and innovations resulted in additional projects, which included (1) asset inventory and management for automated tracking of road maintenance, (2) equipment training for public works staff, and (3) an additional 3.2 miles (5 kilometers) of full-depth reconstruction of Pinsbaari Drive. The team targeted 30-percent savings on qualifying projects.
"Using the construction manager/general contractor method of project delivery for the first time has been an eye-opening experience," says David Deutsawe, interim public works director of the pueblo's Planning and Engineering Department. "The pueblo experienced true innovation and teamwork at the table with the designer and contractor. This dynamic allowed for full interaction from each member." Not only did this bring innovations, he adds, but it also resulted in smart construction.
Additional Advantages of CM/GC
CM/GC has the power to deliver early work packages, ensuring that construction is underway (in some cases) as early as 2 weeks after a notice to proceed. Early work packages can be broken into such items as construction of retention ponds, partial clearing and grubbing, and ordering of long lead items (such as structural steel and drainage structures). In effect, these early work packages become a valuable tool for constructing shovel-ready portions of a project. Early work packages also hand the team an initial short-term win, which creates momentum.
In addition, CM/GC gives the owner and the team the flexibility to stretch the project scope, within the available budgets. In effect, CM/GC enables the team to deliver more project for the money. As shown in the Acoma project, this is accomplished through the CM/GC team working diligently to achieve measurable risk reductions and innovations.
Moreover, CM/GC acts as a catalyst for establishing trust and interdependence by building teams of highly specialized, valued, and cooperative professionals, all having an equal seat at the owner's table. These team members are open to each other's ideas, professional opinions, and reservations. To illustrate, the Pueblo of Acoma's contractor proposed an alternate design to the one that the designer had in mind and was invested in. Instead of rejecting the idea, the designer embraced it. When the level of trust and cooperation is high, then the partnership is strong.
Another Success Story: Osceola County
The use of alternative contracting methods by Osceola County in Florida succeeded in the face of crushing, wide-ranging opposition from citizens, the county commission and staff, and local subcontractors. The opposition was because CM/GC was new to the county and unproven there, leading to an industry aversion to straying from the traditional low-bid contracting method. The county overcame the opposition by proving that the new delivery method worked.
Within one year of kicking off the new CM/GC system, construction of 11 major roadway segments was ready to begin. This delivery method achieved 55 times the production rate of the previous 5 years, at more than 20 percent under budget for all projects, including design, permitting, mitigation, and construction.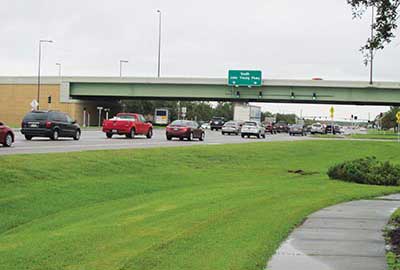 Approximately $350 million was spent on construction in the first year, while $105 million was saved due to innovations and bid packages, representing a 23-percent savings. With 90 percent of construction dollars going directly to local contractors, another $80 million was returned to the community through spending by local contractors during just the first 4 months of construction. That savings was invested in the community at a time when the local economy was depressed, with one of the highest home foreclosure rates in the Nation. In addition, these returns do not include what was paid to the local design community.
A No-Frills Approach to Design
Unlike design-bid-build, CM/GC brings the builder into the design process at a stage where definitive input can have a positive impact on the project. Using a no-frills, bare-bones approach to design plans, CM/GC can rapidly deliver early work packages for a quality project, under budget, while also maximizing the project scope within the available funds.
In addition to speed, another advantage of CM/GC is control. Projects are designed basically around a table, during weekly project meetings with the entire team present, rather than in a design office where the team members have little or no active interaction with each other. One goal of CM/GC is to review the plans during those weekly design/production meetings and produce construction-ready drawings rather than bid sets. There is no need for bid sets, because the owner is not using the low-bid system.
The contractor obtains prices from the preselected subcontractors also working around the design table. Rough order of magnitude estimates become available as designs are discussed. The final pricing simply involves fine-tuning those estimates.
The CM/GC delivery method removes the requirement to have 100-percent signed and sealed drawings to bid the work. Plans need only to be at a level of completion that enables the contract manager to price the work. Moreover, traditional 30-, 60-, and 90-percent reviews are no longer necessary, because the entire team reviews the plans weekly.
CM/GC projects do not need a fully developed design package, as with low-bid projects, or a complex performance specification, as with design-build projects. In addition, CM/GC gives the owner the ability to specify verbally the vision, goals, and objectives for the overall project.
Another Success: Gila River Indian Community
In Arizona, the department of transportation of the Gila River Indian Community needed to replace the existing Sacaton Road (Route7) Bridge over the Gila River. The bridge needed to be replaced because of frequent over-topping during storms and the need to improve roadway safety. For this project, it was during the design phase, in particular, that CM/GC really paid off.
Initially, the transportation department followed traditional project development practices, but that resulted in a design that the Gila River Indian Community could not afford. Also, the proposed design required an estimated 6-month road closure. The department recognized the need to break the traditional molds and try a new approach.
Once the CM/GC team was formed, the members spent the first weeks reviewing the existing plans and alternative approaches. The team opted for a new design using slide-in bridge construction. In doing so, they reduced the road closure from months to just 9 days. In addition, the design embodied innovation by creating an onsite precast yard, which precast half of the bridge on each side of the crossing and then slid them together. This was the first lateral bridge slide in Arizona.
One of the pillars of this team approach was understanding the importance of thinking through contingencies and allowances. First, the team set aside an allowance for unknowns such as major flooding. The team had reviewed the historical data and were pretty confident that they would not have any major water flows. As it worked out, they did have one small occurrence during construction. Because of the team's prior planning and the willingness of the owner to assume a greater percentage of risk and to include a small allowance, the project stayed on schedule and within budget.
Steven Johnson, senior civil engineer with the Gila River Indian Community DOT, adds, "All in all, I consider the project an incredible success and would highly recommend that other agencies consider this construction methodology. Having the contractor's input during the design phase of the project, which is inherent to the CM/GC process, enabled us to deliver the best product at the lowest possible cost."
Fast Tracking Design and Construction
As noted, CM/GC has the greatest ability to fast-track early components of construction, prior to complete design, in phased packages, resulting in significant time savings. Design is accomplished in priority order by construction needs and budget constraints. CM/GC enables the team to permit the project in small miniphases, so construction can begin prior to all design being complete and up to 1 year earlier than design-bid-build. Successful implementation also requires that a project be divided into multiple phases to allow for early starts, early product or material procurement, and addressing of right-of-way, permitting, or utility relocation challenges.
Overall, the fast-track nature of this alternative delivery method leads to a short-term need for increased rates of plan production. This places additional requirements on the designers, such as extended work hours, to keep pace with the acceleration and innovation changes proposed by the contractor.
Tallying Up the Price
Tallying up the project price starts by the team looking for a first work package known as a mini-guaranteed maximum price (GMP). Creating this first work package and fast start is a somewhat strategic exercise, as it gives the team an early win and instant momentum. It also serves as a practice run for future mini-GMPs for the project and ultimately the final GMP. The final GMP is the team guaranteeing their upper management that the project will finish within this price, regardless of what happens during design and construction.
Once the first mini-GMP is executed, the second contract phase kicks off and construction begins. Note that the team has no contractual obligation to move forward from the design and pricing phase, often referred to as the preconstruction phase, to the construction phase until the mini-GMP is executed.
CM/GC Success Story: Estes Park
With the use of a CM/GC procurement, a parking lot project at the visitor center in the town of Estes Park in Colorado expanded the original parking count from 102 to 415 spaces. The project's success exceeded the objective of delivering 300 new spaces to encourage hikers and other visitors to park and use the town's shuttles to reach the downtown area and Rocky Mountain National Park.
The $9.8 million project opened for operation on time and under budget. Five entities provided the funding: Town of Estes Park, $5.9 million; Federal Transit Administration, $3.2 million; Colorado Department of Transportation's (CDOT) Funding Advancements for Surface Transportation and Economic Recovery Act of 2009 (FASTER) grant, $400,000; FHWA Congestion Mitigation and Air Quality Improvement grant, $275,000; and Rocky Mountain National Park, $10,000.
The project was the town's first experience using CM/GC procurement. "We had never built a parking garage before, and both the public works staff and town trustees were reluctant to add learning a new procurement method on top of the extra effort required to successfully launch this project type," says Greg Muhonen, the town's director of public works.
"However, after receiving coaching and encouragement from FHWA, coupled with the results of a rigorous comparative evaluation of design-bid-build, design-build, and CM/GC, the town concluded that the use CM/GC procurement was the only viable method for moving forward quickly enough to meet the looming expiration of a $400,000 CDOT grant while still maintaining local control of project cost and risk."
Muhonen continues, "During the final design and construction period, we nearly doubled the project size and cost by expanding from a two-level to a four-level structure, but added only 1 month to the construction time. It was essential to the town that this project be operational for the wave of visitors we receive for the July 4th holiday."
He adds, "This CM/GC project rewarded the team with the satisfaction of delivering the new structure on time and under budget. The greatest satisfaction has been listening to the delight and compliments from our town residents, trustees, and guests regarding our new transit facility's parking structure, which opened on July 1, 2017. We are looking forward to seeing corresponding decreases in traffic congestion and improvement in air quality as more of our visiting guests park and ride shuttles into downtown and Rocky Mountain National Park."
Ginny McFarland, project leader with the town, says, "We learned that one of the key elements to success in CM/GC is finding enthusiastic subs who are excited about the CM/GC process and getting them involved early and often in the design process."
She notes that this aspect was highlighted by the timber framer who from the outset embraced the CM/GC process. He valued his role as a design participant and was important to the team effort at finding innovative solutions that improved design, satisfied the owner, and saved the project money. He came in well under budget after several meetings to understand client preferences and eliminate elements that did not speak to satisfying those goals. From material selection to level of craftsmanship to erection methodology, he worked with the owner and contractor to create efficiencies and find solutions to deliver a successful project.
"His work process and final product delivery were a demonstration of the successful collaboration enabled by the CM/GC as a design delivery approach," says McFarland.
A Cultural Change
Notably, a change in design philosophy from traditional design-bid-build projects is necessary to implement a CM/GC program successfully. Early and continuous innovations, right-of-way phasing, real-time pricing, and accelerated design may require additional cultural and educational shifts because of the change in responsibility for managing the project schedule and budget from the owner and designer to the contractor.
In many cases, CM/GC requires a significant and aggressive change in the culture of the owners, contractors, and designers. For instance, the standard design methods, schedules, and plan review stages that are frequently used in designing design-bid-build projects may prove to be inadequate to realize the advantages of CM/GC. Designers are required to take a much more active role in working with the owner and contractor during the entire design process.
Today, ACMs are thoroughly vetted. The transportation industry is now in a prime position to take advantage of the ability of ACMs to work successfully for all project partners. This advantage equates to being free to discuss the means and methods before plans are drawn and design budgets are spent. All in all, ACMs—especially CM/GC—are a win-win for transportation agencies as well as the public.
---
Victoria J. Peters became director of the Center for Local Aid Support in July 2016. The center provides national leadership in the advancement of innovative technologies, training, and technical assistance for local, tribal, and Federal land management agencies. Prior to this position, she served in multiple positions in FHWA. She holds a bachelor's degree in geological engineering from the South Dakota School of Mines and Technology.
Kenneth E. Atkins, P.E., is a national subject matter expert with the Construction and Project Management Technical Service Team at the FHWA Resource Center. Also, Atkins is an instructor at the University of Florida's Rinker School of Construction Management. He holds a master's degree in civil engineering specializing in construction management from the University of Florida's Department of Civil & Coastal Engineering and a bachelor's degree in engineering from the University of South Florida. Atkins is also a licensed professional engineer in Florida.
For more information, contact Kenneth Atkins at 720–668–1006 or kenneth.e.atkins@dot.gov.