Communication Product Updates
Communication Product Updates
Below are brief descriptions of communications products recently developed by the Federal Highway Administration's Office of Research, Development, and Technology. All of the reports are or will soon be available from the National Technical Information Service (NTIS). In some cases, limited copies of the communications products are available from FHWA's Research and Technology (R&T) Product Distribution Center (PDC).
When ordering from NTIS, include the NTIS publication number (PB number) and the publication title. You also may visit the NTIS Web site at www.ntis.gov to order publications online. Call NTIS for current prices. For customers outside the United States, Canada, and Mexico, the cost is usually double the listed price. Address requests to:
National Technical Information Service
5301 Shawnee Road
Alexandria, VA 22312
Telephone: 703–605–6050
Toll-free number: 1–888–584–8332 
Web site: www.ntis.gov
Email: customerservice@ntis.gov
Requests for items available from the R&T Product Distribution Center should be addressed to:
R&T Product Distribution Center
Szanca Solutions/FHWA PDC
700 North 3rd Avenue
Altoona, PA 16601
Telephone: 814–239–1160
Fax: 814–239–2156
Email: report.center@dot.gov 
For more information on R&T communications products available from FHWA, visit FHWA's Web site at www.fhwa.dot.gov, the FHWA Research Library at www.fhwa.dot.gov/research/library (or email fhwalibrary@dot.gov), or the National Transportation Library at ntl.bts.gov (or email library@dot.gov).
Addressing Challenges and Return on Investment (ROI) for Paperless Project Delivery (e-Construction) (TechBrief)
Publication Number: FHWA-HRT-16-068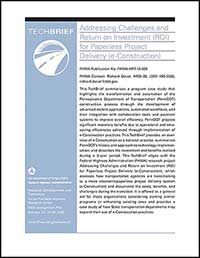 This TechBrief summarizes a program case study that highlights the transformation and automation of the Pennsylvania Department of Transportation (PennDOT) construction process through the development of advanced mobile applications and automated workflows. It also showcases PennDOT's integration of these elements with collaboration tools and payment systems to improve overall efficiency. PennDOT anticipates significant monetary benefits from operational and time-saving efficiencies achieved through implementation of its e-Construction practices.
This TechBrief provides an overview of e-Construction as a national practice, summarizes PennDOT's history and approach to technology implementation, and describes the investment and benefits realized during a 3-year period. This publication aligns with FHWA's research project Addressing Challenges and Return on Investment (ROI) for Paperless Project Delivery (e-Construction), which assesses how transportation agencies are transitioning to a more electronic/paperless project delivery system and documents the costs, benefits, and challenges during thetransition.
PennDOT is considered a national leader in e-Construction, having made significant strides in transforming and automating the construction administration process, which eliminates the paper-based environment. However, the real value realized from e-Construction is the significant gain in process efficiencies. This TechBrief provides an overview of PennDOT's processes for electronic submittals of all contract documents for the entire project construction phase using mobile technology to streamline and expedite contract inspection and administration.
The document is available to download at www.fhwa.dot.gov/publications/research/infrastructure/pavements/16068/index.cfm.
FHWA Research and Technology Evaluation: National Household Travel Survey Program Final Report (Report)
Publication Number: FHWA-HRT-16-082
This report examines outcomes associated with the National Household Travel Survey (NHTS) program, namely the extent of NHTS survey usage; the impact of the NHTS program on policy, project, and regulatory decision making; and the responsiveness of the NHTS program to its user community.
It is difficult to trace the specific impacts of the NHTS data, however, the evaluation found many examples demonstrating that NHTS data inform a range of policy and legislative decisions, both within transportation and in other fields (such as health and energy). In some cases, NHTS provides context and understanding for how, when, and why Americans travel, as well as trends in travel. This context helps make the case for particular policy or legislative initiatives.
In other cases, NHTS is an important data source for a model or statistical analysis, which is used, in turn, to influence policy or legislation. At the State and local levels, NHTS may impact developing, calibrating, or validating travel demand models, which planners use to inform transportation planning and project selection.
The report, which also identifies challenges and lessons learned regarding survey planning, survey administration, and outreach, offers a set of recommendations to improve program effectiveness. FHWA staff, the NHTS user community, and transportation professionals involved in travel behavior modeling, survey research, and evaluation may find the report of interest.
The report is available to download at www.fhwa.dot.gov/publications/research/randt/evaluations/16082/index.cfm.
Hardware in the Loop (HIL) Testing of Connected and Automated Vehicle (CAV) Applications (Fact Sheet)
Publication Number: FHWA-HRT-17-032
FHWA has led the research and development of innovative applications of connected automation that offer the potential for significant benefits for mobility, safety, and the environment. One of the major challenges in testing and demonstrating the benefits of these innovative technologies is the small number of test vehicles available for experiments. This leads to a lack of field data on connected and automated vehicle (CAV) technologies for the development of valid CAV modeling tools for State and local transportation agencies.
One approach to overcoming these challenges is to use emerging hardware in the loop (HIL) tools. HIL tools enable real test vehicles to interact with virtual vehicles from traffic simulators, providing an evaluation environment that replicates actual deployment conditions at early stages of CAV development.
In late 2016, FHWA kicked off an effort to conduct HIL testing of signalized intersection approach and departure (SIAD) and cooperative adaptive cruise control (CACC). This effort will continue to assess the potential impacts of CAV applications—specifically SIAD and CACC—using emerging HIL tools and conduct closed field tests at FHWA's Turner-Fairbank Highway Research Center as well as outside facilities. The project also will develop microsimulation models and model logic to accurately emulate CAV hardware and performance based on the HIL tests and analysis.
FHWA will release additional information on the results of the HIL field tests and model development as the project progresses. Final research results will be available in early 2019.
This fact sheet is available to download at www.fhwa.dot.gov/publications/research/operations/17032/index.cfm.