FHWA's Implementation Plan for SHRP Products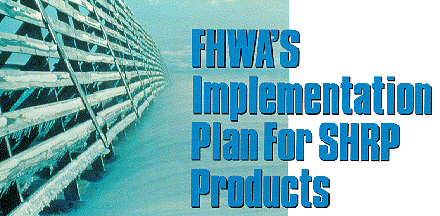 Introduction
Promising new equipment and improved materials, specifications, and tests are now becoming available as a result of the five-year Strategic Highway Research Program (SHRP). More than 100 new products and techniques were developed between 1987 and 1993 through the $150- million research program. SHRP research was targeted to improve highway technology in four specific areas: asphalt, concrete and structures, highway operations, and long-term pavement performance (LTPP).
All sectors of the U.S. highway community worked together in partnership to guide the research so that the resulting products could be moved into application as soon as possible. Top administrators and technical experts from state highway agencies, university-based highway research organizations, and industry helped plan the research program, steer its progress, review results, and test and refine products. SHRP operated through a cooperative arrangement among the Federal Highway Administration (FHWA), the American Association of State Highway and Transportation Officials (AASHTO), and the National Research Council.
The Intermodal Surface Transportation Efficiency Act of 1991 (ISTEA) authorized $108 million -- administered by FHWA over six years -- to help states and industry put SHRP research results to work and to continue the LTPP studies.
To accomplish this, FHWA modified the structure of its existing technology transfer program to capture and continue the cooperative spirit so successfully nurtured in the SHRP research phase. The key features of this modified structure are:
Partnerships at the national and regional/state levels.
Showcase contracts.
Flexibility to respond to regional/state conditions.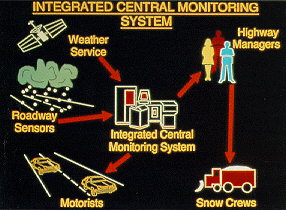 Organizational Overview
The three-tier management structure of the FHWA SHRP Product Implementation Program involves top managers and technical experts throughout the highway community in committees and technical working groups (TWGs).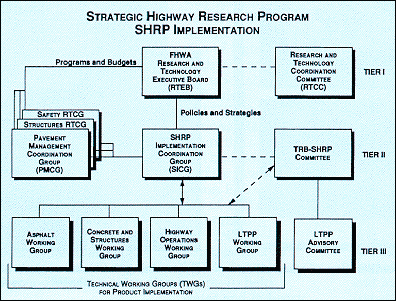 The first tier is composed of senior executives who address resource allocation and long-range policy. The second tier is made up of SHRP senior program managers who ensure proper coordination and policy execution within certain technical disciplines. The technical experts in the third tier address detailed technical issues arising from specific research or technology activities.
To pull everything together, FHWA created the SHRP Implementation Coordination Group (SICG) under the Research and Technology Executive Board (RTEB). The mission of SICG is to form a working partnership of federal, state, industrial, and academic elements. SIGC develops policies, priorities, and program budgets to put into practice technology developed by SHRP. SICG's specific responsibilities include:
Developing program and policy recommendations for RTEB.
Working with the Pavement Management Coordinating Group and the Structures and Safety Research and Technology Coordinating Groups to advance SHRP implementation programs and budgets to the RTEB and to develop SHRP products for which additional research or development has been identified by the TWGs.
Coordinating with the Transportation Research Board (TRB)-SHRP Committee and the AASHTO Task Force on SHRP Implementation.
Encouraging field office involvement in SHRP implementation.
Coordinating and reviewing TWG activities in the four SHRP technical areas and in other ongoing programs.
Establishing priorities and identifying needed resources for the TWGs.
TWGs operate under SICG. Just as the original research plans for SHRP were developed by several committees representing both management and technical perspectives, the specifics of FHWA's SHRP implementation plan will be developed through TWGs. TWGs members are managers and technical personnel; they form a powerful partnership that will ensure that the implementation program is responsive to participants' needs and environmental concerns.
TWGs will:
Assess and evaluate the SHRP products.
Prepare technology development, implementation, and marketing strategies and associated schedules.
Aggressively execute the implementation activities.
Identify specific implementation objectives and appropriate measures of attainment.
Identify products that need further research and/or development.
Develop SHRP implementation activities for the action of SICG.
Provide information and identify resource needs to SICG.
Ensure communication and coordination with and involvement of additional technical partners, technology users, states, AASHTO, and industry, as required.
Respond to queries from the TRB-SHRP Committee as appropriate.
Recommend the establishment of specific expert task groups under the TWGs.
Review the work of expert task groups that are addressing details of specific technologies
FHWA's SHRP Product Implementation Program encourages and facilitates the application of research findings that improve the quality, efficiency, safety, performance, and productivity of our nation's highway system. The goals of the implementation process are to:
Ensure that the U.S. highway community is fully aware of SHRP products.
Develop and implement short- and long-range marketing strategies for SHRP products, exploiting a variety of existing and innovative technology transfer delivery systems.
Develop SHRP products and techniques that are essentially complete and can be used with minimal training and evaluation.
Promote customer evaluation of SHRP products that require local materials and adaptation to regional, state, or specific industry practices.
Advance promising SHRP products and processes through further research, development, test and evaluation, standard-setting, and institutional awareness.
Provide technical and financial assistance to public and private agencies for the evaluation and ultimate adoption of SHRP research products.
Provide training to use SHRP products and initiate activities to enhance long-range educational efforts.
Promote activities by standard-setting organizations such as AASHTO, the American Concrete Institute, and the American Society for Testing and Materials that enhance the acceptability and credibility of SHRP products.
Innovation Through Partnerships
To meet the challenge of presenting and adopting a large amount of technology to a wide audience in a short period of time, FHWA works in partnership with the states, industry, AASHTO, the National Research Council, and university-based research centers. Overall directional and technical issues are addressed through the committees and technical working groups (TWGs). However, to adapt the technology to varied regional, state, and local conditions, the implementation effort must operate with a minimum level of central oversight.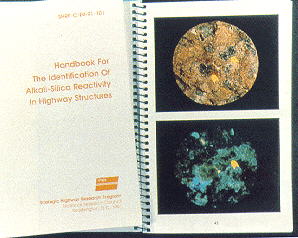 FHWA is encouraging states to organize their own state-level SHRP implementation committees and to develop SHRP implementation plans. These committees should pinpoint the products that most interest them and establish product-specific implementation plans, goals, and schedules. For example, as of June 1993, SHRP implementation programs were either under way or in the planning stages in Indiana, Minnesota, Missouri, New Jersey, Pennsylvania, Texas, Virginia, and Washington. The state programs frequently include a SHRP implementation manager and a SHRP products task force. The managers coordinate with industry and universities in their states and regions. They also maintain contact with SHRP coordinators at their FHWA division offices, and they support and participate in FHWA implementation activities, including the showcase contracts described below.
Funds to assist state implementation activities are available through FHWA's Office of Technology Applications or through federal-aid programs, where appropriate. Determination and use of all appropriate federal-aid funds will be coordinated by the division offices.
AASHTO plays a key role in the application of SHRP products; it established a task force to identify barriers to implementation and to make appropriate recommendations. FHWA representatives serving on this task force will keep AASHTO informed of implementation activity status and explore options for mutual assistance. Additionally, to expedite the incorporation of SHRP technology into its national standards and guides, AASHTO hired a SHRP product implementation coordinator.
SHRP leadership was previously provided by an executive committee that included chief administrative officers and chief engineers from state highway agencies, top FHWA officials, the executive directors of major trade associations, and senior faculty members from respected university-based highway research organizations. This committee lent crucial direction and support to SHRP during the program's research phase.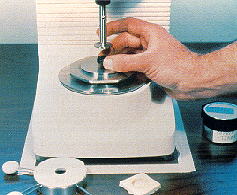 To ensure the continued involvement of highway industry leaders, the Transportation Research Board (TRB) -- under contract to the FHWA -- has organized a new committee, the TRB-SHRP Committee. Members will provide guidance for the continuing FHWA LTPP program (a 20-year performance study, the first five years of which were conducted under SHRP); they will also offer guidance on overcoming institutional barriers to implementation of SHRP products. The TRB-SHRP Committee will coordinate closely with the SHRP Implementation Coordination Group.
Showcase Contracts
In the past, FHWA technology transfer packages were delivered to the field by a small group of headquarters engineers. As the agency increasingly views technology as central to its mission -- and as more field engineers assume technical responsibilities -- a new and bold approach to technology transfer becomes possible.
FHWA proposes to package SHRP technology into discreet showcase packages and present these to the states through the FHWA regional structure. Specifically, contractors will develop technology transfer packages for groups of SHRP products and technologies and will present them across the country to private and public sector engineers in comprehensive workshops. After these workshops, the contractors will develop -- in conjunction with regional technical working groups composed of representatives of the states, industry, and FHWA regional and division offices -- a tailored implementation strategy.
The workshops will feature product demonstrations, loaner sets of equipment, videotapes, manuals, etc. Ultimately, all SHRP products will be highlighted in the workshops, and recommendations for further efforts will be provided by the TWGs. Approximately 10 showcase packages have been conceptualized as of this writing -- five in the area of concrete and structures, four in highway operations, and one in asphalt.
Flexibility to Respond to Regional and State Conditions
FHWA is taking the lead to help state and local highway agencies effectively use SHRP products. The implementation effort must be flexible to permit the adaptation of these products and technology to regional, state, and local conditions.
Therefore, the implementation program is being carried out in a number of ways in addition to the showcase contracts. For example, activities related to SHRP's asphalt binder tests and specifications are well under way with equipment buys, national training, mobile asphalt laboratories, etc. FHWA sent an implementation work plan for 11 of the work-zone safety products to its regional offices, requesting state participation in the trial use of those products. Also, FHWA project engineers began implementation activities for four LTPP spin-off products -- the Distress Identification Manual, the faultmeter, falling-weight deflectometer software, and the resilient modulus test procedures.
Summary
New technology developed under the SHRP can potentially save the nation millions of dollars a year. FHWA has developed an enthusiastic, innovative, and flexible implementation program and is committed to work with its partners in the highway industry to realize these benefits as efficiently and expeditiously as possible.
References
(1) Implementation Plan: Strategic Highway Research Program Products, Publication No. FHWA-SA-93-054, Federal Highway Administration, Washington, D.C., June 1993.
(2) FHWA's Implementation Plan for SHRP Products: Organizational Membership, Publication No. FHWA-SA-93-055, Federal Highway Administration, Washington, D.C., revised October 1993.
Charles J. Churilla is Federal Highway Administration's SHRP Implementation Coordinator in the Office of Technology Applications.