Demos at Your Doorstep: The FHWA Mobile Asphalt Technology Center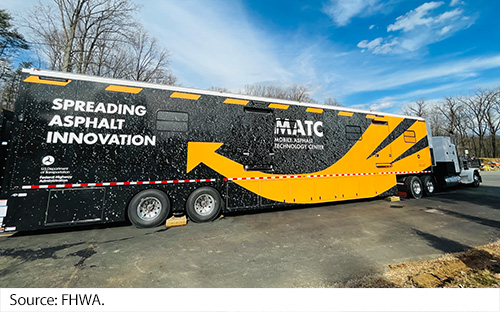 Demos at Your Doorstep: The FHWA Mobile Asphalt Technology Center
The Federal Highway Administration's Mobile Asphalt Technology Center (MATC), a traveling asphalt laboratory and field testing program, debuted its new trailer at the 2023 Transportation Research Board (TRB) Annual Meeting in Washington, DC. MATC supports State agencies and the asphalt pavement community in exploring innovative laboratory testing procedures and construction testing methods by conducting demonstrations onsite. While the program is more than 30 years old, MATC now offers transportation professionals increased opportunities to further their innovation experience with hands-on and expanded educational activities right at the site of the project.
History of MATC
Through the years, MATC has evolved in both name and aim. Formerly known as the Mobile Asphalt Laboratory and Mobile Asphalt Testing Trailer—among other handles—the traveling workroom has championed support for State agencies via various FHWA initiatives. For example, in the late 1980s, its focus was on the field management of asphalt mixtures and the implementation of the original Strategic Highway Research Program; and in the early 2000s, it educated States and contractors on new mixture performance tests that supported pavement design advancements. Historically, MATC's primary audience comprised of researchers and State departments of transportation (DOTs).
In recent years, MATC has extended its activities to paving contractors, local agencies, and other practitioners who support State DOTs. This wider reach is supported through coordinated efforts with the FHWA Resource Center and the FHWA Asphalt Binder Mixture Laboratory Implementation and Delivery programs. These FHWA offices collaborate on delivering, via MATC, onsite field evaluations and hands-on training on lab and field equipment; asphalt materials (binder, aggregate) and field materials testing; support in implementing innovative practices and sustainable materials; demonstrations and equipment loans; independent specification reviews; and virtual training via webinars.
Additionally, MATC has also grown to provide more support to other FHWA programs in the areas of pavement sustainability and safety. For example, the Life-cycle assessment (LCA) Pave tool has been added to their onsite activities to introduce a wider audience to pavement sustainability initiatives underway at FHWA. MATC also hosts FHWA division office and Federal Lands Highway engineers in a 2-week onsite rotational program as a means of getting engineers up to speed on the latest innovations and basic elements of asphalt testing and paving.
"Compared to 20 years ago, the impacts of our site visit don't just end after we leave the site anymore; we now have a continued synergy with the State and their industry partners long after we depart the project," says Brendan Morris, MATC project manager. "The impact is that now MATC has a broader reach with stakeholders and is including more of the contractor and local agency communities through site visits, conference exhibits, and the equipment loan program."
Process and Benefits of a Site Visit
A site visit from MATC starts with a virtual kickoff meeting nearly two months before the scheduled onsite visit and includes a discussion around such topics as logistics and test plans with members of the State DOT, paving contractor team, State asphalt pavement association, and FHWA Division office.
Once onsite, an open house is conducted in a classroom setting during the morning and tours of the MATC trailer and equipment demonstrations are provided in the afternoon. The event is open to paving industry members, members of the State DOT, local agencies, Local Technical Assistance Program staff, consultants, universities, and any Federal partners in the area. During the project, material samples are taken from the field and tested in the mobile laboratory and field technologies are demonstrated across multiple days at the construction site. At the end of the visit, a close-out meeting is held at the trailer to discuss the test results. Finally, within six months of the visit, a 2-day "Quality in the Asphalt Paving Process" workshop is held at the State DOT's facility to provide a platform for the exchange of information between all project participants and to aid in resolving current State-specific issues and concerns with asphalt materials and construction.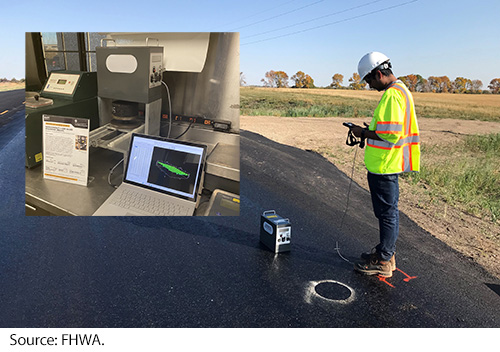 "The MATC site visit really gave us good insight into how the [stone matrix asphalt] treatment we were piloting performed in comparison to our regular Superpave wearing course mixtures," says Aaron Schwartz, a bituminous concrete engineer at the Vermont Agency of Transportation (VTrans). "Not only that, there was a lot of excitement on both the agency side and the paving industry side in regard to the up-and-coming technologies that were demonstrated as part of the visit. VTrans have found their expertise to be extremely valuable, regardless of whether it's a site visit to assist in evaluating a new pavement treatment like in June 2021, or an in-depth analysis of our performance test data."
MATC typically stays onsite for one month and can accommodate four to six site visits per year. Since the program's inception in 1988, it has traveled to, or conducted field demonstrations in, all 50 U.S. States as well as Washington, DC, Puerto Rico, and the U.S. Virgin Islands. MATC is typically scheduled one year out and is now accepting site visit location requests for 2025.
Field demonstrations usually lead to the borrowing of equipment from MATC. To increase the likelihood of adoption of new technologies, MATC loans several pieces of equipment to agencies, contractors, and researchers for various lengths of time. By taking advantage of the equipment loan program, an agency or contractor has the opportunity to learn the equipment and to visualize how it could be best used to improve pavement quality before making an investment. Since initiation of the equipment loan program in 2020, MATC has lent equipment to 24 organizations (a mix of State DOTs, contractors, and universities), delivered twelve 2-day customized training workshops, and conducted 15 field demonstrations. In 2023, so far, eight additional organizations have been granted equipment loans and four additional workshops are already planned, with more on the way. Dr. Jorge Duran, the pavement management program supervisor at the Maricopa County DOT in Phoenix, AZ, has attended several MATC project site visits, including an open house workshop and laboratory demonstration in June 2022, and requested equipment for the county to try out. "I believe FHWA's workshops and training programs potentially contribute to bridging the gap between innovation and implementation," says Duran. "These unique opportunities keep you up with the latest technologies, methodologies, standards, and regulations; boost your professional network; and allow you to gain insight from lessons learned and best practices experienced by other agencies. The Equipment Loan Program is the cherry on the cake, making this an interesting starting point for the execution of new equipment, especially for local government agencies."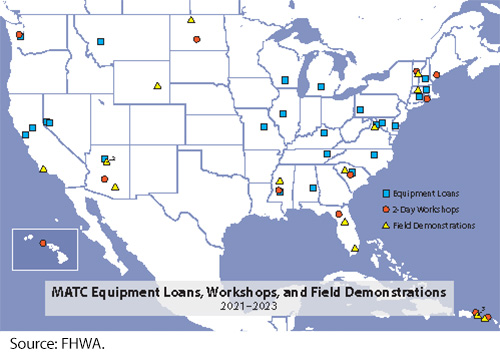 Paving Forward Progress
Now, in the 2020s, making the connection between asphalt pavements and sustainability is a primary focus for MATC. And in continuing its mission of providing education and leadership, creating opportunities for communication, and advancing new and emerging asphalt materials and construction technologies, the new MATC trailer unveiled at TRB offers additional space to conduct onsite demonstrations, solar panels for energy generation, and a rear hydraulic lift that makes the trailer accessible to all visitors.
"It's great to see FHWA continuing to invest in the Mobile Technology Centers," says Rick Bradbury, director of Materials Testing at the Maine Department of Transportation in a social media response to the new trailer. "These are an excellent resource that provide State agencies and other stakeholders with the opportunity to evaluate the latest technologies in highway construction materials design and testing."
Leslie Myers, senior asphalt pavement engineer in FHWA's Office of Infrastructure (at Headquarters), manages the MATC Program and holds a Ph.D. from the University of Florida. She also holds registered professional engineer (PE) licenses in New Jersey and Pennsylvania.
Ram Veeraraghavan, project engineer for MATC, holds a Ph.D. from Worcester Polytechnic Institute, and is experienced in Superpave performance testing on hot mix asphalt nationwide.
Otto Cardenas Arrieta, field construction technician with MATC, is experienced in the construction of asphalt pavements and density measurement. He leads the field demonstrations for asphalt construction and testing technologies for MATC and conducts asphalt mixture testing.
Derek Nener-Plante, pavement and materials engineer in the FHWA Resource Center, provides nationwide technical assistance in asphalt paving and holds an M.S. from the University of Connecticut. He is also a registered PE in Maine.
Tiffany L. Tolbert is a contracted writer and editor for Public Roads magazine.
For more information, see https://www.fhwa.dot.gov/pavement/asphalt/MATC/ or contact Leslie Myers (202-981-2875, FHWA-MATC@dot.gov).