Along the Road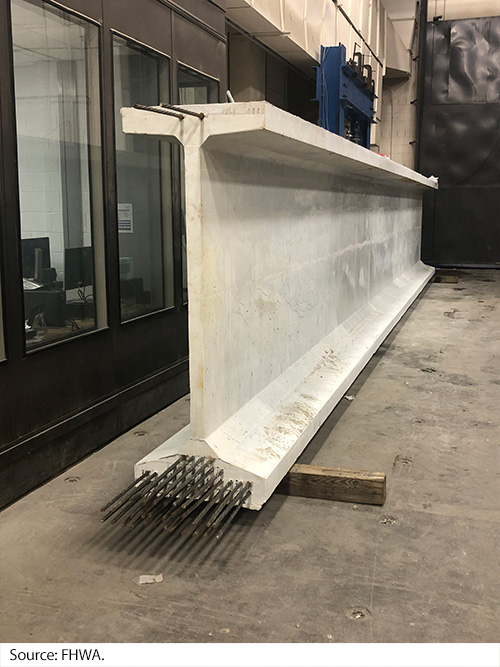 Along the Road is the place to look for information about current and upcoming activities, developments, trends, and items of general interest to the highway community. This information comes from U.S. Department of Transportation sources unless otherwise indicated. Your suggestions and input are welcome. Let's meet along the road.
Public Information and Information Exchange
UHPC Pretensioned Bridge Girders Begins New Chapter for Structures Laboratory's Research
The Turner-Fairbank Highway Research Center Structures Laboratory is a state-of-the-art facility that specializes in developing and testing designs, materials, and construction processes for bridges across the Nation. One key aspect of the laboratory focuses on bridge durability and constructability over time, which supports one of the Federal Highway Administration's strategic goals of improving the safety, reliability, and cost effectiveness of bridge construction.
Modern advances surrounding the knowledge and mixture of concrete materials have led to the development of ultra-high performance concrete (UHPC). Research into the structural behavior of UHPC has begun a new chapter with the recent arrival of a 6-foot (1.829-meter) deep pretensioned bridge girder—or beam—that is used to provide structural support to smaller beams of a bridge. The girder's delivery to the laboratory will provide researchers opportunities to gain specific insight into the performance of narrow web, which increases buckling strength and helps eliminate the need for vertical stiffeners while being more economical and visually appealing, and other optimized elements being considered for future use in the construction of bridges.
For more information, visit https://highways.dot.gov/research/laboratories/structures-laboratory/structures-laboratory-overview.
Reviewing New Ideas: The NCHRP Highway IDEA Program Committee
During the November 2022 National Cooperative Highway Research Program (NCHRP) Innovations Deserving Exploratory Analysis (IDEA) Highway Program's committee meeting, staff from the Federal Highway Administration's Research and Technology program volunteered their time and expertise to evaluate and score proposals describing innovative concepts that will significantly advance the Nation's highway systems. The committee—consisting of technical experts from industry, academia, and State and Federal transportation agencies—reviews proposals twice a year (in the summer and winter) and selects the most promising ones.
Though there are three separate IDEA programs—highway, rail safety, and transit—the intent for each one is the same: to capture the unexpected concept that challenges conventional thinking. Established in 1992, the NCHRP Highway IDEA program seeks advances in construction, safety, maintenance, and management of highway systems; pavement and bridge performance; and environment and resource conservation. The proposals selected are awarded start-up funding.
Since its inaugural year, the NCHRP Highway IDEA Program has received over 2,500 proposals, awarding 240 projects with more than $35 million in funding for research. During 2022, the 57th cycle of the NCHRP Highway IDEA Program, 28 proposals were received. Proposals are due March 1 and September 1 and each NCHRP IDEA Program is open to all, including foreign nationals living and working outside of the United States.
For information on current and completed projects, committee members, proposal selection criteria, and the 2023 Highway IDEA Program announcement, visit https://www.trb.org/IDEAProgram/IDEAHighway.aspx#.
FHWA Participates in Workplace Event for Kids
The Federal Highway Administration once again hosted Take Your Child to Work Day (TYCWD)—known formerly as Take Our Daughters and Sons to Work Day—at Turner-Fairbank Highway Research Center (TFHRC) on April 27, coinciding with the national annual TYCWD.
FHWA's TYCWD is designed to allow children to witness a segment of the American workforce and explore the scientific, technological, engineering, and mathematical (STEM) applications of their parents' work that could inspire them to consider a STEM-based and/or transportation-related career.
FHWA hosted several different activities throughout TYCWD. The last observance, held in April 2019, featured more than 40 workshops and exhibits, including "The Drone Experience" where children could learn to fly small consumer drones; mentoring sessions; hands-on experiments; and a crash test at TFHRC's Federal Outdoor Impact Laboratory—a demonstration that is usually a hit with the young visitors. This year's event was also filled with other fun, interesting, useful, and educational activities relating to science, engineering, and transportation.
USDOT Selects Johns Hopkins to Lead Search for Climate-Focused Transportation Solutions
The U.S. Department of Transportation invests in the future of transportation through its University Transportation Centers (UTC) Program, which advances state-of-the-art research and technology in transportation. In March 2023, Johns Hopkins University announced its $10 million award from USDOT to lead a consortium research project focused on preserving the environment through transportation solutions. UTCs have traditionally served as the Department's research arm since the late 1980s, informing transportation policy and practice at the local, State, and Federal level.
The Johns Hopkins University's Center for Climate-Smart Transportation will collaborate with a group of experts from other higher learning institutions including the Massachusetts Institute of Technology, Morgan State University, University of Texas at Austin, University of Utah, and Diné College, a public Tribal land-grant college serving the Navajo Nation. The consortium will explore viable methods to mitigate climate change in the transportation sector, with an emphasis on equity and environmental justice, as well as how alternative fuels can be used in transportation. Other focal points involve discovering ways to achieve net-zero emissions and ways to advance other net-zero emissions policies, such as reducing per-capita vehicle miles traveled.
For more information, visit https://publichealth.jhu.edu/2023/johns-hopkins-selected-by-us-department-of-transportation-to-lead-new-10-million-center-for-climate-focused-transportation-solutions.
USDOT Intersection Safety Challenge Begins with $6 Million Prize Competition
To help address growing concerns regarding the safety of vulnerable road users at intersections and as part of the National Roadway Safety Strategy (NRSS) call to action, the U.S Department of Transportation launched the Intersection Safety Challenge on April 25, 2023. The Challenge aims to transform safety through the development of innovative intersection safety systems (ISS) that identify, predict, and mitigate unsafe conditions involving vehicles and vulnerable road users. It anticipates the use of emerging technologies, such as machine vision, machine perception, sensor fusion, real-time decisionmaking, artificial intelligence, and vehicle-to-everything communications, to transform intersection safety and ensure equity among all road users.
The Challenge includes a multi-stage prize competition—Stage 1A: Concept Assessment and Stage 1B: System Assessment and Virtual Testing—to encourage teams of innovators and end-users to develop and test their ISS solutions to compete for up to $6 million in prizes. If sufficiently compelling candidate solutions are identified, the USDOT may choose to fund follow-on projects through a procurement mechanism.
To participate in the first stage of the prize competition, submit an ISS Concept Paper (by 5:00 pm EDT on September 25, 2023) at https://www.challenge.gov/?challenge=us-dot-intersection-safety-challenge. Up to 10 prizes of up to $100,000 each may be awarded for Stage 1A.
2023 LTIP Student Data Analysis Contest Accepting Entries through August 1
The Long-Term Infrastructure Performance (LTIP) team invites undergraduate and graduate students to submit technical papers that use the extensive data in InfoPave™ or InfoBridge™.
Authors of the first- and second- place papers in each category will be sent to the Transportation Research Board Annual Meeting and the papers will be published by the Federal Highway Administration.
To enter the contest, university students are to use data from either of the following Web portals: InfoPave for Long-Term Pavement Performance (LTPP) data, or InfoBridge for Long-Term Bridge Performance (LTBP) data. Students who enter the competition will gain the experience of using quality performance data, applying that data by using appropriate research methods to derive recommendations, and ultimately, using that data to make informed decisions.
Students are encouraged to develop their own ideas to investigate topics that may advance long-term pavement or bridge performance. Recent winning entries were: "Correlation of Bridge Deck Deterioration with Truck Load Spectra Based on Weigh-in-Motion Data" and "Key Climatic Factors Affecting Asphalt Pavement Roughness Differ in Different Climate Regions: Exploratory Analyses."
The deadline to enter is August 1, 2023, enter today!
For more contest information, visit: https://infobridge.fhwa.dot.gov/Content/Documents/LTIP_Student_Data_Analysis_Contest.pdf
For information on LTPP InfoPave: https://infopave.fhwa.dot.gov/
For information on LTBP InfoBridge: https://infobridge.fhwa.dot.gov/
Internet Watch
STEAP: Version 2.0 Enhancements
In January 2023, the Federal Highway Administration updated the Screening Tool for Equity Analysis of Projects (STEAP), which supports transportation project prescreening, assists in the effective use of Federal resources, assesses impacts on environmental justice (EJ) populations, and helps to develop meaningful public engagement plans. By using this interactive web tool, transportation planners, engineers, and civil rights officials can select existing highway segments, sketch-in or insert roadways, and assess EJ impacts by analyzing U.S. Census data for selected areas. The tool, an extension of FHWA's Office of Planning, Environment, and Realty (HEP) geographic information systems (HEPGIS) web application, permits rapid screening of potential project locations anywhere in the United States 24 hours a day, 7 days a week.
STEAP was designed to have a simple interface. Enhancements in STEAP version 2.0 reflect this simplicity and help generate better buffer analysis reports by adding three new columns corresponding to city, county, and State statistics and a function to evaluate if a project disproportionally affects disadvantaged populations. Updates also include data from the 2020 Decennial Census, which helps to investigate Title VI of the Civil Rights Act of 1964 complaints using more accurate data from smaller areas of geography and full population counts, and the 2015–2019 and 2016–2020 American Community Surveys as well as improved user interface. Users can now find project locations based on city/town name and download buffer analysis reports in a spreadsheet format.
For more information about STEAP, visit https://hepgis.fhwa.dot.gov/fhwagis/buffertool/ or contact Supin Yoder (supin.yoder@dot.gov).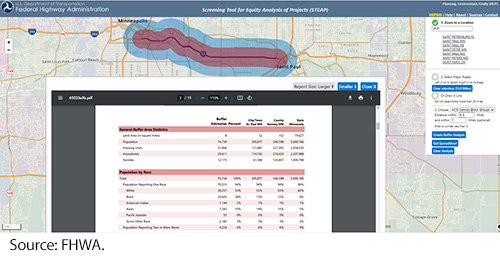 Technical News
Iowa DOT Uses VR to Connect Project Ideas with Public Involvement
Virtual public involvement (VPI)—digital means of enhancing engagement by making participation more convenient, affordable, and enjoyable—is gaining popularity among organizations like State agencies that seek to enhance current public involvement practices or require it based on statute, regulation, or executive order. Virtual reality (VR), a form of VPI, helps transportation professionals communicate their ideas and engage with the public in unique and creative ways.
The Iowa Department of Transportation, for example, collaborated with Iowa State University to develop a VR demonstration of the Interstate 74 (I–74) Mississippi River Bridge replacement project with the aim of attracting more citizens to observe, advise, and provide feedback on the project. Via the VR experience, users were able to view the placements of the old I–74 bridge crossing the river on two separate structures alongside the proposed twin arch bridge delivering four lanes in each direction. Additionally, users were able to:
Drive and fly over the bridge.
Walk along the bridge's pedestrian path.
Observe the view from the bridge's scenic deck.
Dive into and view educational information about the Mississippi River's environment.
In conjunction with public meetings and presentations, the VR demonstration was also available through a headset at multiple locations across the local communities and posted on social media to garner comments and suggestions from residents. The new I–74 bridge, fully opened in December 2021, was designated as the top bridge of 2022 by a leading trade publication. Demolition of the old bridge has begun and will continue through mid-2024.
For more information on this and other VR demonstrations, visit https://www.fhwa.dot.gov/innovation/innovator/issue89/page_02.html.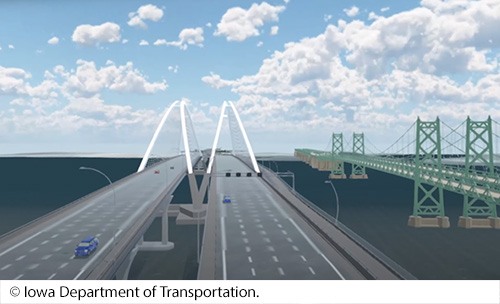 Policy, Programs and Regulations
What is HSIS?
The Highway Safety Information System (HSIS) is a multistate database developed by the Federal Highway Administration in support of its safety research program. HSIS contains quality data on crash, roadway, and traffic volume for a select group of States, including California, Illinois, Maine, Minnesota, North Carolina, Ohio, and Washington, as well as Charlotte, NC, an urban area.
HSIS is available to transportation professionals, analysts, researchers, and policymakers involved in making informed highway safety-related decisions. HSIS data are acquired annually from liaisons and prepared for analysis. Each HSIS liaison serves as an initial single point of contact at the participating State department of transportation (DOT), and generally is the manager of safety data at the State DOT. Though the information collected varies slightly from State to State, HSIS receives data on crashes, roadway inventory, traffic volume, intersections, interchanges/ramps, curves and grades, and guardrails/barriers. Two new databases were recently added: Motorcycle Crash Causation and Roadway Lighting.
In addition to the databases, FHWA also manages other HSIS-related activities, including a virtual HSIS laboratory and an annual Excellence in Highway Safety Data Award student competition (which encourages university students to use HSIS data with the intent of introducing future highway safety professionals to good quality safety data).
For more information, visit: http://www.hsisinfo.org/index.cfm or see the HSIS Excellence in Highway Safety Data Award ad in this issue of Public Roads.