Resources for Understanding Challenges and Opportunities for Coastal Highway Projects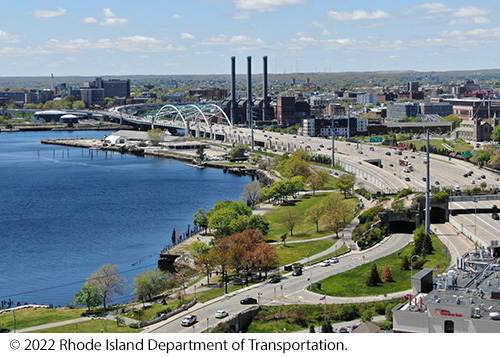 Highways in the Coastal Environment
"Two of the United States' most storied love affairs are with the coast and with roads. Where these two intersect, coastal highways, there is a need for wise engineering, planning, and design," says Dr. Scott L. Douglass, professor emeritus of Civil, Coastal and Environmental Engineering at the University of South Alabama in Mobile. Regularly delivering trainings on highways in the coastal environments to State departments of transportation (DOTs) across the country, Dr. Douglass often opens his courses with this quote. Having spent the last 40 years providing coastal engineering design in the highway environment, he has an acute understanding of the importance and challenges of coastal highways.
The Federal Highway Administration (FHWA) strives to support this work. With an estimated 60,000 miles of coastal highways in 30 States and all U.S. territories, these roadways remain a primary means for supporting mobility, economic opportunity, safety, and well-being for local communities and resources. As a result, FHWA provides foundational resources and training opportunities for developing and maintaining knowledge of and experience with coastal processes and their interactions with highways.
Coastal Highways and Vulnerabilities
Coastal highways face exposure to various phenomena and processes that may result in infrastructure damage and effects on transportation system users. Extreme weather events, such as coastal storms, hurricanes, and tsunamis, may damage or destroy roads and bridges and reshape coastlines. In many locations, rising sea levels increase the vulnerabilities of coastal infrastructure to these events. Rising sea levels also contribute to high-tide flooding in low-lying areas. This flooding may cause minor roadway damage, traffic disruptions, and shoreline erosion.
According to Dr. Douglass, "Many roads and bridges are vulnerable because they are in the unique coastal wave and water level design environments. And that vulnerability is increasing with sea level rise [SLR]." The effects of SLR and related climate change impacts may lead to challenges for transportation professionals, such as more frequent minor flooding, greater flooding extents (the extent of land that has been, or might be, flooded), and damage from extreme weather events. Matthew Lauffer, assistant State hydraulic engineer at the North Carolina DOT, related, "At North Carolina, we have experienced numerous hurricanes that have caused significant damage to our coastal roads and bridges. With rising sea levels, these events will only become worse and more frequent in the years to come. Fortunately, our management supports our efforts to create more resilient coastal roadways and has supported us working with coastal engineers on coastal roadway projects."
FHWA Resources for Coastal Highways
Increasing infrastructure stressors due to SLR notwithstanding, Dr. Douglass said, "We are deciding that many of the best adaptations for climate change are the same sound, proven coastal engineering and management approaches needed for improving the resilience of these roads today." FHWA promotes a range of technical resources and training courses to provide State DOTs and others with the basic coastal engineering principals needed to develop and maintain coastal highways. These resources include technical manuals, training courses, pilot projects, and peer exchanges.
Technical Manuals
Highways in the Coastal Environment: Hydraulic Engineering Circular Number 25, Third Edition (HEC-25) remains FHWA's most comprehensive resource on coastal processes and interactions upon highways. This manual introduces many complex topics in a manner suitable for transportation professionals with little background in coastal science and engineering. A few of the covered coastal topics are:
Basic theory of waves
Water levels
Sediment transport
Practical implications of coastal processes
Shoreline recession
Bridge deck damage mechanisms
Foundation erosion (i.e., scour)
HEC-25 also provides overviews of various engineering practices (e.g., rock protection, seawalls, and nature-based solutions) that protect coastal infrastructure. The final section of the manual focuses on the project processes for planning, designing, and building a coastal highway that is resilient to the processes it may face. The manual includes practical methods for determining the level of effort needed for a highway project, depending on its location and complexity. Several short examples given range from simple, quick projects to large, complex efforts.
FHWA has a few more specialized technical resources for those interested in delving a little deeper into specific topics. A Primer on Modeling in the Coastal Environment introduces many concepts used in computer software to estimate coastal storm impacts. The primer covers modeling theory and important steps of the modeling process. Nature-Based Solutions for Coastal Highway Resilience: An Implementation Guide provides pragmatic information about the process of implementing a range of nature-based solutions, starting from planning to design, construction, and maintenance phases.
Training Courses
FHWA provides a wealth of training course offerings through the National Highway Institute (NHI). A development team recently updated NHI 135082—Highways in the Coastal Environment—a 3-day, instructor-led course that serves as a companion to the HEC-25 technical manual. The previous version of this course taught basic coastal science and engineering concepts through a variety of hands-on techniques, such as operating a wave flume, performing hand calculations, and participating in an interactive trivia game. The updated course keeps or enhances many of these core activities while adding new material on coastal scour (i.e., erosion of soil around a structure's foundation), SLR, nature-based solutions, and coastal project development. NHI 142085, Addressing Climate Resilience in Highway Project Development and Preliminary Design, also includes methods for assessing future impacts of climate change and sea level rise on highways.
FHWA has also developed four web-based trainings (WBT) focused on the basic terminology and principles of coastal science. These courses are titled:
NHI 135082A, Future Sea Levels for the Design of Highways in the Coastal Environment
NHI 135082B, Waves for the Design of Highways in the Coastal Environment
NHI 135082C, Water Levels for the Design of Highways in the Coastal Environment
NHI 135082D, Sediment Processes for the Design of Highways in the Coastal Environment
Participants may complete these free WBT courses by registering at the NHI website and selecting the courses of interest. The developers designed each of these WBTs to be completed in 1 to 2 hours. A fifth WBT called NHI 135082E, Nature-Based Solutions for the Design of Highways in the Coastal Environment, is currently in development for release in 2024.
Research, Pilot Projects and Peer Exchanges
FHWA also sponsored a series of pilot projects and peer exchanges to explore coastal planning and design challenges and work together with States, municipalities, and consultants to identify potential climate impacts on surface transportation infrastructure and brainstorm solutions:
The Gulf Coast Phase 1 and Phase 2 studies measured the potential damages and costs to transportation assets in the central Gulf Coast region by simulating SLR and hurricane impact scenarios.
The transportation engineering approaches to climate resiliency (TEACR) study analyzed how individual transportation assets could be modified or adapted to withstand future climate conditions, including SLR and future coastal storms.
The report Emerging Issues Associated with Sea Level Rise: Findings from FHWA Peer Exchanges documents a series of peer exchanges involving State and local transportation agencies that focused on the impacts of SLR on coastal roadways.
A number of transportation resilience pilots have investigated resilience solutions to current and future extreme weather events, reducing future maintenance costs over the full life cycle of transportation assets.
"When we first started considering the potential impacts of climate change and relative SLR on transportation infrastructure, we were not sure how to approach the problem" said Robert Kafalenos, an environmental protection specialist and member of FHWA's Resilience Team. According to Kafalenos, who has led many of FHWA's resilience research projects, "We conducted research to better understand future impacts and develop methods and tools for assessing resilience and adaptation options for transportation projects. We also supported State- and MPO-[metropolitan planning organization] led pilot studies to apply our methods and tools, as well as others, to assess vulnerabilities of their transportation systems and projects. Our State and local partners did a great job documenting their resources, constraints, and the decisions the work lead to. The best part about these projects was that it set a template for other States and locals who will likely be facing similar concerns in the future."
Looking Ahead
By understanding and applying concepts presented by these FHWA resources and tools, project teams may enhance the resilient design and operation of coastal highways. FHWA continues to develop resources for educating practitioners and students in the understanding, assessment, and application of coastal processes and their interactions with transportation infrastructure. For more information on FHWA coastal highway initiatives and activities, please reach out to the authors or your FHWA hydraulic engineering point of contact.
Daniel S. Sharar-Salgado, P.E. is a hydraulic engineer with FHWA's Office of Bridges and Structures, where he coleads coastal engineering initiatives and supports other hydraulic engineering program areas. He holds a B.S. in civil engineering from the University of Maryland and is a graduate student studying coastal engineering at the University of Delaware.
Eric R. Brown, Ph.D., is a senior hydraulic engineer with FHWA's Office of Bridges and Structures, where he supports hydraulic engineering program areas. He holds a Ph.D. in civil engineering from Pennsylvania State University.
For more information, see https://www.fhwa.dot.gov/engineering/hydraulics/ or contact Daniel Sharar-Salgado (202–366–8791/d.shararsalgado@dot.gov.)
Where to Start Learning the Basics
Hot Topics
"Cool" Resources
Coastal processes

NHI 135082A-E
NHI 135082
HEC-25

Coastal modeling principles (e.g., water surfaces, waves)
A Primer on Modeling in the Coastal Environment
Coastal design concepts

NHI 135082A-E
NHI 135082
HEC-25
Resilience pilots

Coastal highway vulnerability assessments and resilience

NHI 142085
Gulf Coast Phase 1 and Phase 2 studies
TEACR
Resilience pilots

Extreme weather event
Nature-based Solutions

HEC-25
NHI 135082E
Nature-Based Solutions for Coastal Highway Resilience: An Implementation Guide
Resilience pilots

SLR

NHI 135082A
HEC-25 (chapter 4)
Emerging Issues Associated with Sea Level Rise: Findings from FHWA Peer Exchanges