Addressing Climate Change: A look inside Minnesota Clean Energy and Connectivity Projects
A rooftop solar garden in downtown Minneapolis.
In the words of American horticulturist Liberty Hyde Bailey, "A garden requires patient labor and attention. Plants do not grow merely to satisfy ambitions or to fulfill good intentions. They thrive because someone expended effort on them." The same can be said of a solar garden that harvests large amounts of electricity. 
Climate change is impacting Minnesota; the transportation and electric sectors are the largest two sources of carbon pollution, and the weather is getting warmer and wetter, including frequent, intense, and damaging rainfalls. The impacts can be seen across the State, from the increased severity and regularity of floods and wildfires to the worsening air quality that harms public health. 
The use of solar energy can arrest these worsening effects of climate change. For this reason, solar energy projects are beneficial to the State of Minnesota by supporting local clean energy jobs, saving money on electricity costs, increasing resilience to extreme weather and power outages, identifying secondary purposes for right-of-way, and reducing carbon pollution. The Minnesota Department of Transportation (MnDOT) is exploring how new clean energy and connectivity projects can leverage the full value and productivity of existing highway right-of-way to meet sustainability and clean energy goals.
Past work to reduce carbon pollution has been directed by the Minnesota Legislature and through internal MnDOT leadership in related plans, goals, and performance measures. The State of Minnesota is not currently on track to meet emission reduction goals under Minnesota's Next Generation Energy Act; the need to take bold action is urgent. Therefore, in 2020, MnDOT convened a new Sustainable Transportation Advisory Council (STAC), following recommendations outlined in the agency's 2019 Pathways to Decarbonizing Transportation in Minnesota report. STAC is charged with helping Minnesota transition to a low-carbon transportation future in a way that is consistent with statutory goals for energy and emissions reductions and in a way that recognizes the importance of continued work toward improving safety, reducing inequities, and supporting economic development. As STAC pursues bold action to reduce carbon pollution from the transportation sector, MnDOT is simultaneously reducing carbon pollution from its agency operations and supporting the renewable energy industry.
The First Stage of Commitment
In April of 2019, the Governor of Minnesota issued Executive Order (EO)19-27 (https://mn.gov/governor/assets/2019_04_04_EO_19-27_tcm1055-378973.pdf) that directed State agencies to reduce greenhouse gas (GHG) emissions 30 percent from 2005 levels by 2025 and reduce facility energy use 30 percent from 2017 levels by 2027. In late 2018, MnDOT established a chief sustainability officer and two sustainability coordinator positions in the Office of Sustainability to work with key partners and stakeholders to champion long-term, cost-effective investments that improve energy efficiency, renewable energy, transportation electrification, and resource conservation. In 2019, as a follow up action, MnDOT created an assistant commissioner role to lead a Sustainability and Public Health Division to address the climate crisis and improve public health for all Minnesotans, especially the vulnerable populations who will be most impacted by the effects of climate change.
The MnDOT Sustainability and Public Health Division has five focus areas that connect back to agency and statutory transportation and climate goals. The focus areas include:
Reducing carbon pollution from the transportation sector in all modes.
Increasing operational efficiencies that support EOs, including efforts to reduce fuel consumption and energy use, and investments in solar projects.
Improving resilience of the transportation system to climate change and other natural and human disruptions.
Promoting public health in transportation decisionmaking.
Developing creative strategic partnerships with nontraditional partners to improve the lives of people and communities in Minnesota.
Community Solar Projects
To reduce GHG emissions from agency operations, meet agency energy needs, reduce long-term operational costs, support cost planning, and improve agency resilience, MnDOT is pursuing solar energy on its right-of-way areas and through community solar garden subscriptions. MnDOT holds subscriptions to two community solar gardens on agency property and 15 community solar gardens off-site. One early effort was an agreement with a nonprofit community solar garden developer to install a 1.4 megawatt solar garden on the top of a large downtown Minneapolis Mobility Hub and parking garage, known as the ABC Ramps Mobility Hub. The 3,760 elevated solar panels in this solar garden provide weather coverage for vehicles without losing any parking spaces. MnDOT is a backup subscriber for 20 percent to 40 percent of the energy produced for 25 years, and bill credits offset MnDOT Metro District electricity costs for lighting on Interstate 394 in Hennepin County. The agency saves $.01 per kilowatt-hours of electricity generated by the project.
A rooftop solar garden on the ABC Ramps Mobility Hub in downtown Minneapolis.
Solar Gardens Defined 
Community Solar Gardens (also called Community Solar and Community-Shared Solar) are centrally located solar photovoltaic (PV) systems that produce electricity for participating subscribers. They are a way for people in Minnesota to benefit from solar PV systems without installing their own stand-alone project. Programs vary by utility in Minnesota; many cooperative utility customers can subscribe to a project owned by their local utility.
In 2019, MnDOT issued a request for proposals to purchase community solar garden subscriptions for facilities and operations serviced by the servicing electrical utility. In October 2019, the agency announced two 25-year agreements with local community solar garden developers to purchase 7.4 million kilowatt-hours annually from 14 different gardens within the State to support agency operations in 18 counties. This is equivalent to approximately 24 percent of the agency's total annual electricity use. "MnDOT has partnered with private industry and nonprofits to support solar energy as a way to save money on electricity, reduce pollution, and lead by example in the transition to a low carbon economy," says Tim Sexton, MnDOT's chief sustainability officer.
MnDOT's Solar Project Guiding Principles 
As MnDOT gains more and more experience in solar projects, past operations and successes are reviewed. From it, MnDOT has identified a set of guiding principles to promote consistency with the agency's vision and mission, and to support the sustainability goals declared in the annual MnDOT Sustainability and Public Health Report. The following principles will evolve as more experience is acquired and input is received:
Solar projects should generally be cost-neutral or save money for the agency.
MnDOT may pursue solar projects with higher costs if the project supports the agency's vision (e.g., improve access to renewable energy by low-income residents).
Solar projects should support agency goals around equity and diversity in contracting.
Renewable energy credits (RECs) should help MnDOT meet agency sustainability goals for renewable energy and to reduce carbon pollution. When RECs are available for a solar project, costs should be estimated with and without RECs. Decisions about purchasing RECs, or replacement RECs, should weigh the cost of the RECs against the financial viability of the project. Projects without RECs advance agency renewable energy goals and the spirit of EO 19-27, while purchasing RECs help MnDOT make progress toward the GHG emissions reduction goal in EO 19-27.
Solar projects should offset as much annual average energy load as possible, while minimizing excess energy returned to the grid. MnDOT does not want to become net energy producers.
All new building projects and roof upgrades should evaluate the potential to install cost effective solar panels.
When MnDOT receives unsolicited solar proposals in MnDOT right-of-way, staff may gather additional information to explore new ideas. Once a potential project is identified, the agency may explore posting a competitive solicitation.
MnDOT worked with a second community solar garden developer to construct a 1 megawatt community solar garden on agency property at a former gravel pit south of Interstate 94, near the city of Afton. Project development started in 2016 and was completed in fall 2020. MnDOT receives lease payments and subscribes to 40 percent of the total subscriptions for energy produced at the site. Bill credits from this community garden offset electricity costs for the MnDOT Metro District headquarters building in Roseville, MN, which was the first ground-mounted community solar garden project on MnDOT-owned property. MnDOT is continuing to work with the same developer to add a second 1 megawatt community solar garden at the same site in 2022. Bill credits from this garden will be assigned to MnDOT facilities in the Twin Cities area.
A 1 megawatt community solar garden in Afton, MN. This location was formerly a gravel pit.
MnDOT will continue to seek out opportunities to support solar energy on and off the right-of-way. Recently, MnDOT installed the agency's first solar array outside of utility company, Xcel Energy, territory at the MnDOT facility in Morris, MN. The 150 kilowatt array demonstrates the feasibility of installing solar at agency headquarters and truck stations throughout the State. Going forward, the agency will update facility design standards for truck stations to include solar on new construction when it's cost-effective.
MnDOT is also exploring collaborations with Tribal nations and other stakeholders to advance joint carbon reduction and economic development goals. "We're exploring innovative partnership models that go beyond MnDOT energy needs and offer benefits to the State of Minnesota more broadly," says Levi Brown, MnDOT's director of Tribal affairs.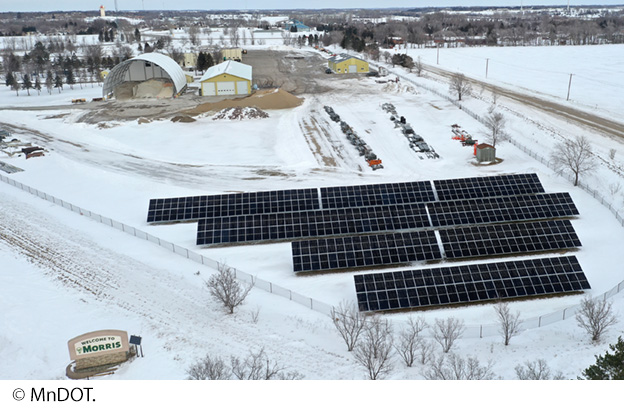 Solar Garden installation at a MnDOT operations and maintenance building in Morris, MN.
Lessons Learned from Siting Solar Gardens
Start with underutilized right-of-way that will not interfere with future transportation needs.
Consider sites with opportunities for co-benefits for air quality improvements.
Propose strategic locations for commercial solar developers with high solar potential.
Select a site that can accommodate native plants and pollinator habitats.
Seek early and frequent coordination with solar garden developer and internal offices for efficient project implementation.
Advancing Clean Energy and Connectivity through Next Generation Highways
To support Federal and State goals for decarbonizing the economy and electrifying transportation, additional electricity transmission is needed to incorporate renewable resources, serve new loads (especially for electrical vehicle (EV) charging) and improve grid reliability. Recognition of the need for investments in the electricity grid were apparent in the Infrastructure Investment and Jobs Act (IIJA), signed into law on November 15, 2021. In 2021, MnDOT joined a feasibility assessment to evaluate technical and regulatory considerations for Next Generation Highways—highways that strategically co-locate buried high-voltage direct current (HVDC) transmission lines with broadband in highway right-of-way. Through its Next Generation Highways work, MnDOT is evaluating whether existing highway right-of-way can be used to accelerate the siting and permitting of new buried transmission lines. "The development of new transmission infrastructure can take seven to 10 years for a single large-scale project," said Laura Rogers, deputy director for The Ray, MnDOT's nonprofit feasibility assessment partner. "Our roadsides are part of the solution hiding in plain sight. By leveraging the public right-of-way for transmission siting, we can expedite the grid expansion that we need to support connected and electric transportation." The development timeline for electrical transmission must be reduced for Minnesota to have the electric grid it needs for government, people, and businesses to achieve their climate goals. The NextGen Highways Workgroup believes that the decade-long transmission development timeline could be reduced to five years or less through the siting of buried HVDC transmission in interstates and other existing highway rights-of-way. Notably, there is significant societal value to be realized from this reduction in the permitting timeline for a typical large-scale transmission project.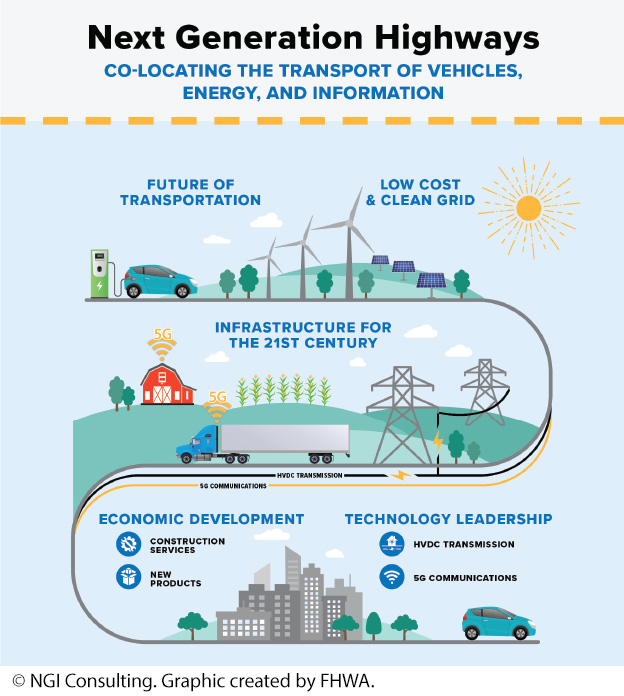 Next Generation Highways.
MnDOT activated a NextGen Highways workgroup with more than a dozen offices including Utility Accommodation, Intelligent Transportation Systems (ITS), Right of Way, and Connected and Autonomous Vehicles to evaluate the safety, statutory environment, and long-term planning implications of this model. It became immediately clear that this analysis could align many different internal planning efforts to leverage highway right-of-way to meet future needs—connected and autonomous ITS investments, EV charging infrastructure, and State fiber assets—in a strategic way. MnDOT, like many State departments of transportation, has a prohibition on longitudinal utilities in controlled access environments.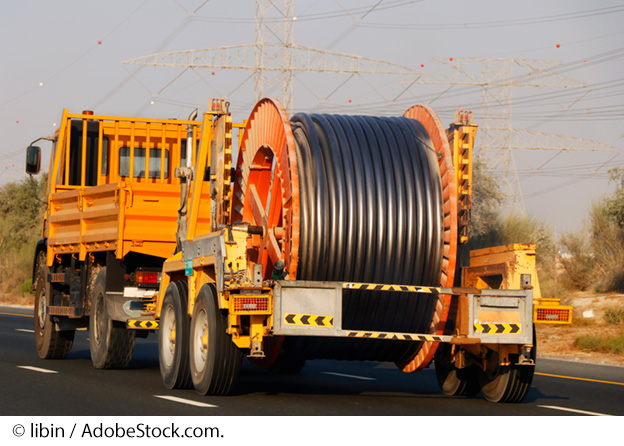 Burying transmission lines will prove beneficial and could support clean energy efforts.
"Nationally, interest in these alternative uses of rights-of-way to support modernizing the grid and decarbonization goals is increasing. Leveraging existing highway rights-of-way for clean energy and connectivity projects are attracting the attention of the Department of Energy and USDOT to address insufficient transmission capacity and the need for a more resilient electric grid in the United States" Sexton says.
Several considerations are central to MnDOT's analysis, including addressing future utility relocation expenses, public-private partnership models, siting limitations, and maximizing dig-once coordination for additional State fiber needs. The analysis, or feasibility assessment, has underscored the need for coordination among other State agencies including the Public Utilities Commission (PUC) and the Minnesota Department of Commerce. MnDOT is evaluating how it's jurisdictional authority over highway right-of-way interacts with the transmission siting and permitting process conducted by the PUC and Department of Commerce. The assessment was published in April 2022 (https://www.buildngi.com/work-1/nextgen-highways) and additional short-term actions include more coordination with statewide broadband expansion plans, updates to MnDOT utility accommodation policies and process, and analyzation of priority corridors to pilot the co-location of fiber with buried HVDC transmission lines.
Siri Simons is the sustainability program supervisor in MnDOT's Division of Sustainability and Public Health. She leads and coordinates statewide transportation sustainability efforts, including the Clean Transportation Pilot Program, statewide EV planning, and the Governor's Climate Change Subcabinet - Transportation Action Team.
Jessica Oh is MnDOT's strategic partnerships director in the Sustainability and Public Health division. In her role, she facilitates public-private partnerships supporting quality of life, public health, alternative uses of right-of-way, and clean energy and connectivity projects.
David Scott is the deputy division administrator with the FHWA Minnesota Division and oversees general operations. He holds a B.S. in civil engineering from the University of Massachusetts.
For more information, see http://www.dot.state.mn.us/sustainability/, http://www.dot.state.mn.us/sustainability/solar.html, and http://www.dot.state.mn.us/sustainability/docs/2019-sustainability-report.pdf, or you may contact David Scott (david.scott@dot.gov; 651-291-6103) or Siri Simons (siri.simons@state.mn.us; 651-366-4834).