Keeping America Moving and Accessible
A winding road in Badlands National Park, North Dakota.
Imagine traveling on winding roads in the North Dakota Badlands, on the isolated forested roads of the great Northwest, or witnessing the raw beauty of Eastern California's Death Valley at sunset. These may sound like stunning views or vacation destinations, but they could also be lonely roads without fuel stations, the necessary routes to transport freight packages in inclement weather, or roads to access emergency facilities during a wildfire. The roads built across the Nation's National Parks, the national conservation areas managed by the Bureau of Land Management, and other wide-open spaces—including Tribal Nations and national forests—can become anxious ordeals in times of emergencies.
The Federal Highway Administration's Office of Federal Lands Highway (FLH) serves as a conduit between road managers and the diverse population that need to transverse these types of roads—no matter the reason. So, how does FLH complete their mission in the face of adverse conditions like weather, wildfires, pandemic shutdowns, and other extremes? What fuels the FLH team to serve the public in all types of extreme situations? In a word, tenacity! Below are some descriptive actualities of FLH staff overcoming challenges and establishing partnerships to keep America moving and accessible.
How Does FLH Work through the COVID-19 Pandemic? With Ingenuity and Virtual Reality.
FHWA is required, under Title 23 of the Code of Federal Regulations (CFR), to provide oversight of functions that utilize Federal-aid for design; plans, specifications, and estimates; contract awards; and inspections with respect to projects both on and off the National Highway System. Further, FHWA provides technical assistance to recipients of Federal-aid to ensure the requirements of Title 23 of the CFR are met.
Oftentimes, site visits are carried out at the beginning of projects to realize the projects' scope; the scope helps to determine the related activities, deliverables, subprojects, and resources associated with completing the project for successful execution. Site visits—examinations of a location's characteristics to accurately design the right solution for the site's context—continue throughout the project delivery. This person-to-person contact is essential for field verification and has been a mainstay of doing business; however, due to the rapid spread of COVID-19, visitations became difficult, if not impossible, to conduct.
With the COVID-19 restrictions on travel, staff within FLH's Office of Tribal Transportation (OTT) had to find new ways to conduct site visits and carry out site inspections on projects for oversight and technical assistance functions. The ingenuity of FLH staff came to the rescue so that projects could continue to be scoped, designed, and inspected—virtually. OTT assembled a virtual tours camera kit. They fashioned a camera kit so that it could be boxed and mailed as a package to their Tribal partners. The kit was equipped with a magnetic mount so that the camera could be attached securely to the roof of a moving vehicle to capture spherical video and photos of a project's elements and surroundings from all directions. Once the video was recorded, it could be played back online via a desktop computer or tablet. Hence, projects continued to be delivered despite the unanticipated challenge of no contact during the height of the pandemic. 
Sara Yockey, a transportation planner, mounts a virtual tours camera kit onto the roof of her vehicle. The camera kit is easily installed onto most vehicles and does not require special equipment.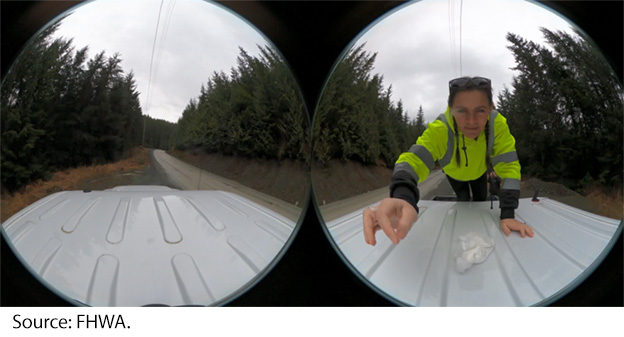 The virtual tours camera kit provides 360-degree video captures of the road and roadside features in using two lenses, one forward facing and one rear facing.
OTT has deployed the camera kit to assist with project close outs, asset management, virtual road safety audits (RSAs), and final construction inspections. As travel resumes, FLH staff expect to still make use of the camera kit to help document project visits.
Road Safety Audits 
An RSA is the examination of an existing or future road or intersection by an independent, often multidisciplinary, team.

The goal of an RSA is to identify elements of the road that present a safety concern, and what opportunities exist to eliminate or mitigate the safety concern. This type of audit considers all potential road users, not only motorized traffic. Therefore, equitable solutions for all road users are considered in the final resolution options.
Video from a virtual tours camera kit is significantly better than the cell phone images that were traditionally used since video allows for 360-degree viewing—viewing in any direction from the camera's location—as if the viewer was physically on site. Footage from the virtual tours camera kits can then be used for video logs, asset or risk management, safety studies, grant applications, and more. For a project team, virtual tours are the next best thing for accomplishing tasks when an in-person visit is not feasible due to travel or gathering restrictions. "The virtual tours camera kit not only allows our team to visit projects while under travel restrictions, but it also provides an opportunity to obtain advice from experts who may otherwise not be available to visit the project" says Elizabeth Romero, program administration manager within the OTT.
OTT now has virtual tours camera kits that can be loaned to Tribal governments. The camera kits are sent to Tribal partners to mount on their vehicles for a drive-through of a road project, or to mount on a tripod for capturing static images at various road locations. FLH processes the Tribes' videos and posts them online for easy viewing, sharing, and overall use.
The camera kits were first deployed to new construction at the Navajo Nation where roundabouts had recently been installed. The virtual tours camera kit not only permitted FLH's safety engineers to conduct oversight responsibilities, but the resulting video was shared and permitted FHWA engineers with expertise in roundabout designs to weigh in virtually. The engineers were able to offer comments about the project that improved its design and the design of similar, future projects.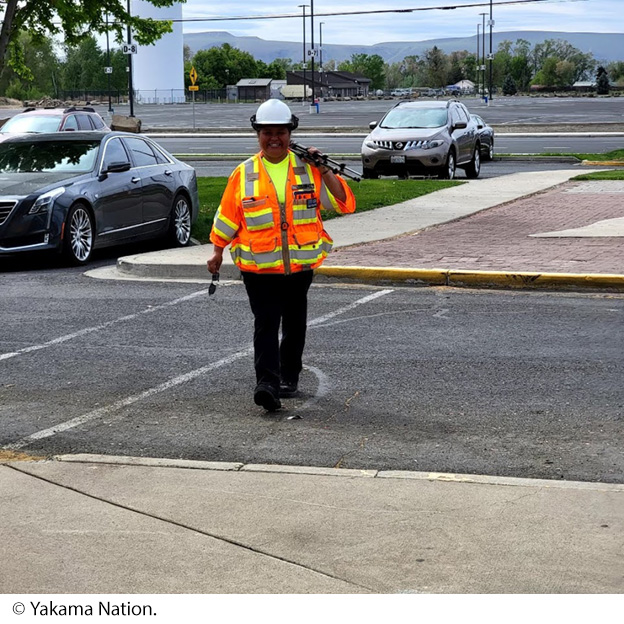 HollyAnna Littlebull, an engineering safety traffic coordinator for the Yakama Nation, carries a virtual tours camera attached to a tripod on her way to evaluate bus stops for pedestrian safety. As COVID-19 restrictions taper, staff expect to still make use of the camera kit to help document project visits.
In like manner, a virtual RSA was conducted at the Tohono O'odham Nation in south central Arizona. The number of people allowed to gather at the Tohono O'odham Nation's facilities was limited due to COVID-19 restrictions. Such restrictions hampered the process by which the RSA team seeks to meet with and gather a variety of input from stakeholders. Typically, input is collected through in-person discussions on how routes are managed and to review available data. Then, the team drives their vehicles on the route to pinpoint and examine concerns and to capture photographs for an RSA findings report. For this virtual RSA, before its start-up or kick-off meeting, OTT partnered with Jeff King, a safety specialist at the FHWA Arizona Division, to capture images and publish a virtual tour in using a virtual tours camera kit. As a result, a map was generated that displays both crash data and links to the corresponding crash locations in the virtual tour video. This information enabled team members to participate in the RSA that would have otherwise been unable to contribute. Images were also extracted from the virtual tour for use in the report.
Flowchart of the virtual road safety audit process.
Furthermore, a crowdsourcing feature was added to the Tohono O'odham Nation study to gather input from the RSA team and other Tohono O'odham Nation stakeholders. An online data collection map (https://fhwapolicy.maps.arcgis.com/apps/CrowdsourceReporter/index.html?appid=3307bc8a86e14ca7b81d5487e12cffac) was generated. It includes a simple form that allows users to geospatially locate areas of concern, note any issues, and provide additional comments as well as files, such as photos. This functionality is straight-forward and simple to set up using typical industry solutions for geographic information systems (GIS).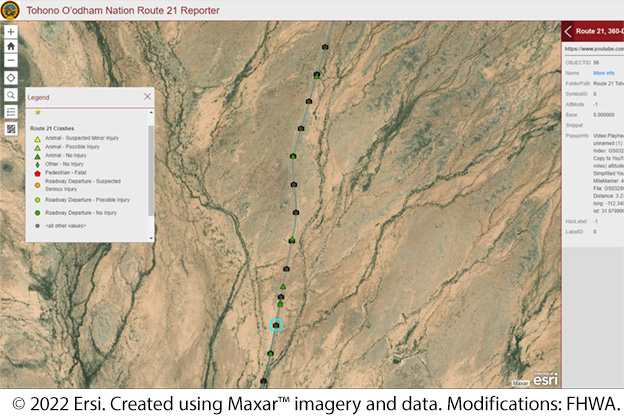 The Tohono O'odham Nation Route 21 Crowdsource Reporter is an online mapping tool that displays the types of crashes that occurred along a particular route as well as points on the route that were documented via the virtual tours camera kit.
A FLH research project entitled, Development of Safety and Traffic Data Collection System and Analysis Framework for Federal Lands Highway, is underway. This project is examining both common and customized solutions for using GIS to improve transportation safety for partner agencies such as Tribal Nations, Federal Land Management Agencies, and State and local governments. The project has reviewed current practices and research, developed a safety and traffic data framework and schema, and is currently conducting case studies for partners to collect and analyze data in support of RSAs, safety action plans, or other projects. For more information on the research project, visit https://highways.dot.gov/federal-lands/programs-planning/studies/safety-traffic-gis-framework.
According to Matt Hinshaw, highway safety engineer with FLH, using GIS-based tools can greatly improve the impact and efficiencies of safety efforts like the Tohono O'odham Nation is conducting. "We are excited about the potential for using GIS-based data collection and analysis tools to improve our partners' ability to improve their safety analysis capabilities by leveraging the data they already have, utilizing open-source and other publicly-available tools such as the University of Wisconsin-Madison's CurveFinder application, and applying our data analysis framework," he says. "These tools make it easier to review broad road networks, especially for rural and often lower-volume roadways, and determine cost-effective systemic improvements that can be included as part of a safety action plan, RSA, and other capital or maintenance-type projects."
How does FLH Keep Denali National Park Accessible? With Endurance. 
FLH responds to the needs of its partner agencies. As such, with the National Park Service (NPS), FLH will supply and assign several dozen engineers and inspectors to oversee construction of a new 400-foot (122-meter) bridge in Alaska's Denali National Park. This bridge will span the actively moving Pretty Rocks landslide. Since there is nearly 24 hours of daylight during summers in Alaska, FLH staff and contractors will work around the clock, full days and nights, to usher this project to completion, to restore road access to affected areas. Construction is scheduled to start in the summer of 2022 and be completed by fall of 2023. The project also consists of reconstructing a section of the park's Denali Park Road. Ground anchors will likely be needed to stabilize the rock mass at the proposed bridge abutments—to achieve acceptable factors of safety—and the new bridge will likely require realignment of the Denali Park Road and excavation at either end of the bridge.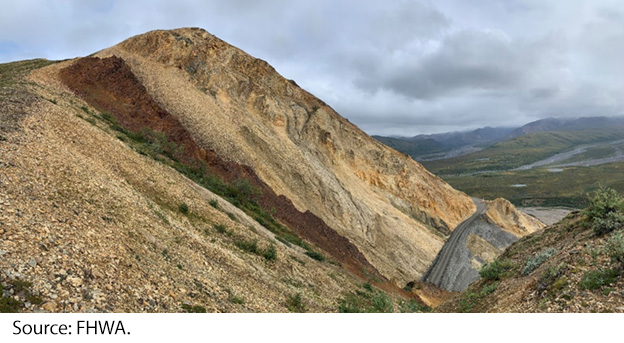 Pretty Rocks in Alaska's Denali National Park is named for the reddish-brown basalt and the varying rock types in a compressed site.
The Denali Park Road is nearly 93 miles, running east to west. Locations are usually referred to by their mile number, meaning how many miles they are from the eastern end (park entrance, Mile 0). The project location is near Mile 46, Polychrome Overlook.
Construction will take place at milepost 45.4, a section of the 92.5 miles (148.9 kilometers) long Denali Park Road that was closed to traffic due to significant changes by ongoing movement of the landslide. Rock is steadily slipping into the valley floor below, causing the access road to shift. NPS could no longer safely maintain access, and had to close the road to all traffic, affecting tourists, concessionaires, and in-holders (landowners and lodges with the Kantishna community).
Field crews from the Western Federal Lands Highway Division visit the Pretty Rocks landslide to scope potential remedies for the land glacier as seen on the right side of the photo extending from the road into the valley below.
During the summer of 2021, the Pretty Rocks landslide, at milepost 45.4, accelerated from approximately 2 inches (5.1 centimeters) per day to over 1 foot (0.3 meters) per day. A year prior, in the summer of 2020, the road's elevation dropped 30 feet (91 meters) over a few months. Nonetheless, Pretty Rocks is actually considered a rock glacier—a relatively slow-moving landslide.
Due to the increase in movement of Pretty Rocks, the remaining 47 miles of the Denali Park Road, beyond milepost 45.4, will remain inaccessible to traffic until the construction project is complete. Prior to 2020, the Denali National Park received over 600,000 visitors annually, mostly accessing the road by bus. The road is still accessible up to the project location at milepost 45.4.
Conclusion
In addition to a commitment to tenacity, ingenuity, and endurance, the staff of FLH utilize their expertise, physical strength, and problem-solving skills to help keep America accessible and moving. In the wake of COVID-19 travel restrictions, FLH performed their mission through ingenious solutions such as shipped camera kits and the use of desktop GIS-data to identify and remedy safety problems along roads in remote Tribal lands. Furthermore, engineers were quick to design a solution for a complex land glacier in Denali National Park so that patrons can access this national, treasured destination. When opportunity strikes, no matter the time of day, night, or location, FLH is there to assist its partners and the traveling public to reach destinations across the Nation with the confidence of a safe and reliable roadway.
On A Mission
The mission of the U.S. Department of Transportation is ensuring that America has the safest, most efficient, and modern transportation system in the world, which boosts our economic activity and global competitiveness and enhances the quality of life in communities both rural and urban.
The mission of the FHWA Office of Tribal Transportation is:
Through mutual respect and understanding, enhance the quality of life in Tribal communities by supporting the Tribes' delivery of transportation programs.
For more information, visit https://highways.dot.gov/federal-lands/programs-tribal.
Adam Larsen is a safety engineer within the FHWA Office of Tribal Transportation, providing safety technical assistance to Tribes and managing the Tribal Transportation Program Safety Fund.
Brandon Stokes, P.E., is an experienced civil engineer and project manager with the FHWA Office of Federal Lands Highway. He currently manages such projects as the Denali National Park and Reserve, the Federal Lands Access Program, and the Emergency Relief for Federally Owned Roads.
For more information, contact Adam Larsen (adam.larsen@dot.gov) or Brandon Stokes (brandon.stokes@dot.gov).