Facing Volcanic Challenges
Hawaii's natural environment places particular demands on its department of transportation, as exemplified by a 2018 lava flow event.
The State of Hawaii endures floods, fires, earthquakes, hurricanes, tsunamis, tornadoes, and waterspouts. In addition, Hawaii also experiences eruptions and lava flows from active volcanoes. All of these events and their effects on highways present the Hawaii Department of Transportation (HDOT) with distinct challenges to incident response and repair.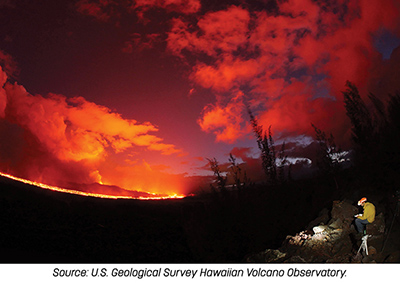 In 2018 alone, HDOT saw a record-setting flood event and two tropical cyclones, Hurricane Lane and Tropical Storm Olivia. While the volcanoes are always erupting, it is not often that they adversely impact the lives of people and their residences. However, one such event occurred in May 2018, presenting an example of what confronts the State of Hawaii when an emergency arises from natural causes.
Lava Flow in Leilani Estates
The Pu'u 'O'o vent in the East Rift Zone of the Kilauea volcano originally erupted on January 3, 1983, and has continued to erupt for more than 35 years. From May to August 2018, lava from the vent flowed out of fissures in the Leilani Estates residential subdivision of Pahoa, in Hawaii County. Lava poured over streets and prompted a mandatory evacuation of the subdivision.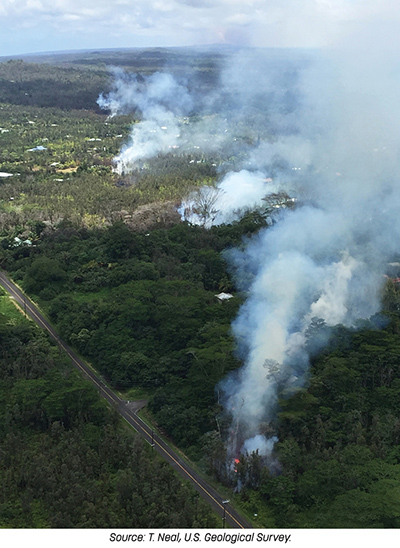 Three roads provide essential access to this area of Pahoa: Route 130, Route 132, and Route 137. These routes form a triangle around the community. The first sign of lava appeared on May 3 in the middle of the triangle and reached the ocean on May 23. The lava's path crossed under Route 130 and eventually crossed over Routes 132 and 137, making the roads impassable. Consequently, about 2,800 people were evacuated and more than 500 homes destroyed.
Route 130
During the event, the asphalt on Route 130 cracked when lava flowed under it. HDOT opened Route 130 by placing steel plates over the cracks. After installation, the steel plates reached a temperature of approximately 140°F (60°C). If the temperature approached 200°F (93°C), then HDOT would assess the situation and perhaps close the road. The manual monitoring of steel plate temperatures with a thermometer twice a day was not adequate to maintain safety and warn the public of the need to close the road. Therefore, HDOT had to figure out how to provide the public with continuous information on the status of the road.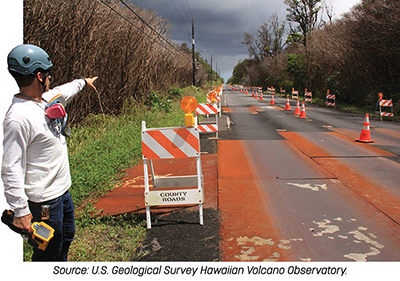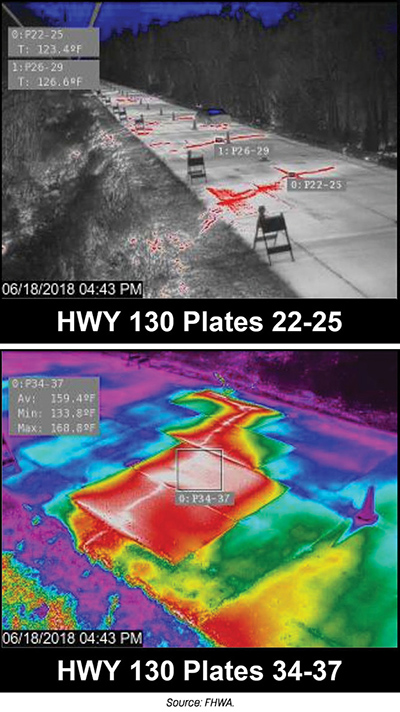 HDOT needed to monitor the conditions of the road, traffic, and ambient conditions around the site from its office approximately 18 miles (29 kilometers) away. The engineers could view traffic using pan-tilt-zoom cameras and solar cellular-equipped trail cameras. Using thermal cameras to detect the surface temperature of the roadway and sulfur dioxide sensors to get air quality readings, HDOT could monitor the ambient conditions of the area as well. This innovative setup enabled HDOT to make decisions remotely to provide maintenance or to close the roadway if needed.
To provide real-time information to the public, HDOT installed a network of message boards that notified motorists of changing conditions. HDOT also developed a special website to provide the camera images as well as other notices created by HDOT, the county, and Federal agencies about Route 130's conditions.
To address concerns about the rising temperature of the steel plates, HDOT replaced them with a heat-resistant concrete slab constructed out of calcium aluminate cement, sand from British Columbia's Orca quarry, and stainless steel rebar. The heat-resistant concrete slab can support a 20-ton truck with full impact load over a 7-foot (2.1-meter) span and a standard car over a 16-foot (4.9-meter) span. The slab is stable up to 1,500°F (815°C), but cars cannot drive over it if ambient temperatures exceed 800°F (427°C).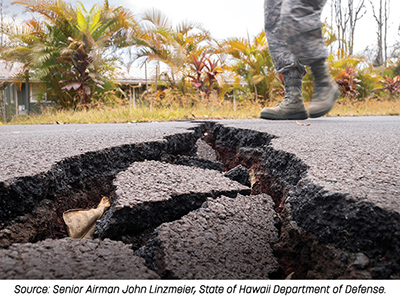 "The rapidly changing event made staying two routes ahead of the lava flows imperative," says Edwin Sniffen, the deputy director of HDOT's Highways Division. "In addition to preparing alternate routes along the beach and Chain of Craters Road, we needed to ensure Highway 130 was traversable for as long as practical. The ingenuity of our engineers in utilizing heat-resistant materials and setting up camera and monitoring connectivity in a relative dead spot was essential to keeping our communities connected safely."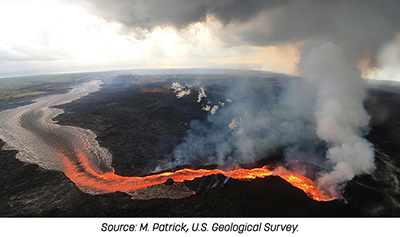 Route 132
In August 2018, approximately 3 months after the first flow appeared, the lava appeared to stop its advance. Unfortunately, Highway 132, a major thoroughfare in the lower Puna district, was already inundated with lava. Lava covered the upper and lower parts of the road and left a portion of the road in the middle untouched but isolated, surrounded by lava. This kind of isolated area that forms when lava flows on either side of a hill, ridge, or older lava dome as it spreads from its source is known as a kipuka.
After waiting for a 6-month cooling-off period, Hawaii County started to grade an alignment for a temporary road to replace Route 132. On June 10, 2019, Hawaii County started to restore Highway 132 to its pre-inundation function with two paved travel lanes and shoulders but at a much higher elevation. Originally, an October 5, 2019, deadline was set to complete the road restoration project in order to qualify for 100 percent Federal-aid highway emergency relief funds. However, due to the hot surface temperatures of more than 800°F (420°C) that damaged equipment, the Hawaii County Department of Public Works requested and received a 3-month extension.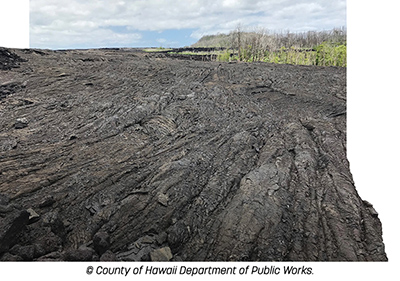 Work included rough grading over 109,000 cubic yards of lava rock, placing 3 miles (4.8 kilometers) of asphalt concrete base course, dressing the shoulders, and installing signs and striping. Highway 132 was reopened on November 27, 2019, the day before Thanksgiving. Hawaii County Mayor Harry Kim said, "It's been a long time coming." Mayor Kim praised the work done by Federal and County agencies, which he said, "is beyond belief to me." Many Big Island residents with homes and farms that had been landlocked by lava voiced relief at being able to once again reach the properties that constitute their livelihoods.
Route 11
The area around the Leilani Estates was not the only impacted location. During the eruption, daily earthquakes caused severe damage to Route 11, also called the Mamalahoa Highway, between mile marker 28 and 32 in Volcano Village. HDOT engineers first used ground penetrating radar (GPR) to determine the nature and extent of damage to the highway at specific locations. They made extensive repairs, which involved months of 24/7 lane closures that enabled reconstruction of the roadbed from depths of up to 10 feet (3 meters).
In February 2019, upon completion of site-specific repairs, HDOT performed a followup GPR survey for the corridor between mile markers 28 and 32. The survey confirmed that all subsurface voids and cracks of concern under Mamalahoa Highway were repaired properly.
Next Steps
While Route 132 now provides access to many farms and residences, many decisions remain to be made. Hawaii County is developing a volcanic risk assessment study that will detail the exposure of land, people, and infrastructure to volcanic hazards based on lava zones designated by the U.S. Geological Survey. The county's next steps are to secure Federal funding to restore damaged infrastructure and to decide which assets will be rebuilt and what new infrastructure will be constructed to assist in the county's recovery from this lava event. If certain county roads are not restored, then those funds can be allocated to infrastructure projects that support residential settlement in areas of lower risk. The county needs to balance a process that reduces repetitive losses and residential settlement in high-hazard areas, while also planning for infrastructure assets that serve the region as a whole, including commercial centers and emergency access.
Hawaii County is looking at numerous factors to determine which local roads should be restored and which ones should not. For example, the county is documenting which roads serve as emergency access routes, what response times for fire department and police have been prior to the eruption and today, which roads rely on other roads (including private roads) or infrastructure assets to be restored in order to function, and interest among displaced residents to relocate through a voluntary buy-out program or to return to their original homes.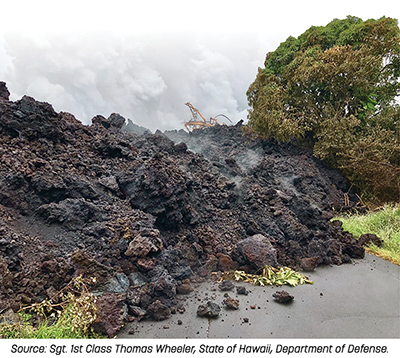 "Emergencies caused by storms and volcanic eruptions will continue to occur in Hawaii. Communication, innovation, and preparation are critical to addressing them as they arise and keep traffic moving along Hawaii's roads and highways," says HDOT's Sniffen. "The lessons and mindset we learned during this emergency event helped move our capabilities forward as a department."
---
Richelle Takara is the Deputy Division Administrator for FHWA's Hawaii Division. She holds a B.S. in civil engineering from the University of Hawaii.
For more information, see https://www.hawaiicounty.gov/departments/civil-defense/eruption-related-information or contact Richelle Takara at 808–541–2311 or richelle.takara@dot.gov.