Inspiring Successive Generations
The Dwight David Eisenhower Transportation Fellowship Program is encouraging and supporting tomorrow's workforce.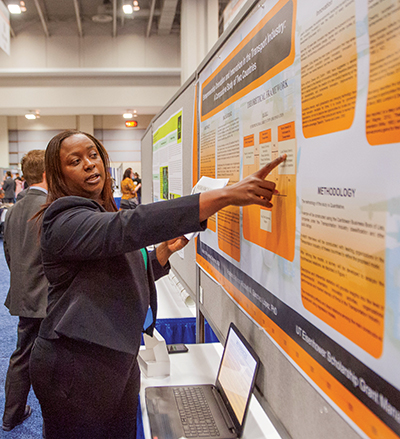 Transportation agencies at all levels face the challenge of preparing for the demands of the future while meeting current needs. The United States is expected to grow from 327 million people to nearly 400 million by 2050—and the current system is already under pressure for human and financial resources. How will transportation agencies support the needs of a 22-percent larger population safely, efficiently, and cost-effectively?
New processes and technologies to improve infrastructure are part of the answer. However, the long-term problems will not be addressed fully unless Federal, State, and local transportation agencies summon their best resources—people—to work together. For the U.S. highway system to operate at peak performance, agencies need dedicated and creative practitioners.
The transportation sector needs new perspectives and collaborations to engage complex problems and build solutions. The U.S. Department of Transportation created the Dwight David Eisenhower Transportation Fellowship Program to invest in and foster this type of thinking and vision. Managed by the Federal Highway Administration, the program aims to advance the transportation workforce by helping to attract the Nation's brightest minds, encouraging future transportation professionals to seek advanced degrees, and helping to retain top talent in the U.S. transportation industry. For more than 35 years, the program has pursued this objective by awarding thousands of fellowships to enterprising students.
Honoring a President's Vision
President Dwight D. Eisenhower's transformative achievements include the Federal-Aid Highway Act of 1956 (which launched the Interstate Highway System), the Civil Rights Act of 1957, and the National Defense Education Act of 1958. These trailblazing pieces of legislation paved the way for national progress on many fronts, conveying a belief in striving to connect, respect, and educate all Americans.
These values form the foundation of USDOT's fellowship program named for President Eisenhower. "The program draws strength from its deep research roots, integrating a strong educational foundation with an impactful workforce development perspective," says Virginia Tsu, director of FHWA's Center for Transportation Workforce Development. "It creates and sustains a vibrant community of fellowship recipients."
From its initial support of graduate research fellowships in 1983 to its current inception under the Intermodal Surface Transportation Efficiency Act of 1991, the program has awarded more than $50 million to Fellows pursuing degrees in transportation-related disciplines. Currently administered by FHWA's Center for Transportation Workforce Development in the Office of Innovative Program Delivery, the fellowship program awards 150 to 200 merit-based grants each year and has awarded more than 3,900 since its beginning. The awards range from $1,500 to $35,500 and are based on academic level and ranking. FHWA partners with institutions of higher education to hold local competitions to select undergraduate and graduate Fellows, as well as a national competition for graduate awards.
The program's Fellows have gone on to innovate in multimodal fields from highway infrastructure to aviation to maritime organizations, making the industry more effective and efficient. Recipients pursue careers in academia, private industry, and public service. Many have become leaders across the Nation and share a lifelong camaraderie with other Fellows.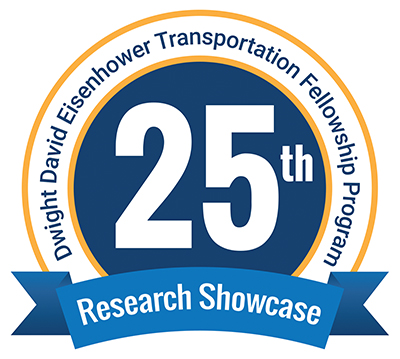 Students of all education levels can apply for several fellowship categories:
The Graduate Fellowship supports pursuing a master's or doctoral degree in transportation-related disciplines.
The Grants for Research Fellowship acquaints students with transportation research, development, and technology transfer activities at USDOT facilities.
Undergraduate and graduate students may also have an opportunity to participate in local competitions administered by select minority-serving institutions and community colleges.
The program's success depends on strong collaboration with academic institutions. Individual students apply for the fellowships and FHWA then makes awards to the institution of higher education on behalf of the student.
Fellowship Research at TRB
A major component of the fellowship each year is for students to attend the Transportation Research Board's Annual Meeting and present the findings of their work at the Research Showcase. This includes presentations at regular sessions open to all meeting attendees, as well as poster sessions held in the exhibit hall. In January 2018, the fellowship program celebrated the 25th anniversary of partnering with TRB on the Research Showcase.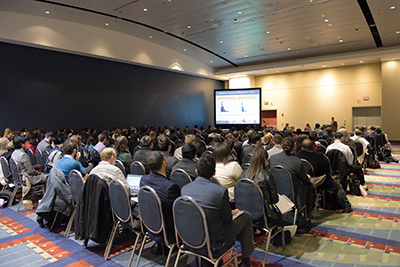 This year, more than 185 Fellows met with transportation colleagues from across the Nation and around the world. They came to connect, respect, and educate each other and themselves, and to celebrate the professional relationships, friendships, and opportunities forged through the program. But they also took time to consider the growing infrastructure issues and explore possible solutions through the research of current and former fellowship recipients.
Poster presentations. At two poster sessions, Fellows presented their research to the thousands of conference participants who visited the exhibit hall. The undergraduate, master's, and doctoral student presenters had the opportunity to receive input from subject matter experts and transportation practitioners. The range of poster topics represented the diversity of transportation research funded by the fellowship program. Thirty-five fellows presented posters during the two sessions.
Research presentations. Fifteen graduate students presented their original research during two presentation sessions. Topics included patient travel behaviors during a public health event, the opportunities and limits of crowdsourcing for bicycle planning, and lane change behaviors on freeways.
"One of the remarkable things about the research presented is the dynamic and diverse collaboration of mind, spirit, and purpose to face transportation's toughest challenges head on," says Tsu. "Within this shared strength of purpose lies complementary interests and approaches as diverse as the deserving Fellows themselves. It is through this diverse recipe for success that complementary research will solve some of transportation's more challenging riddles."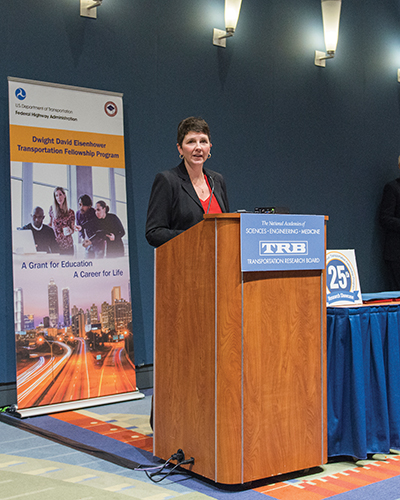 Reflections from past Fellows. The Research Showcase provided an opportunity for current Fellows to learn from past fellowship recipients. Past Fellows shared their career paths and experiences with the students. They offered advice to their new colleagues and welcomed them to a group of professionals dedicated to improving the Nation's transportation system.
Closing ceremony. At the Research Showcase's closing ceremony, students and practitioners heard inspiring remarks from FHWA Acting Administrator Brandye Hendrickson and TRB Executive Director Neil Pedersen. Highlighting the longevity of the Dwight David Eisenhower Transportation Fellowship Program and its collaborative nature, Hendrickson presented Public Service Awards to four academics who have supported the program for more than 20 years: Dr. Benjamin Colucci of the University of Puerto Rico, Mayagüez; Dr. John Collura of the University of Massachusetts, Amherst; Dr. Hassan Hashemian of California State University, Los Angeles; and Deborah Underwood of the North Carolina Agricultural and Technical State University.
Making Connections
A message of empowerment and promise in the future underpinned the fellowship program's involvement at the TRB meeting, from the presentations to the closing ceremony. "You will lead the innovation and development of disruptive transportation technologies, and the professional network you build—here and in the years to come—will be one of your most important tools," Hendrickson said in her closing remarks. "Innovation is central to much of what the USDOT will do over the next several years... As a Fellow, you've been exposed to cutting-edge research and encouraged to network with some of the brightest minds in the transportation industry. Your Nation is counting on you, because you understand and embody what can be achieved only when people work together—all types of people, from all backgrounds and perspectives. [This transportation fellowship] supports you in this successful approach to developing excellence."
The opportunities for Fellows to meet face to face with other students and transportation professionals are critical for advancing transportation research and connecting current and future leaders in the industry. "As a student entering the transportation field and doing research at the University of Massachusetts Boston on transportation equity, attending TRB was an excellent opportunity to connect with other researchers," says Noah Augustine, a community planner at the Volpe National Transportation Systems Center and a Fellow who participated in a poster session. "[I met] with several professionals I was planning to interview in my research, and [it] really put me ahead of the game for my upcoming work while broadening my perspective on transportation research."
Funding Future Promise
Today's transportation practitioners know that technological advances like the emergence of autonomous and connected vehicles will change the needs of new generations of travelers. These advances will also define the challenges in developing resilient infrastructure systems for the future. Addressing these needs and challenges will require multidisciplinary thinking and partnership across all transportation modes. Therefore, it is critical to equip the next generation of students and leaders with collaboration skills and diverse knowledge to not only perform the task at hand, but also to innovate and solve future transportation problems.
FHWA's fellowship can provide crucial financial assistance to students who may not otherwise be able to pursue degrees. Vareva Harris is the director of Scholarships Administration and Transportation Programs in the Division of Enrollment Management at Benedict College in Columbia, SC, and also serves as the institution's campus program manager for the fellowship. She emphasizes the effect of the program's funding on its Fellows. "Several of our students are first-generation college students," she says. "The funding allows them to focus more on their studies and research and, in this way, the program helps address the issue of college affordability. For Fellows, the fact that their transportation work has been selected by FHWA to be funded is also an immense validation of the importance of their research and writing."
Harnessing Diversity for the Future
The Dwight David Eisenhower Transportation Fellowship Program has created measurable, positive change through the collaborative benefits of diversity and by strengthening partnerships. "The fellowship program represents the incredible diversity we must leverage today for transportation advances tomorrow," says Tsu. "We have enhanced and sustained partnerships and initiatives with TRB and institutions of higher education. We have worked together to develop the brightest minds and future leaders across transportation. But we can't do it alone and are so grateful for the energy and excellence these partnerships create."
Each Fellow offers unique insights, perspectives, and capabilities that combine with others to produce exceptional results. As Eisenhower himself said, "Together we must learn how to compose differences, not with arms, but with intellect and decent purpose."
Dr. Colucci, who received the FHWA Administrator's Public Service Award, encourages his students to use their skills, knowledge, and opportunities for the greater good each and every day. "One thing I tell my students is you have to be generous," he says. "If you have time, then volunteer. Help others. Because you are lucky to have found yourself with this opportunity. If you continue the chain of helping others, the way mentors have helped you, you will see a better world."
A Grant for Education, a Career for Life
The fellowship strives to echo Eisenhower's vision. To connect, respect, and educate is to keep working at realizing, sustaining, and growing the program's legacy.
Fellows connect with each other and with practitioners to explore further research synergies within and among transportation domains. They work to connect research to practical field applications and connect people to technologies that save lives.
Fellows respect the academic institutions and professional organizations that provide these opportunities. They respect the diversity of professions in the field. And they respect the new perspectives and insightful ideas that the fellowships foster.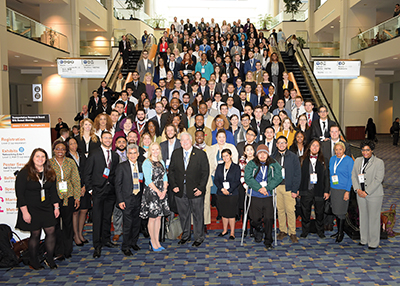 Fellows educate others to find new paths forward when the road ahead seems gridlocked. They educate other Fellows through shared learning and opportunities. They educate colleagues on the research they are conducting and the practical applications the research cultivates.
The program's influence and importance is lifelong; it does not end when a student's time as a Fellow is complete. "I stayed in touch with [the fellowship program] beyond graduate school because I had had so many great experiences with the program, such as receiving funding for my work, professional development, and networking at the TRB conference," says Dr. Despina Stavrinos, a past Fellow and now an assistant professor of psychology at the University of Alabama at Birmingham. "I wanted my students to be able to benefit from those kinds of experiences. We have encouraged our students to apply for fellowships and many have received them. The students are reporting back to me the same types of positive experiences I had, so it's come full circle."
The Dwight David Eisenhower Transportation Fellowship Program is well-positioned to help lead and advance inspired change. Its Fellows have ambitious work ahead of them as they fulfill the program's premise: a grant for education and a career for life.
---
Ewa Flom is the program manager for Universities and Grants Programs in the FHWA Office of Innovative Program Delivery, Center for Transportation Workforce Development. She has a B.S. in civil engineering from Florida State University and an M.B.A. from George Mason University. She is a registered professional engineer in Virginia.
Andy Lehrer is group practice leader of planning, policy, and performance at DIGITALiBiz, a contractor that works with the USDOT's Volpe National Transportation Systems Center. He holds a Ph.D. in psychology and an M.A. in clinical psychology from the University of Texas at Austin.
Jenna Overton is an operations research analyst at the Volpe Center. She holds a B.A. in environmental science and public policy from Harvard University.
For more information, see www.fhwa.dot.gov/ugp or contact Ewa Flom at 703–235–0532 or ewa.flom@dot.gov.