Road Movies
Thelma and Louise, 1991
Roads are so much a part of our lives that they are, naturally, also a part of our cultural life. Although roads, and particularly the interstate system, are shown briefly in hundreds of films in which they provide, as in real life, transportation for the characters, roads are featured prominently in many others. Here is a partial list of films in which roads play a significant part:
The Big Bus (1976): All aboard the bus for this parody of disaster movies. Better yet, take the airplane.
Boys on the Side (1995): Whoopi Goldberg, Mary-Louise Parker, and Drew Barrymore have 3,000 miles of bonding experiences while driving across the country.
Breaking the Rules (1992): Jason Bateman, C. Thomas Howell, and Annie Potts in a film about two friends who want to take their dying friend on his last journey.
Cannonball (1976): David Carradine and Veronica Hamel in a cross-country road race.
The Cannonball Run (1981): A cross-country road race with Burt Reynolds, Roger Moore, Farrah Fawcett, and lots of ad-libs. A sequel, Cannonball II (1984), contained more ad-libs.
The Chase (1994): Charlie Sheen, having escaped from imprisonment on a false charge, takes Kristy Swanson on the lam with him, traveling the highways, setting off a media frenzy above and behind them, and basically bonding like crazy.
Coast to Coast (1980): Dyan Cannon is a nutty woman who travels cross country with Robert Blake, who plays a trucker who isn't exactly normal either.
Convoy (1978): Ali McGraw and truck driver Kris Kristofferson "meet cute" in a not entirely horrible trucker-with-CB-radio movie based on C.W. McCall's hit song of the same name.
Duel (1971): TV movie by Steven Spielberg pits a business man against a mysterious trucker.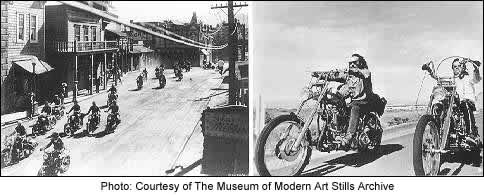 Easy Rider (1969): Peter Fonda, Dennis Hopper, and Jack Nicholson in a classic search for America on motorcycle.
Eat My Dust (1976): Ron Howard and Corbin Bernsen in a story about drivers who just can't seem to go fast enough.
Electra Glide in Blue (1973)*: William Blake as a highway cop with an attitude.
Even Cowgirls Get the Blues (1994): See, this woman has a real big thumb so she becomes a hitchhiker, but ... Forget it - skip this lousy movie and read the novel by Tom Robbins.
From Dusk to Dawn (1996): George Clooney and Quentin Tarantino are brothers on the lam - not realizing they are headed for a roadhouse that just happens to be inhabited by vampires. Don't worry about who's going to be the designated driver.
The Grapes of Wrath (1940): The Joad family, including son Henry Fonda, heads for California on Route 66 in this classic film version of John Steinbeck's classic novel.
The Great Dynamite Chase (1977): Sexy female bank robbers hit the road.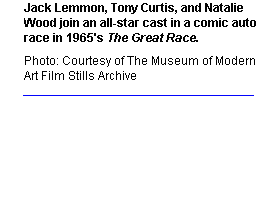 The Great Race (1965): This comic auto race stars everyone from Jack Lemmon to Dorothy Provine.
The Great Smokey Roadblock (1976): Henry Fonda is an aging trucker carting prostitutes cross country. Don't ask why.
The Gumball Rally (1976): First of the cross-country road race movies - this one with Michael Sarrazin and Raul Julia.
Hell's Angels on Wheels (1967): Jack Nicholson is a gas station attendant named Poet in this movie about the biker gang.
High-Ballin' (1978): Peter Fonda and Jerry Reed are truckers. Helen Shaver is a trucker, too. And someone wants to force them off the road.
Highway 61 (1991): From Ontario to New Orleans on the blues highways, with a coffin on the roof of the car.
Highway 301 (1950): Robbery capers.
Highway to Hell (1992): In this update of the Greek legend of Orpheus, Chad Lowe and Kristy Swanson, intent on eloping to Las Vegas, make the mistake of leaving the interstate and end up on Hell's highway (the real Hell - with Satan and company).
The Hitch-Hiker (1953): The last thing these businessmen wanted to pick up was a murderous hitchhiker.
Honeysuckle Rose (1980): Life on the road is tough for Willie Nelson, Dyan Cannon, and Slim Pickens.
Honky Tonk Freeway (1981): This tourist town may lack an interchange, but it has absurdity going for it.
Honkytonk Man (1982): Clint Eastwood's destination is the Grand Ol' Opry.
Intersection (1994): You'll want to buckle your safety belt after Richard Gere, Sharon Stone, and Lolita Davidovich show what can happen after an accident.
It Happened One Night (1934): Clark Gable and Claudette Colbert fall in love on a rural bus trip. Includes hitchhiking tips.
It's a Gift (1934): W.C. Fields and family hit the road for California, where things aren't as advertised.
Joyride (1977): On the road to Alaska, be careful not to drift into crime. Also watch out for celebrity offspring, such as Desi Arnaz Jr. and John Carradine.
Kalifornia (1993): Brad Pitt stars in a movie that illustrates why a couple researching a coffee table book on serial killers should be very careful in selecting travel companions.
The Last Chase (1981): Twenty years after a 1980s fuel shortage ends auto travel, Lee Majors becomes a symbol of freedom by driving around the country in his reassembled Porsche.
The Long, Long Trailer (1954): Lucille Ball and Desi Arnaz take time out from "Lucy and Ricky" to honeymoon in what may perhaps be too long a trailer.
Lost in America (1985): Albert Brooks and Julie Hagerty drop out of the rat race. Even losing their nest egg in Las Vegas can't keep them from heading out on the highway for a cross-country trip in their motor home.
Miracle on I-880 (1994): Made-for-TV docudrama about the rescue of a survivor trapped by the collapse of the Nimitz Freeway during the Loma Prieta Earthquake in Oakland, Calif. Ruben Blades and Sandy Duncan are among the stars.
National Lampoon's Vacation (1983): Chevy Chase and family hit the highways bound for Wally World.
Out (1982): An existential, and not very good, road odyssey.
Pickup on 101 (1972): Leslie Ann Warren hits the road.
Planes, Trains, and Automobiles (1987): An intermodal comedy with Steve Martin and John Candy.
Psycho (1960): Anthony Perkins in Alfred Hitchcock's cautionary tale about being careful in which motel you spend the night.
Roadgames (1981): Stacey Keach is a truck driver who picks up hitchhiking Jamie Lee Curtis.
Roadhouse 66 (1984): Funny things can happen if your car breaks down in Arizona.
The Road Killers (1995): Vacationers on a trip across Nevada run into psychos along the way.
Road Scholar (1993): A documentary featuring humorist/social commentator Andrei Codrescu on a trip across America in a Cadillac convertible.
Roadside Prophets (1990): A construction worker rides his motorcycle from Los Angeles to Nevada, meets assorted people of varying strangeness, and seeks to dispose of a friend's ashes.
Six of a Kind (1934): George Burns and Gracie Allen travel west for a vacation.
Smokey and the Bandit (1977): A cross-country car and truck chase with Burt Reynolds, Jerry Reed, Sally Field, and Jackie Gleason. Inspired 1980 and 1983 sequels (although "inspired" is probably not the correct word for Smokey III).
Something Wild (1986): Jeff Daniels and Melanie Griffith demonstrate why a straight arrow businessman should think twice before driving cross country with a flaky woman he just met.
Song of the Open Road (1944): A juvenile film star takes to the road and joins the Civilian Conservation Corps.
Speed (1994): Keanu Reeves, Dennis Hopper, and Sandra Bullock demonstrate the perils of mass transit.
Speed Zone! (1989): Sheriff Peter Boyle tries to stop a Cannonball type race. Celebrity cast, including Brooke Shields and Jamie Farr, provides a good reason for the audience to root for the sheriff.
The Sugarland Express (1974): Stephen Spielberg's first theatrical release follows a fugitive couple fleeing to Sugarland, Texas. Goldie Hawn stars.
The Sure Thing (1985): If your dream is across the country, one way of finding her is to hit the road.
Thelma and Louise (1991): Susan Sarandon and Geena Davis hit the highway but take a wrong turn.
They Drive by Night (1940): Melodrama of truck driving brothers, with George Raft, Ann Sheridan, and Humphrey Bogart.
Thieves' Highway (1949): Underworld mobsters move in on the California trucking business.
Those Daring Young Men in Their Jaunty Jalopies (1969): International cast in a 1920s auto race to Monte Carlo.
Thunder Road (1958): Bootleggers versus the Feds, with Robert Mitchum.
Tommy Boy (1995): Two bumblers, Chris Farley and David Spade, become traveling salesmen as a last resort to save their auto parts manufacturing company. If they are the last resort, perhaps the firm is not really worth saving, but they bond, become better human beings, and save the company anyway.
To Wong Foo, Thanks for Everything! Julie Newmar (1995): Patrick Swayze, Wesley Snipes, and John Leguizamo travel across the country disguised as women. The title probably should have been sufficient warning for all three as well as the financial backers.
Truck Stop Women (1974): This is a movie about truck-stop women.
Two-Lane Blacktop (1971): A '55 Chevy races a new GTO across the Southwest - the movie is better than it has to be.
The Vanishing (1993): This remake of a superior 1988 Dutch film stars Jeff Bridges, Sandra Bullock, and Keifer Sutherland. When the latter's girlfriend disappears at a gas station, he becomes a teensy bit obsessed with searching for her - on the road for three years!
Vanishing Point (1971): When Barry Newman is told to drive a Dodge Challenger from Denver to San Francisco for no apparent reason, he decides to do it in 15 hours, also for no apparent reason. Maybe the police wouldn't worry so much about his speeding if they knew they were simply part of an existential chase thriller. As one critic put it, "Exceptional rock score."
The Wayward Bus (1957): Joan Collins and Jayne Mansfield in an adaptation of John Steinbeck's novel about passengers on a bus.
Wheels of Terror (1990): A made-for-cable movie about a school bus chasing a demonic black sedan.
White Line Fever (1975): Jan-Michael Vincent is a young trucker who, accompanied by his diesel truck, fights the forces of evil.
Who Framed Roger Rabbit (1988): Mixed animation and live action detective story, with a highway off-ramp as the motive for murder.
The Wild One (1954): Marlon Brando and his motorcycle pals terrorize a small town.
Reference
Many of the films listed here were located in Leonard Maltin's 1996 Movie & Video Guide (a Signet Book, 1995). Listings of actors, actresses, and dates come from Maltin's book, while reviews are generally based on his plot summaries.
Richard F. Weingroff is an information liaison specialist in the Federal Highway Administration's Office of the Associate Administrator for Program Development.
*Correction
January 21, 2014 – The title, "Electric Glide in Blue (1973)," which appeared in the original article was corrected to: "Electra Glide in Blue (1973)"