Integrating Equity into Transportation Funding and Project Prioritization
Historically, some transportation investment decisions divided some communities. Further, some decisions had the effect of neglecting the communities most in need of affordable transportation options, worsening social inequities. Of particular note is the construction of the Interstate System following the passage of the Federal-Aid Highway Act of 1956. During this process, Federal funders and State road owners planned and built some interstates, highways, and roads that disproportionately displaced and divided communities, particularly Black and Hispanic ones. Compounding this unjust situation, some public agencies focused more on developing infrastructure for private automobiles rather than developing robust public transportation and pedestrian and bicyclist networks, which particularly disadvantaged people living in low-income communities who could not afford an automobile.
Rural and tribal communities have also faced decades of disinvestment in infrastructure. Currently, 13.1 percent of rural roads and about 9.7 percent of off-system bridges (a highway bridge located on a public road that is not on a Federal-aid highway) — 91.6 percent of which are in rural areas — are in poor condition.
As a result of this disinvestment and the underrepresentation of underserved community members in transportation project funding and prioritization processes, disadvantaged communities have experienced stark disparities in fatalities and serious injuries from traffic crashes, health outcomes related to air and noise pollution, and access to economic opportunities and community well-being.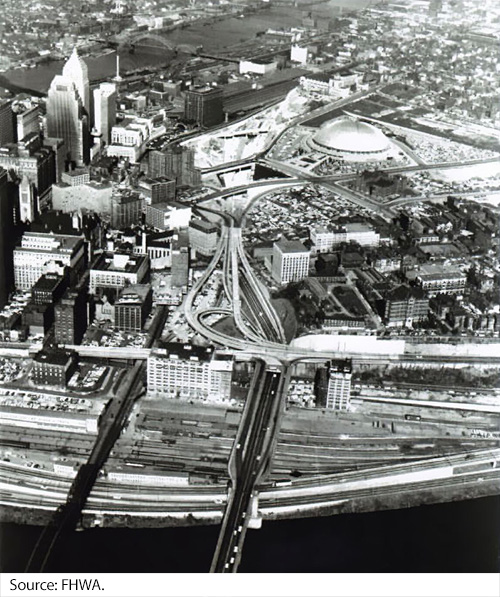 To confront and address decades of underinvestment in disadvantaged communities, the U.S. Department of Transportation is committed to ensuring that transportation investments increase opportunity; advance racial equity and environmental justice; serve rural, urban, and suburban communities equitably; and promote affordable access for all. To achieve this strategic objective, USDOT is reinvigorating its programmatic enforcement of Title VI of the Civil Rights Act of 1964 (Title VI), the National Environmental Policy Act of 1969, the Americans with Disabilities Act (ADA), and Section 504 of the Rehabilitation Act (Section 504). It is also integrating equity considerations across USDOT funding programs as part of the Justice40 Initiative and administering the Reconnecting Communities Pilot (RCP) Program and Rural Surface Transportation Grants established by the Bipartisan Infrastructure Law (BIL). USDOT is also working to provide tools and resources to support eliminating or minimizing adverse impacts of investments, including displacement and relocation of people and businesses from underserved communities. Additionally, USDOT encourages States and metropolitan planning organizations (MPOs) to integrate equity into their project prioritization process to meaningfully direct investments to, and build capacity for, disadvantaged communities.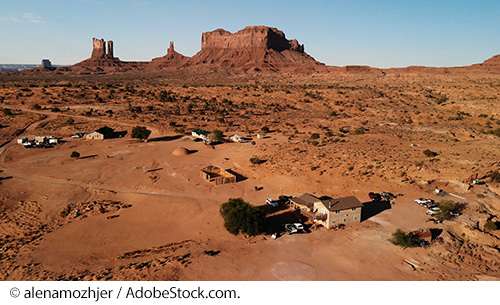 This article reviews USDOT efforts to integrate equity into Federal formula and discretionary grant funding, and it highlights innovative resources and practices from State and local governments for integrating equity into project prioritization processes.
Reinvigorating Civil Rights Enforcement
Under the BIL, the Federal Highway Administration is distributing billions of dollars in Federal funding to advance transportation initiatives across the country. To ensure the proactive integration of equity into decisionmaking processes throughout the planning, design, implementation, and operation of the transportation system, USDOT is reinvigorating the enforcement of Civil Rights programs to ensure proactive compliance with nondiscrimination statutes. USDOT is also integrating equity into the review of discretionary grant funding to ensure agencies applying for funding—and the projects they aim to implement—meaningfully address equity.
First, USDOT is reinvigorating its programmatic enforcement of Title VI, including reemphasizing agency review of the potential discriminatory impact of grantees' proposed activities, before awarding Federal funds—as opposed to waiting until a project is delivered to enforce civil rights protections—to prevent disparate impacts on protected classes and empower communities in transportation decisionmaking. Title VI prohibits entities that receive Federal assistance from discriminating on the basis of race, color, or national origin in their programs and activities. In 2021, USDOT revamped its Title VI program with a new Title VI order. The order aims to strengthen reporting requirements, agency oversight, and proactive compliance with Title VI. Rather than relying on complaints from the public, the order addresses compliance with nondiscrimination requirements from the very start of projects and programs. FHWA is advancing these efforts by developing new guidance and providing technical assistance for recipients to conduct Title VI data collection and analysis.
Additionally, FHWA is continuing to advance compliance with ADA and Section 504. ADA prohibits discrimination on the basis of disability by public entities in their programs and services, including transportation programs. Section 504 includes similar requirements for recipients of Federal funds. The FHWA ADA/Section 504 program ensures that pedestrians with disabilities have an equal opportunity to use the public rights-of-way in the transportation system. The FHWA ADA team is committed to ensuring that BIL funding is used to advance equity and accessibility for people with disabilities. The team has provided input on the development of Notices of Funding Opportunities (NOFO) for discretionary grant programs, grant reviews, and project selections, as well as oversight and risk management for FHWA Division Offices, all emphasizing the importance of ADA transition plans in providing safe and accessible facilities that can be used by all pedestrians, including those with disabilities. FHWA is also working to assist State and local agencies to identify and clarify funding opportunities that they can use to meet specific equity and accessibility needs.
Justice40
To further ensure that the BIL's generational investments in transportation infrastructure equitably benefit disadvantaged communities, USDOT is implementing the Justice40 Initiative, which sets a goal of delivering 40 percent of the benefits of certain Federal investments to disadvantaged communities. The Justice40 Initiative was created by Executive Order 14008 to bring resources to communities most impacted by climate change, pollution, and environmental hazard. On August 18, 2022, the White House announced USDOT's official Justice40 covered programs, including multiple surface transportation programs. Justice40 is an opportunity to address gaps in transportation infrastructure and public services.
Through Justice40, USDOT will work to increase affordable transportation options that connect Americans to good-paying jobs, fight climate change, and improve access to resources and quality of life in communities in every State and territory in the country. The initiative allows USDOT to identify and prioritize projects that benefit rural, suburban, Tribal, and urban communities facing barriers to affordable, equitable, reliable, and safe transportation.
Under the BIL, 69 percent of transportation funding will be allocated by formulas set by statute. As part of Justice40, USDOT will also encourage State departments of transportation and MPOs receiving this formula funding to prioritize projects by using quantitative equity screenings, centering meaningful public involvement throughout the planning process and project lifecycle, and adhering to proactive civil rights and environmental justice requirements. USDOT has demonstrated its commitment to providing technical assistance to support disadvantaged communities by developing the Promising Practices for Meaningful Public Involvement in Transportation Decision-Making guide (https://www.transportation.gov/sites/dot.gov/files/2022-10/Promising%20Practices%20for%20Meaningful%20Public%20Involvement%20in%20Transportation%20Decision-making.pdf). This guide provides funding recipients with strategies to meaningfully involve the public in various stages of transportation decisionmaking.
USDOT is using baseline methods to determine if covered programs are meeting the 40-percent goals. USDOT will also assess the negative impacts of transportation projects and systems on disadvantaged communities and will consider if local community leaders have been consulted in a meaningful way during the project's development.
Discretionary Grants Focused on Equity
The BIL established grant programs to support the goal of advancing equity for disadvantaged communities, particularly those that have been bisected by transportation infrastructure and those living in rural areas.
The new RCP discretionary grant program, authorized up to $1 billion over the next 5 years, is the first ever Federal program dedicated to reconnecting communities that were affected by transportation infrastructure that erected barriers to community connectivity, including barriers to mobility, access, and economic opportunity. Funding supports planning grants and capital construction grants, as well as technical assistance, to restore community connectivity through the removal, retrofit, mitigation, or replacement of eligible transportation infrastructure facilities. On February 28, 2023, USDOT announced a historic $185 million in grant awards for 45 projects for RCP. See more at https://www.transportation.gov/grants/reconnecting-communities.
The Rural Surface Transportation Grant Program, funded with $2 billion over the next several years, will support projects to improve and expand surface transportation infrastructure in rural areas to increase connectivity, improve the safety and reliability of the movement of people and freight, and generate regional economic growth and improve quality of life.
The Tribal Transportation Program Safety Fund, which the BIL increased from a 2-percent to a 4-percent set-aside of the Tribal Transportation Program funds, is awarded to federally recognized Indian Tribes to address transportation safety issues that will reduce fatal and serious injury transportation-related incidents, like motor vehicle crashes. In 2021, FHWA awarded 58 projects with $8.9 million. Additional funding available for fiscal years 2022–2026 will further advance efforts to reduce roadway deaths.
Justice40 Covered Programs
Federal Highway Administration (FHWA)
Carbon Reduction Program (CRP)
Charging and Fueling Infrastructure Grants
Congestion Mitigation and Air Quality Improvement Program (CMAQ)
Congestion Relief Program
Disadvantaged Business Enterprise Supportive Services (DBE/SS) Program
National Electric Vehicle Infrastructure (NEVI) Competitive Program
National Electric Vehicle Infrastructure (NEVI) Formula Program
Nationally Significant Federal Lands and Tribal Projects (NSFLTP)
On the Job Training Supportive Services
Promoting Resilient Operations for Transformative, Efficient, and Cost-Saving Transportation (PROTECT) Formula Program
Protect Grants
Reduction of Truck Emissions at Port Facilities
Transportation Alternatives (TA) (Surface Transportation Block Grant set-aside)
Tribal High Priority Projects Program
Tribal Transportation Program Bridge Program (Bridge Investment Program Set Aside)
Tribal Transportation Program Bridge Program (Bridge, Replacement, Rehabilitation, Preservation, Protection and Construction Set Aside
Tribal Transportation Program
Federal Transit Administration (FTA)
All Stations Accessibility Program
Buses and Bus Facilities Competitive Program
Buses and Bus Facilities Formula Program
Low or No Emission Vehicle Program
Capital Investment Grants Program (CIG)
Electric or Low Emitting Ferry Pilot Program
Passenger Ferry Grant Program
Innovative Coordinated Access and Mobility Pilot Program
Public Transportation on Indian Reservations Program; Tribal Transit Competitive Program
Pilot Program for Transit-Oriented Development Planning
Office of the Secretary of Transportation (OST)
National Infrastructure Project Assistance Program—Mega Grant Program
Nationally Significant Multimodal Freight & Highway Projects—INFRA Grants Program
Rebuilding America's Infrastructure with Sustainability and Equity—RAISE Discretionary Grants
Reconnecting Communities Pilot Program
Safe Streets and Roads for All (SS4A) Grant Program
Strengthening Mobility and Revolutionizing Transportation (SMART) Grants Program
Thriving Communities Program
Federal Railroad Administration (FRA)
Consolidated Rail Infrastructure and Safety Improvements Program
Federal-State Partnership for Intercity Passenger Rail
Railroad Crossing Elimination Grant Program
Maritime Administration (MARAD)
America's Marine Highway Program
Port Infrastructure Development Program
Capacity Building and Technical Assistance for Underresourced Communities
USDOT is committed to helping communities access resources by consolidating NOFOs to simplify applying for funds, simplifying the language in NOFOs to make requirements easier to understand, developing tools like the Historically Disadvantaged Census Tract to assist applicants in developing their applications, and offering webinars that walk potential applicants through the general requirements of funding opportunities and provide technical assistance on specific aspects of application requirements. To easily access technical assistance resources across USDOT, click on the online portal: https://www.transportation.gov/dot-navigator. For user-friendly tools and information on technical assistance addressing rural transportation, explore the USDOT ROUTES initiative at https://www.transportation.gov/rural.
Discretionary Funding to Support Equity
Pittsburgh, PA, was awarded $11.3 million in Rebuilding American Infrastructure with Sustainability and Equity Federal assistance to fund construction activities associated with improvements to the public right-of-way in the Hill District. Improvements will include the reconstruction of intersections, street corridors, and city steps, and the installation of traffic calming measures, sidewalks, and green infrastructure. The project will revitalize the Hill District, a community that has suffered deterioration as well as disconnection from the business district of Pittsburgh through historical disinvestment. By making pedestrian infrastructure improvements compliant with ADA requirements, the project will safely connect low-income residents to transit hubs and employment opportunities. New electric vehicle charging options and low-impact development stormwater infrastructure will contribute to environmental sustainability (https://highways.dot.gov/newsroom/nationwide-building-better-america-tour-fhwa-acting-administrator-announces-funding-0).
"We see the New Pathways to Equity grant as a huge opportunity to overcome the chasm between the Hill District and Pittsburgh, enable residents to fully access their neighborhood, and use mobility to grow the connections both within and beyond the Hill District community," says Kim Lucas, director of the department of mobility and infrastructure. "Whereas outside interests have decimated the Hill District in the past, the RAISE grant program instead adds to the neighborhood in many ways that have not been seen for years. We're excited that this grant will help the Hill District continue its transformation into a safe, vibrant, accessible, and growing community."
State and MPO Project Prioritization Criteria
State, regional, and local transportation agencies determine how to distribute funding to meet multiple goals, including safety and access for all road users, management and maintenance of existing infrastructure, stewardship for the human and natural environment, and equitable outcomes for people living in underserved communities. To ensure that investments are equitable, effective, and efficient, agencies are increasingly integrating data-driven, performance-based methods into their decisionmaking frameworks in planning, project prioritization, and project development processes. Integrating equity into transportation agencies' project prioritization criteria and decisionmaking processes is an integral step to redress disparities and meet the goals of Justice40.
Long-standing structures and processes may continue to favor certain investments over others that would better serve disadvantaged communities and meaningfully advance safe, health-promoting access and opportunities for all people. For example, agencies may use complex scoring frameworks that artificially inflate the scores of highway expansion projects by repeatedly counting mobility metrics in nested subcriteria—such as time savings under accessibility, travel time reliability under economy, and truck volumes under freight considerations—in addition to a mobility category. Additionally, agencies may use level of service and traffic delay as the primary metrics for directing transportation investment. These scoring processes, among others, could disproportionately favor expanding highway capacity, often at the detriment of safe and equitable projects for all road users. Moreover, political pressure for "ribbon-cuttings" may drive prioritization for highway expansion and large projects, as opposed to asset management or smaller multimodal network improvement projects.
Another barrier is that Federal funding may be perceived as being committed to specific modes and types of projects. It should be noted that FHWA encourages State and local road owners to use Federal funds for a wide range of projects that prioritize safe and equitable mobility and access for all road users. Funding sources that support pedestrian and bicyclist opportunities can be viewed at https://www.fhwa.dot.gov/environment/bicycle_pedestrian/funding/funding_opportunities.cfm. Additionally, Federal law allows Federal-Aid Highway Program funding to be made available for public transportation projects.
Additional factors that may impede the ability of disadvantaged communities to benefit from Federal funding include funds matching requirements and discretionary grant application requirements. Underserved and disadvantaged communities may not have the funding or staff capacity to match Federal or State funding or compose competitive applications.
Like many States across the nation, Ohio DOT recognizes that severe crashes happen more frequently in low-income communities, and individuals in these communities experience significant barriers to accessing the healthcare and financial resources needed to recover from them. To address these disparities, Ohio DOT began to integrate equity metrics into the project prioritization and funding processes within the Highway Safety Improvement Program in 2021. Jeremy Thompson, Ohio DOT safety engineer, elaborates: "Most of our funding is allocated through competitive project application processes, where applications are scored based on a variety of factors. After recognizing the disparities lower income communities face, we added equity metrics to our application scoring criteria, so that we are considering factors like local poverty rates when allocating project funding." Thompson continues, "Additionally, municipalities in our State may be burdened by the typically required 10-percent local funding match on projects. Knowing this, we've incorporated a process to reduce or remove that local match requirement if a municipality is in fiscal distress and/or is implementing a project in a low-income community. Since severe crashes are overrepresented in locations where poverty rates exceed 10 percent, we are leveraging other funding sources such as State funds and toll revenue credits to use in place of a local funding match in communities that exceed that threshold."
Of particular importance for equity is the prioritization processes for asset management and maintenance, particularly for sidewalks and lighting. For example, complaint-based prioritization processes may inadvertently exclude underserved communities that may not have the resources or influence to receive timely service. Implementing systematic processes for asset management may improve lifetime performance and the safety benefits of infrastructure. "Instead of maintaining lighting based on user feedback, Detroit invested in a systematic approach to replacing street lighting throughout the city. Following the systematic replacement of nonfunctioning streetlights, the city's pedestrian death rate fell nearly 40 percent in just 2 years, in the context of a rising death rate for all nonmotorists in the State," says De'Andre Brooks, director of government and community relations at the Detroit (MI) Public Lighting Authority.
Project prioritization is an evolving process, and State, regional, and local transportation agencies play a key part in transforming the data and decisionmaking frameworks to achieve the Federal Justice40 goal of distributing 40 percent of the benefits of transportation investments to disadvantaged communities. Multiple studies have examined the innovative practices being piloted by States and localities across the country. Of particular note, a February 2021 report sponsored by the Center for Transportation, Equity, Decisions, and Dollars (CTEDD), a USDOT (Tier-1) University Transportation Center, reviews Virginia DOT's SMART program and provides the following recommendations:
Establish flexible funding programs through which different project types can compete on equal footing.
Choose comprehensive, outcome-oriented evaluation criteria.
Maximize the benefits per dollar spent.
The report also suggests simplifying scoring frameworks to limit the number of scoring categories and evaluation criteria, while shifting focus toward fewer, more comprehensive, outcome-oriented criteria.
Additionally, CTEDD developed a Transportation Equity Toolkit that supports local agencies in selecting and prioritizing projects through an equity-informed approach (https://www.cutr.usf.edu/2021/09/transportation-equity-toolkit/).
As previously noted, all programs and projects must comply with Title VI and ADA requirements. Proactive integration of Title VI and ADA as part of decisionmaking screenings to ensure the meaningful consideration of race, color, national origin, and disability factors into programs and projects is an important step toward advancing equity.
Conclusion
USDOT is centering equity as a priority in the distribution of discretionary grant programs to meet the goals of Justice40, and it is administering new statutory programs to redress historic harms of transportation infrastructure and build capacity for underserved communities. As part of these efforts, USDOT is reinvigorating civil rights programs, including the landmark Title VI of the Civil Rights Act of 1964 and the Americans with Disabilities Act of 1990, and encouraging State and regional governments to prioritize equity in the distribution of formula funding. Additionally, USDOT is conducting research and updating guidelines to address relocation and displacement impacts of transportation projects as well as revising processes and developing measures of performance to routinely plan, design, build, operate, and maintain safe, multimodal street networks for people of all ages and abilities.
---
Anthony Boutros is the equity in transportation safety program lead in FHWA's Office of Safety. He focuses on developing resources and delivering technical assistance to redress disparities in traffic fatalities. He holds bachelor's degrees in sociology, public health studies, and international studies from Johns Hopkins University and is a Truman-Albright Fellow.
Kevin Resler is an FHWA national Title Ⅵ program coordinator who develops policy and guidance regarding Title Ⅵ and related nondiscrimination laws. He earned a bachelor of arts degree from Indiana University and a juris doctor degree from the Indiana University Robert H. McKinney School of Law.
Sharon Field, Esq., is the ADA program team leader in FHWA's Office of Civil Rights where she oversees the national ADA program. She earned a juris doctor degree from the University at Buffalo School of Law and a bachelor of science degree in management from Binghamton University.
For more information, see https://www.transportation.gov/priorities/equity.