Equity in Transportation
Since World War II, the United States has invested heavily in its infrastructure. Much of this investment has gone into the Nation's highway system. These investments in infrastructure have led America to become what is arguably the most prosperous Nation on Earth. But since its inception, America has experienced troubling times, and times where the Nation has been forced to reckon with some of the questionable decisions made by its forefathers. This history includes slavery, the forced migration of Native Americans, and the internment of Asian Americans during World War II. But, our Nation has always sought to correct these missteps with the passage of various laws and social programs.
The transportation industry has not been immune to poor decisionmaking. Some of those decisions not only have left some communities behind, but also, in some cases, totally obliterated others. This inequitable result was most evident during the construction of urban freeways across the country. In some cases, Black and brown communities were targeted by decisionmakers for a number of reasons such as low property values, pursuit of economic growth, and lack of equal access to decisionmakers. However, the Nation sought to self-correct itself with the passage of laws such as the National Environmental Policy Act, the Relocation Assistance and Real Property Acquisition Policies Act (known as the Uniform Act), the Civil Rights Act, and numerous Executive Orders. That self-correction continues today.
Is the Nation still trying to self-correct? The answer is "yes," and you will need to look no further than the demographics of the Federal Highway Administration's workforce and that of the State departments of transportation. The demographics on both sides are vastly different today than they were nearly 40 years ago. Now, metropolitan planning organizations, which are composed of local leaders (many of which better reflect the demographics of their communities now more than ever), have taken on a much bigger role in shaping transportation in urban areas. When decisionmakers resemble the populace at large, the discussions at the table are different, and better decisions are made. While that doesn't mean everyone will be happy with the final decisions, it does mean more people will have a seat at the table and get their issues considered. As more varied life experiences are shared at the discussion table and in our day-to-day lives, a broader perspective will be achieved by the decisionmakers.
The U.S. Department of Transportation (USDOT) is addressing perceived inequities in transportation by supporting and engaging people and communities to promote safe, affordable, accessible, and multimodal access to opportunities and services while reducing transportation-related disparities and burdens in the built environment. In particular, the Office of the Secretary of Transportation (OST) formed an equity task force (EQTF) composed of noncareer modal agency leaders. The EQTF has created six teams referred to as workstreams. Each workstream has noncareer and career members from OST and additional career representatives from nearly every modal agency. The objectives of the Equity Data and Assessment workstream are as follows:
Contribute to and review USDOT's 200-day report due to the Assistant to the President for Domestic Policy in August 2021.
Assist in the development of an equity data and analysis tools research roadmap using USDOT's 200-day report and transportation equity data request for information detailing a long-term vision for research aimed at improving transportation equity.
Contribute to the full implementation of Executive Order (EO) 13985, "Advancing Racial Equity and Support for Underserved Communities Through the Federal Government," through the development and use of data, tools, and assessments.
Assist other EO 13985 workstreams with issues on data, tools, and assessment.
Connect EO 13985 data, tools, and assessment deliverables to the agency's strategic plans and priorities.
The long-term goal is to help grant recipients make more informed decisions that fully take into account equity impacts just as we account for other social, environmental, and economic impacts when developing transportation projects.
Derrell E. Turner is the director of field services South and has been with FHWA for 37 years. He started his career on the Natchez Trace Parkway as a highway engineer trainee. He has held assignments in numerous Division offices, with his most recent headquarters assignment as Acting Associate Administrator for Infrastructure. He currently serves on the OST's Equity Data and Assessment workstream.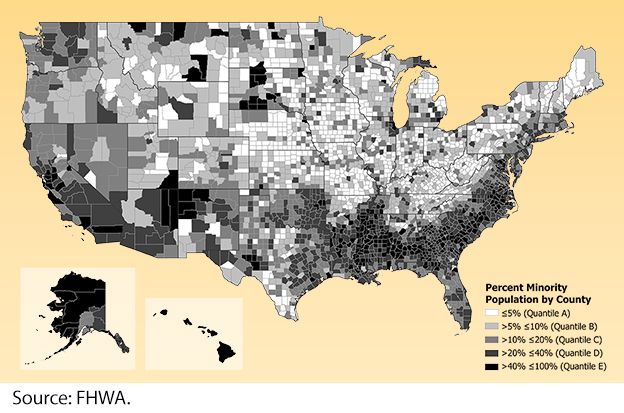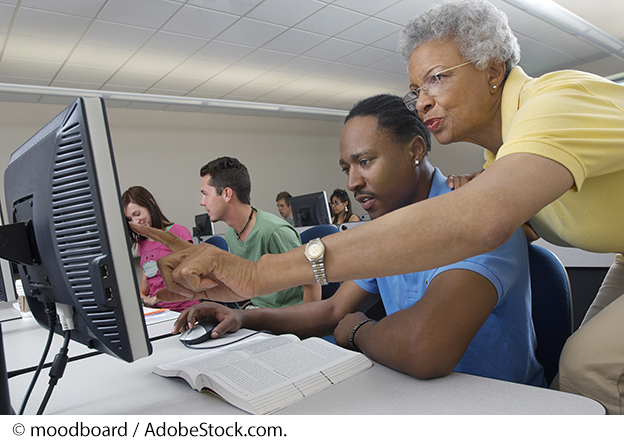 Classroom instruction has changed over the years, with more minority teachers instructing students on topics such as science and computers.