Along the Road
Public Information and Information Exchange
TDOT Awards Most Expensive Highway Project in Its History
Widening of the I-65 corridor near State Route 25 to near State Route 109 will improve traffic safety and reduce congestion in Tennessee.
The Tennessee Department of Transportation (TDOT) awarded the Interstate 65 widening project—the expansion of 9.68 miles (15.87 kilometers) of major roadway—to a local contractor for $160 million. Though $160 million was the lowest bid for this project, it narrowly exceeds the $152 million awarded for Tennessee's 2018 Interstate 440 Reconstruction Project, making it the largest contract awarded for a TDOT project to date.
The I-65 widening project, due for completion in 2025, will improve safety and traffic operations and will provide the growing communities along the corridor the room needed to reduce congestion. I-65 enters Tennessee from Alabama, near the city of Ardmore, TN, and runs just south of Franklin, KY, and serves the State's largest city, Nashville.
Between Nashville and the Kentucky state line, the existing route is virtually two lanes in each direction. The widening project will encompass the construction of additional travel lanes in both directions as well as the replacement and widening of bridges, the replacement of overpasses, the construction of nearly 17 retaining walls, the conversion of a weigh station into truck parking, and the installation of Intelligent Transportation Systems facilities to improve safety, productivity, and mobility.
For more information, visit https://www.tn.gov/tdot/news/2021/9/2/tdot-awards-largest-project-in-its-history.html.
Wisconsin DOT adds Rustic Roads to Its Pool of GIS Road Systems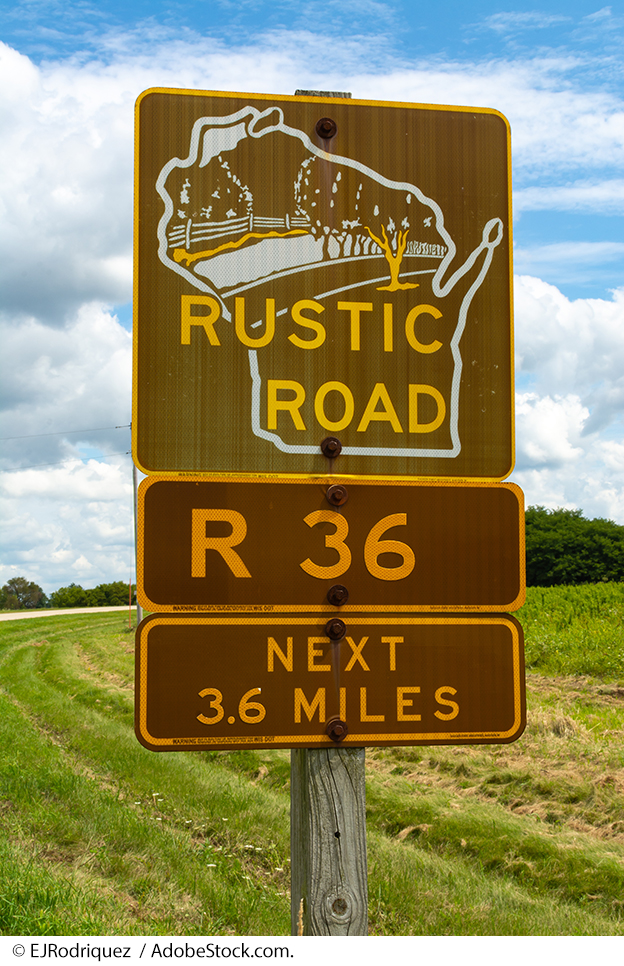 The Rustic Road system in Wisconsin showcases an abundance of natural, picturesque features.
The Rustic Road system in Wisconsin is a group of scenic roads that are bordered by natural, picturesque features—native vegetation and wildlife, and rugged terrain—and are typically meant for slower, more relaxed travel.
The Wisconsin Department of Transportation (WisDOT) announced that the 123 designated Rustic Roads in Wisconsin—spanning 743 miles (1,196 kilometers) collectively—are now a part of the State's collection of geographical information system (GIS) maps (https://wisdot.maps.arcgis.com/home/index.html). The Wisconsin Rustic Roads category is just one of the many types of interactive maps offered by WisDOT to make information more accessible to the public and to aid in a variety of decisions, from where to take a scenic route to where to establish a business. Other GIS map categories include Adopt-A-Highway, Culvert Inventory, Disadvantaged Businesses, WisDOT Traffic Counts TCMap, and Asphalt Pricing. Users can easily search and download GIS data in various formats to meet their needs.
Screenshot of the Wisconsin Rustic Roads GIS map.
WisDOT also provides geospatial data (for use with GIS software and tools) free of charge through WisDOT GIS Open Data (https://data-wisdot.opendata.arcgis.com/). This self-service website provides access to authoritative GIS data commonly requested by staff, agency partners, and the public.
CDOT Preps for a Record 100 Mile Bike Lane Expansion
CDOT's expansion includes the installation of new and upgraded bike lanes over a two-year period.
In September 2021, the Chicago Department of Transportation (CDOT) announced its plans to embark upon the biggest bike lane expansion project in its history—the installation of 100 miles (161 kilometers) of new and upgraded bike lanes over a two-year period. This addition will boost the city's total available on-street bikeways to 400 miles (644 kilometers).
The announcement, alongside the release of the actual blueprints, underscored CDOT's emphasis on safety, accessibility, community-led planning, and connected neighborhood networks. CDOT consulted with community stakeholders on expanding bike infrastructure and will utilize protected bike lanes for physical protection from passing traffic, among other approaches. To help connect people with meaningful destinations, the city's Divvy bike-share system is increasing its fleet of bikes by expanding its service area to the newly installed lanes and adding 3,500 electric assist bikes to its fleet, on top of the 3,500 e-bikes deployed in 2020.
For more information, visit https://www.chicago.gov/city/en/depts/cdot/provdrs/bike/news/2021/september/cdot-announces-biggest-bike-lane-expansion-in-city-s-history-thr.html.
Technical News
FHWA Publishes "Dig Once" Final Rule to Promote Broadband Access
The Broadband Infrastructure Deployment final rule encourages the installation of broadband technology during road construction and utility projects.
The Federal Highway Administration published the Broadband Infrastructure Deployment final rule that supports the "dig once" approach with the installation of broadband technology during road construction and utility projects. This rule promotes the minimization of costs and traveling disruptions for the public and requires State departments of transportation to identify broadband utility coordinators and processes by which to register broadband entities.
Broadband technology provides high-speed internet, and faster internet speeds equate to a stronger internet connection and ability to access information.
With improved access, underserved communities can secure opportunities to learn and work remotely. Other probable benefits include increased access to healthcare and mental health resources, additional means of income and financial stability, increased access to higher education, improved mental health and overall well-being, increased social and emotional connections, and access to other essential services and communications. Digging once also works toward advancing a safer highway system; as crews lay the fiber optic cables to extend broadband capabilities, they too can lay the wirework needed to enable communication between automated vehicles.
For more information, visit https://highways.dot.gov/newsroom/fhwa-publishes-final-rule-promote-broadband-access-underserved-communities.
Policy and Legislations
Pennsylvania Offers New License Option for Visually Impaired Drivers
Effective September 2021, visually impaired residents of Pennsylvania can begin using bioptic telescope lenses to meet the visual acuity standards required to obtain a Bioptic Telescope learner's permit and driver's license.
Bioptic telescope lenses contain miniature telescopes, and aid in a driver's ability to home in on objects while driving, including traffic lights, stop signs, and other road signage. Telescopic lenses are not consistently looked through while driving; they support safe driving practices similar to a vehicle's rear-view and side mirrors.
The use of bioptic telescope lenses while driving is legal in 46 other U.S. States. For Pennsylvania, the Pennsylvania Department of Transportation (PennDOT) developed a training program and licensing process which includes the completion of a minimum of 20 hours of behind-the-wheel driver training using the bioptic telescope with a PennDOT approved driving instructor or rehabilitation specialist.
Additional prerequisites and conditions are required to be met before and after a permit or license is issued. For instance, bioptic telescope drivers may only drive during daylight hours (with a few exceptions), are limited to roads other than freeways, and may only drive passenger vehicles of a certain weight.
For more information, visit https://www.dmv.pa.gov/Driver-Services/Driver-Licensing/Pages/Driving-with-Bioptics.aspx.
Colorado DOT Advances Its Plans for GHG Reduction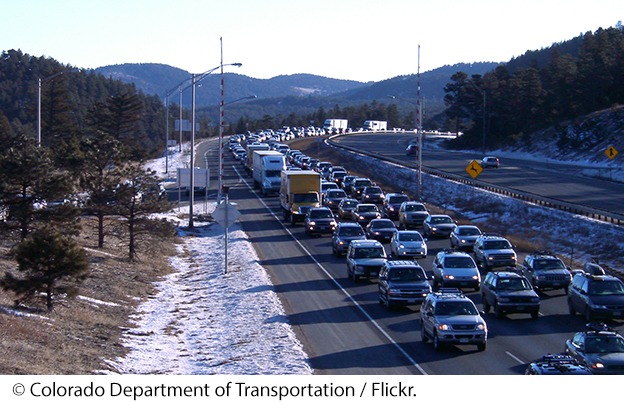 The pollution standard is the first in the country to consider the role of transportation planning to reduce GHG emissions.
In December 2021, the Colorado Transportation Commission voted to approve the Colorado Department of Transportation's (CDOT) greenhouse gas (GHG) planning standard, a transportation strategy that seeks to reduce GHG emissions and smog and to improve air quality. CDOT expects to notice GHG reductions by 2030 that are equivalent to burning 169 million fewer gallons of gasoline or the absence of 300,000 cars from the road for a year.
According to the standard, CDOT and Colorado's five metropolitan planning organizations will look to determine the total pollution and GHG emissions expected from each future transportation project during the early stages of development. This standard, according to CDOT, is the first in the country to consider the role of transportation planning in the reduction of GHG emissions.
This planning standard also paves the way for transportation strategies to routinely integrate air quality and quality of life initiatives into projects, to positively impact the environment of surrounding communities, and to provide travelers with a variety of transportation options (e.g., sidewalks/walking paths, bike lanes, and connectivity to transit facilities).
For more information, visit https://www.codot.gov/programs/environmental/greenhousegas.
Internet Watch
CTDOT Launches New Vision Zero Council Website for Safety and Public Engagement
The Vision Zero Council of Connecticut webpage launched in 2021 to encourage public participation and to serve as a communication portal.
In December 2021, the Connecticut Department of Transportation (CTDOT) launched a new website to serve several important purposes: Host the work of the Vision Zero Council; provide a wide variety of traffic safety information; and encourage the public's participation in eliminating roadway injuries and fatalities.
The Vision Zero Council was established by the Connecticut General Assembly in 2021 and is an interagency work group comprised of commissioners (or their designees) from Connecticut's departments of Public Health, Emergency Services and Public Protection, Motor Vehicles, Education, Aging and Disability Services, Office of Early Childhood as well as CTDOT and the Division of Criminal Justice. This group is tasked with developing statewide policy to eliminate transportation-related fatalities and severe injuries involving pedestrians, bicyclists, transit users, motorists, and passengers. The Vision Zero website was launched to keep the Vision Zero Council members, safety stakeholders, and the public abreast of Connecticut's Vision Zero activities.
The Vision Zero Council website also encourages public engagement in that it provides access to council meeting materials (e.g., meeting minutes, recordings, and presentations); opportunities to participate in Vision Zero activities and initiatives; means to communicate with the Vision Zero Council; and opportunities to serve on subcommittees concerning engineering, enforcement, education, emergency management services, and equity.
For more information, visit https://portal.ct.gov/DOT/VisionZeroCouncil/WhatIsTheVisionZeroCouncil. 
Internet Watch - Update
Additional information on the article "Internet Watch - Complete Streets Website" in the Winter 2022 issue is available at https://highways.dot.gov/complete-streets. Contact Anthony Boutros at anthony.boutros@dot.gov for more information about this initiative.