Public Information and Information Exchange
Along the Road is the place to look for information about current and upcoming activities, developments, trends, and items of general interest to the highway community. This information comes from U.S. Department of Transportation sources unless otherwise indicated. Your suggestions and input are welcome. Let's meet along the road.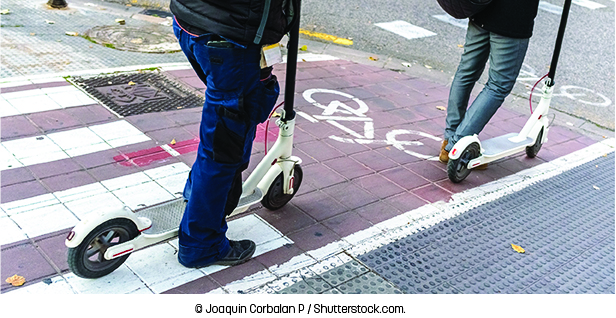 USDOT Combats Human Trafficking
In January, U.S. Transportation Secretary Elaine L. Chao called on transportation leaders to help "put the brakes on human trafficking" and announced $5.4 million in grants awarded through the Federal Transit Administration's Human Trafficking Awareness and Public Safety Initiative.
Secretary Chao says that USDOT "is committed to working with our public and private partners to fight human trafficking on America's transportation system." More than 440 organizations have signed on to the Secretary's "Transportation Leaders Against Human Trafficking" pledge.
A number of USDOT initiatives are underway to increase awareness of human trafficking and equip transportation industry employees and the public with strategies to fight it. More than 53,000 USDOT employees receive mandatory counter-trafficking training, including special instruction for bus and truck inspectors. The Department also works with Federal agencies and nongovernmental organizations to develop and distribute a suite of human trafficking awareness training tailored for the aviation, rail, motor coach, trucking, and transit industries.
For more information, visit www.transportation.gov/stophumantrafficking.
Secretary Chao Announces New Safety Initiatives
At the Transportation Research Board (TRB) Annual Meeting in January, Secretary Chao announced transportation initiatives aimed at harnessing new and existing technologies to improve safety for the traveling public and first responders.
USDOT is beginning the next phase of the Partnership for Analytics Research in Traffic Safety (PARTS) program. PARTS II expands participation in the PARTS program to include almost 70 percent of the U.S. automobile market and will collect data on additional advanced driver-assistance systems, such as adaptive cruise control and lane keep assist. Results derived from analysis of up-to-date, real-world performance data will assist researchers in assessing the safety effectiveness of these systems. PARTS is a voluntary, data-driven safety partnership between USDOT's National Highway Traffic Safety Administration and the automobile industry.
Secretary Chao also announced a new program designed to help avoid traffic accidents and save the lives of first responders rushing to aid in emergencies. The Department intends to invest up to $38 million for the First Responder Safety Technology Pilot Program that will help equip emergency response vehicles and key infrastructure with vehicle-to-everything (V2X) communication technology. These systems will use the 5.9 GHz Safety Band of spectrum currently allocated by the Federal Communications Commission for use in transportation systems.
Finally, the Department is endorsing a standardized listing of terminology for recommended advanced driver-assistance systems through an initiative entitled Clearing the Confusion, spearheaded by the National Safety Council, American Automobile Association, Consumer Reports, and J.D. Power. Currently, there is variance among manufacturers. Standard language will ensure drivers are aware that these systems are designed to assist, not replace, an engaged driver.
For more information, visit www.transportation.gov/briefing-room/us-transportation-secretary-elaine-l-chao-announces-new-initiatives-improve-safety.
Volpe Center Celebrates 50 Years
The year 2020 marks the 50th anniversary of USDOT's Volpe National Transportation Systems Center.
To commemorate the event, the Volpe Center unveiled new resources celebrating its five-decade journey addressing the Nation's most pressing transportation challenges. These include Five Decades, a retrospective publication showcasing the center's most innovative work; a visual 50-year timeline of events, project milestones, and points in time since the center's establishment in 1970; and a video celebrating Volpe's workforce. The center also hosted a special anniversary exhibit at the TRB Annual Meeting, USDOT Headquarters, and the Federal Aviation Administration in January.
USDOT Deputy Assistant Secretary for Research and Technology Diana Furchtgott-Roth says, "Volpe does unparalleled research. All of us at the Department of Transportation are fortunate to be able to have such a large pool of talent just a phone call away."
"Our 50th anniversary is an opportunity to look back on the impact of our accomplishments—and look forward to a bright future," says Volpe Center Director Anne D. Aylward. "We want to thank our USDOT partners and other dedicated colleagues who have been part of this amazing journey, and we look forward to celebrating with you over the next 50 years and beyond."
For more information, visit www.volpe.dot.gov/news/celebrate-50th-anniversary.
Interactive Map Aims to Encourage Investment in Underserved Communities
USDOT recently released a new interactive map highlighting Federal investment in major projects located in and around Opportunity Zones across the country. Opportunity Zones are economically distressed communities designated by the United States Secretary of the Treasury to incentivize economic investment in these areas. The designation was created by the 2017 Tax Cut and Jobs Act.
The map provides detailed information about vital infrastructure resources located near Opportunity Zones to help determine the range of potential economic investments. It illustrates data sets for major Federal highway projects, interstate exits, National Highway System bridges, intercity bus stations, commuter and light rail stations, Amtrak, intermodal rail and marine facilities, major ports, airports, and more.
For more information, visit www.transportation.gov/opportunity-zones/opportunity-zones-interactive-map.
PBIC Releases New Micromobility Resources
Two new resources from the Pedestrian and Bicycle Information Center (PBIC) offer contextual and applied insight into micromobility, including e-scooters.
The Basics of Micromobility and Related Motorized Devices for Personal Transport provides an overview of powered forms of micromobility and compares features of micromobility with a spectrum of other traditional and emerging forms of transportation. With a surge of new personal transportation devices coming to the market, some integrated into shared ride systems (such as bikeshare programs), there is a need to establish a common vocabulary for these options and provide basic information about how these devices are classified and regulated. The publication is available at http://pedbikeinfo.org/MicromobilityBasics.
The second resource, E-Scooter Management in Midsized Cities in the United States, documents practices related to micromobility, specifically e-scooters, in nine midsized U.S. cities. The scan includes feedback from city staff about challenges and opportunities that emerged with e-scooter adoption, including permitting and regulatory issues, potential safety concerns, and infrastructure design observations. It documents anecdotal evidence and noteworthy practices, and also identifies issues for future discussion. The publication is available at http://pedbikeinfo.org/E-ScooterManagement.
Source: PBIC
Volpe Center Helps Preserve Natural Sounds in National Parks
Natural sounds are a vital part of a park visitor's experience. Whether it is the sound of an owl hooting, a stream running through a historical site, or wind blowing through vegetation, these sounds are a quintessential part of the visitor experience. USDOT's Volpe Center supports the Natural Sounds and Night Skies Division (NSNSD) of the National Park Service in its work to protect, maintain, and restore acoustical environments throughout the National Park System.
Traffic is one of the most common sources of noise that detracts from the natural soundscape. The National Park Service maintains approximately 5,500 miles (8,850 kilometers) of paved roads and 7,000 miles (11,300 kilometers) of unpaved roads. The traditional noise mitigation technique of building noise walls is not practical in the parks due to the long stretches of roadways that must be protected as well as disruption of views and animal movements. Quieter pavements provide a good alternative to noise barriers since they do not disrupt views or inhibit animal movement on already established roads. The challenges of quieter pavements include performance changes over time coupled with lifespan requirements that can be unique to national parks.
The Volpe Center is supporting NSNSD in conducting a pilot study of common pavement resurfacing treatments in Death Valley National Park to determine which may provide the most benefit in terms of noise reduction over time. The study involves measuring the noise levels before and after applying four different surface treatments. Measurements a month after the treatments have been applied show a difference in noise levels of almost 3 decibels between the treatments, the equivalent of nearly a 50-percent reduction in traffic volume. The study is planned to span 5 years, and researchers currently are preparing to measure the performance of the pavements after the third year.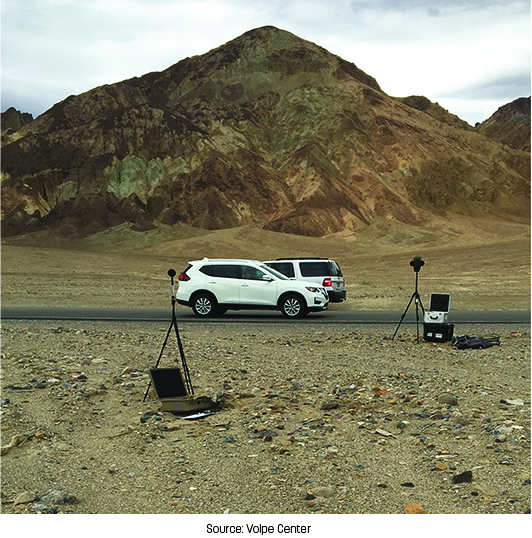 For more information, contact Aaron Hastings at Aaron.Hastings@dot.gov.
Source: Volpe Center
Rhode Island Launches DUI Initiative
The Rhode Island Department of Transportation (RIDOT), Rhode Island State Police, and the Rhode Island Attorney General Office recently announced the creation of a new task force dedicated to reducing the number of tragedies associated with impaired driving. Despite recent strides in reducing deaths related to alcohol-impaired driving, Rhode Island is in the top third of States with the highest percentage of fatalities involving impaired drivers. In 2017 and 2018 combined, more than 50 people were killed by impaired driving on Rhode Island roads.
This new unit of the Rhode Island State Police, which began its work in mid-November, consists of a significantly increased overnight road presence. All State Police members assigned to the unit have been trained and certified in impaired driving detection techniques, including standard field sobriety tests, breathalyzer operation, and drug recognition. In the first month of operation, the unit completed 97 shifts, arrested 90 people—49 of them for driving under the influence—and issued 684 citations. In addition, responders investigated 56 crashes, with nearly 30 percent of them involving a suspected impaired driver.
Though RIDOT has traditionally provided funds to State and local police for specific enforcement periods, typically around holidays and busy travel periods, this marks the first time Rhode Island will have a year-round unit of troopers dedicated to enhancing public safety by enforcing impaired driving laws.
For more information, visit www.ri.gov/press/view/37356.
Source: RIDOT
Unmanned Boats Help with Michigan Bridge Inspections
When the water level in local rivers and streams rises during storm events, it can create concerns about the impact on highway bridges. Inspectors need real-time data on what's happening beneath the turbulent surge, but getting into the water for a visual inspection is risky.
To address this safety concern, the Michigan Department of Transportation (MDOT) has been evaluating small remote-controlled boats for safer and more efficient bridge inspections. Scour, the erosion or degradation of the streambed around a bridge's substructure, is a leading cause of bridge failure. MDOT routinely inspects bridges for scour around abutments and piers. Typically, this involves inspectors launching a boat and probing the channel bottom with metal rods, weighted tape measures, or sonar devices. During high-flow events, this can be a dangerous task.
MDOT is strategically placing four unmanned surface vessels equipped with sonar units throughout the State to inspect bridges for scour during high-flow events. In addition, the agency plans to use the technology for other applications as appropriate, including getting images of bridge substructure below water, viewing the underside of bridges, and documenting performance characteristics.
For more information, visit www.michigan.gov/mdot/0,4616,7-151-9620-512162--,00.html.
Source: MDOT
Personnel
FHWA Welcomes Dr. Kelly Regal
In January, Dr. Kelly Regal was named Associate Administrator for Research, Development, and Technology with the Federal Highway Administration.
Dr. Regal previously served as the Associate Administrator for Research and Information Technology in the Federal Motor Carrier Safety Administration (FMCSA). In that role, she acted as the principal executive and advisor to FMCSA leadership on commercial motor vehicle research programs, safety data statistical and analysis programs, carrier licensing and insurance requirements, and stakeholder customer service. Previously, Dr. Regal served as the FMCSA Chief Information Officer and the Director, Office of Information Technology, where she directed a comprehensive information technology modernization program.
Dr. Regal joined FMCSA in 2009 and has worked in the transportation industry for her entire career, beginning with the Federal Aviation Administration. She has more than 30 years of research, engineering, and information technology leadership and management experience from the private sector and in the Federal Government.
Dr. Regal holds a Ph.D. in transportation engineering from the New Jersey Institute of Technology, an M.S. in aviation science and management from Embry-Riddle Aeronautical University, and a B.S. in Computer Science from Seton Hall University.