Leading the Way for the Public Transportation Industry: A Conversation with K. Jane Williams
K. Jane Williams is currently the Acting Administrator of the Federal Transit Administration (FTA). FHWA Administrator Nicole R. Nason recently interviewed Williams about her career experiences and priorities for FTA. What follows are excerpts from their discussion.
Nason: What is your current role at the U.S. Department of Transportation?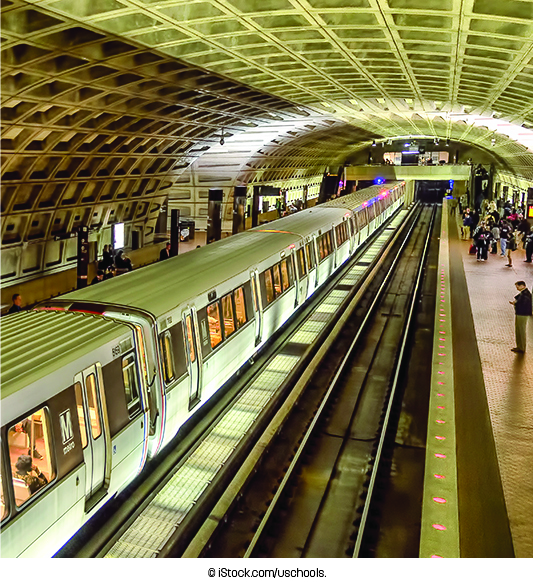 Williams: As the Acting Administrator of FTA, I lead an agency of more than 500 people located in Washington, DC, and 10 regional offices across the country. I am responsible for managing an annual budget of over $13 billion that assists over 3,000 transit providers in all U.S. States and territories. FTA is one of USDOT's nine operating administrations and provides financial and technical assistance to local public transit systems, including buses, subways, light rail, commuter rail, trolleys, and ferries.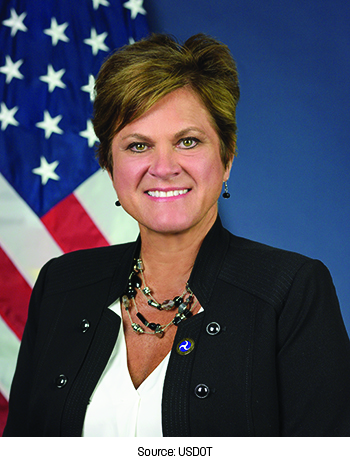 Nason: What previous experience did you have prior to joining FTA?
Williams: I began my career in DC, working for President Reagan and then President Bush. After taking some time off to focus on my family and raising my children, I re-entered the workforce in 2010. After working on Capitol Hill for five years, I was recruited to serve as the Director of the State of Maryland's Washington Area Transit Office at the Maryland Department of Transportation under Governor Larry Hogan. It was serving in that position that led to my appointment working with Transportation Secretary Elaine L. Chao as the Deputy Administrator, then Acting Administrator of FTA.
Nason: What's it like to be a woman working in the transportation industry—a traditionally male-dominated field?
Williams: I am incredibly fortunate to have a great mentor and leader in Secretary Chao. She sets the standard. As a two-time Cabinet member and the first female Asian American Cabinet Secretary, she often is faced with making difficult decisions amid competing priorities. Her collaborative management style, one which I try to emulate as I lead FTA, allows for an open and diverse discussion. Following her lead, many of our FTA leadership team are also women. In fact, I am proud that women comprise 50 percent of our FTA leadership team. Our education and experiences inform what we bring to the table, and I am glad that I have such a capable and diverse leadership team.
Nason: Name one accomplishment you are proud of achieving as the FTA Acting Administrator.
Williams: I'm proud of the progress we've made in advancing Secretary Chao's top priority of safety at FTA. Under the Moving Ahead for Progress in the 21st Century Act (MAP-21), FTA was given a safety mandate for the first time by Congress, and when I arrived at FTA in August of 2017, we were undertaking a major initiative to help States with rail transit systems achieve State Safety Oversight Program certification prior to the April 15, 2019, deadline. At the time, not one State was certified. During my tenure, FTA certified all 31 States with rail transit for safety oversight responsibilities—including the certification of the Washington Metrorail Safety Commission (WMSC), allowing FTA to transfer direct safety oversight of the Washington Metropolitan Area Transit Authority's Metrorail system to the WMSC. I'm proud of our team and our partnership with the States to establish stronger safety oversight of rail transit systems across the country.
Nason: Looking ahead, what are key priorities for FTA and public transportation in 2020?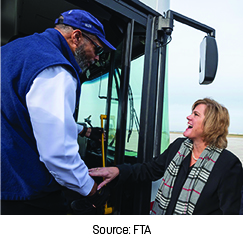 Williams: Advancing Secretary Chao's top priorities of safety, infrastructure investment, and innovation remains my top priority as FTA leads the way for the public transportation industry in 2020 and beyond. Safety is our top priority, and FTA is working closely with transit agencies and States to establish their Public Transportation Agency Safety Plans (https://www.transit.dot.gov/PTASP), which each agency should have completed by July 20, 2020. We've hosted 10 workshops around the country and offered 30 webinars and other online resources to help the industry make public transportation safer. To date, we've trained over 5,700 individuals representing transit systems from across the country.
Continued infrastructure investment is a key priority for Secretary Chao and the Trump Administration. FTA invests more than $13 billion annually in our Nation's public transportation systems through formula and competitive grant programs. The President's FY 2021 budget proposal requests an $896 million (9 percent) increase for transit formula and competitive programs and $1.89 billion for the Capital Investment Grants (CIG) Program—the highest amount ever proposed under this Administration. To date, FTA has supported funding for 25 new CIG projects throughout the Nation during this Administration, totaling approximately $7.6 billion in funding commitments, and we plan to support additional projects as they become ready for funding.
Innovation is revolutionizing the transportation industry, and this is my priority for FTA in 2020. We prioritized innovation for all our FY 2020 competitive programs, encouraging applicants for FTA funding to incorporate innovation in a broad range of areas, including transit service delivery, financing, procurement, fare payment integration, new technologies, and web-based applications. We need to be more forward-thinking than ever before to meet the needs and expectations of transit riders—today and into the future.