Getting Results: A Conversation with Elaine L. Chao
Elaine L. Chao is the U.S. Secretary of Transportation and first female Asian American Cabinet Secretary. Federal Highway Administration's Administrator Nicole R. Nason recently interviewed Chao about the U.S. Department of Transportation's most pressing initiatives and how Chao is empowering women to serve at all levels within the Department. What follows are excerpts from their discussion.
Nason: What are your top priorities as U.S. Secretary of Transportation?
Chao: The first priority is always safety. The second priority is rebuilding and refurbishing our country's critical infrastructure. The third priority is to prepare for the transportation systems of the future by engaging with new technologies to address legitimate public concerns about safety, security, and privacy, without hampering innovation.
Nason: You have served as the Deputy Maritime Administrator, Chairman of the Federal Maritime Commission, Deputy Secretary of Transportation, and now U.S. Secretary of Transportation. What drew you to service in the transportation industry? What do you enjoy most about it?
Chao: Among my earliest memories is immigrating to America on a cargo ship. My father had immigrated to New York three years earlier to seek a better life for the family. I was eight years old when my mother and two sisters and I boarded that ship and began a 37-day ocean journey to be reunited with my father. We went through the Panama Canal and past the Statue of Liberty. We settled in Queens, NY, and relied upon public transportation to get from place to place. When we were able to afford our first car, my dad took the family on weekend road trips on America's highways to explore our new homeland! From an early age, I understood how important transportation systems were to enabling new opportunities, improving the quality of life for our citizens and residents, and strengthening the vibrancy of our economy.
Nason: In industries like transportation, women tend to hold fewer positions than their male counterparts. This is even more evident in leadership roles. What can we do to encourage women to enter our field of transportation? As a female leader and a two-time Cabinet Secretary, how have you helped to promote women in leadership roles?
Chao: As a leader, if you are ignoring half the talent pool, then your organization is missing out on a lot of great people who could help advance the mission. There are many accomplished women leaders at USDOT today in both the career and non-career ranks. We have you, Administrator Nason, at the helm of FHWA, and you were previously head of the National Highway Traffic Safety Administration. Mala Parker is the Deputy FHWA Administrator. Jane Williams, Acting Administrator of the Federal Transit Administration (FTA), brought with her decades of experience at the U.S. Departments of Energy, Interior, and Labor as well as State government. A few doors down from my office is Laura Genero, Associate Deputy Secretary for Communications, as well as Senior Advisor, Tam Somerville, who has sitting on her desk a full-face motorcycle helmet that she wears to safely commute through DC traffic on her motorcycle. There are also impressive women leaders in the career ranks, including Judy Kaleta (Deputy General Counsel), Lana Hurdle (Deputy Assistant Secretary for Budget and Programs), and Henrika Buchanan (Associate Administrator of FTA), to name a few. By the way, Henrika was a recipient of the Presidential Rank Award in 2019. So, we have many women bringing impressive qualifications, experience, and diverse perspectives to carry out the Department's mission.
Throughout my career, whenever I've had the authority, I have launched programs that empower women. As Director of the Peace Corps, I launched the first entrepreneurship training programs in the emerging democracies of Eastern Europe after the fall of the Iron Curtain, with an emphasis on empowering women. When I was Secretary of Labor, half of the leadership team were women and they ran some of biggest bureaus in the Department, including pensions, wage and hour, employment training, and employment standards.
As Secretary of Transportation, I regularly urge women and girls to pursue education in the science, technology, engineering, and mathematics (STEM) disciplines that can lead to rewarding careers in transportation. The Department's Women in Aviation Advisory Board has been created to promote the education, mentorship, and recruitment of even more women into the aviation industry. The Department's Office of Small and Disadvantaged Business Utilization has helped women-owned small businesses successfully compete for contracts.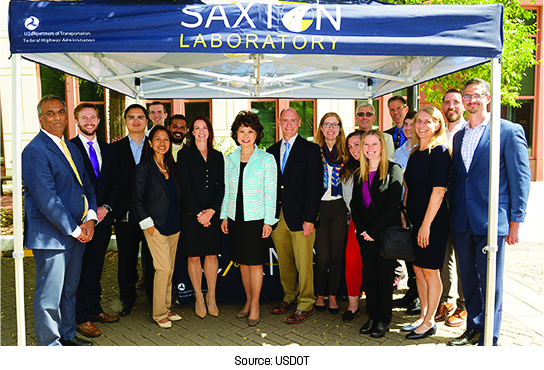 Nason: The surface transportation system continues to undergo transformation, in terms of both the technology on our roads and the way the traveling public uses the roadways. How has the Department prioritized innovation to ensure we are prepared for the future needs of our transportation system while providing for the traveling public's safety?
Chao: There is so much innovation going on in the transportation field today. Our mantra has always been: The Department needs to engage with emerging new technologies to address legitimate public concerns about safety, security, and innovation without hampering innovation.
The Department is technology neutral—not top-down, command and control. That means the Government is not in the business of picking technology winners and losers. Our goal is to enable the safe testing and deployment of a wide variety of new technologies, so communities and individuals can choose what fits their needs best. This employs a flexible, performance-based approach that protects safety while giving entrepreneurs the room they need to innovate and grow.
One example of how we are advancing innovation and improving safety and infrastructure is through our new pilot program designed to help avoid traffic accidents and save the lives of first responders by utilizing the 5.9 GHz Safety Band. Recently, the Department has announced its intention to invest up to $38 million in the First Responder Safety Technology Pilot Program, which will help equip emergency response vehicles and key infrastructure with vehicle-to-everything (V2X) communication technology.
Many of the new technologies are cross-modal, so in March 2019 the Department established the Non-Traditional and Emerging Transportation Technology (NETT) Council, which is a one-stop shop to make it easier for innovators and stakeholders to work with the Department.
The Department is also engaged in ground-breaking rulemakings that will create a path forward for some of the most advanced emerging transportation technologies.
Nason: Why is the 5.9 GHz Safety Band so important to the Department and the safety of the traveling public?
Chao: The Safety Band—5.9 GHz—holds great promise to help reduce the number of traffic fatalities each year through the development and deployment of lifesaving technologies. Among the revolutionary crash-preventing technologies nearing readiness for mass deployment is the enabling of vehicles to communicate—with other vehicles, other road users (including bicyclists and pedestrians carrying cell phones), and traffic lights and other road infrastructure. This V2X communication, as it is known, occurs via a short-to-medium range wireless signal. The signal carries information that allows vehicles to "see" around blind curves and traffic in ways that conventional line-of-sight technologies (including LiDAR and radar) cannot. V2X receives and transmits data including GPS location, speed, direction, braking, and turning status.
The V2X signal is unaffected by fog, rain, snow, and blinding sunbeams. Potential traffic safety applications include do-not-pass warnings, intersection collision avoidance and movement assistance, approaching emergency vehicle warning, emergency vehicle signal priority, commercial vehicle clearance, safety inspections, and traffic and travel condition data to improve traveler information and maintenance services.
Equipped with such communication technology, cars would be able to exchange information in real-time and provide drivers with 360-degree situational awareness that will contribute to greater safety.
Nason: On a related topic, how is the Department preparing for the future of Automated Vehicle (AV) technology?
Chao: On January 8, 2020, I announced the release of Ensuring American Leadership in Automated Vehicle Technologies: Automated Vehicles 4.0. This document unifies AV efforts across 38 Federal departments, independent agencies, commissions, and Executive Offices of the President. It signifies that the Federal Government is all in for safer, better, and more inclusive transportation, aided by automated driving systems. It recognizes the value of private sector leadership in AV research, development, and integration.
Bringing to fruition the vast potential of AVs will require collaboration and information-sharing among industry partners, State and local governments, academia, non-profits, standards development organizations, and the Federal Government.
Automated vehicles have the potential to save thousands of lives annually and restore mobility to millions of people who face transportation challenges, such as older Americans and people with disabilities.
And I'd like to mention that FHWA is pursuing an update of the Manual on Uniform Traffic Control Devices, the first major update in a decade. The updated version will reflect advances in technologies that are not currently represented in the Manual today.
Nason: The final year of the Fixing America's Surface Transportation Act (FAST Act) is upon us. Why is it important to have a fully-funded, long-term highway reauthorization?
Chao: Stakeholders have advised repeatedly, and persuasively, that a fully-funded, long-term reauthorization allows them to better plan for the future. When stakeholders have reliable and stable funding sources, their ability to coordinate and streamline their planning and execute transportation projects increases greatly, which saves on time and overall cost. The Department is striving to provide State departments of transportation the flexibility and certainty they need to make the best decisions for their States or localities. A long-term, fully-funded reauthorization will help them meet their surface transportation needs.
Nason: In looking at safety needs across the country, it becomes quickly apparent that a disproportionate number of roadway fatalities occur in rural areas. How is the Department addressing safety in rural communities?
Chao: Rural infrastructure is not just for the benefit of rural residents. 44 percent of passenger vehicle traffic in rural areas is urban residents traveling. Only 19 percent of Americans live in rural areas, yet 46 percent of the Nation's highway fatalities occur there. So, from a safety point of view, it should concern everyone that the fatality rate on rural roads is twice that on urban roads.
In addition, rural transportation networks—which bring manufactured products, agriculture, and other commodities to markets—are vital to our Nation's economy and all Americans' quality of life. Nearly half of all truck vehicle miles traveled occur on rural roads. And two-thirds of rail freight originates in rural areas.
For far too long, rural America has been neglected and overlooked. I do NOT believe rural America is looking for a handout or preferential treatment. Rural America is looking for fairness and equity in the distribution process of Federal dollars.
On October 8, 2019, at the annual meeting of the American Association of State Highway and Transportation Officials, I announced the Rural Opportunities to Use Transportation for Economic Success (ROUTES) Initiative to better support the Nation's critical rural transportation infrastructure. This effort will help rural communities access Federal transportation grant programs. It will provide user-friendly information to these communities to assist in applying for discretionary grants. It will improve sharing of rural data and analysis to achieve national transportation infrastructure goals. In addition to highway infrastructure, the ROUTES Initiative is also addressing airports and transit in rural areas.
Nason: One of the things you are known for is getting results. Can you share with us some examples?
Chao: Ideas are needed, but if nothing gets implemented, the ideas are for naught. For example, as a former U.S. Secretary of Labor and President & CEO of United Way, I've had a lot of experience dealing with emergencies. We prepare for them at USDOT. The I-85 bridge in Atlanta caught fire and collapsed on March 30, 2017. USDOT staff arrived in Atlanta that same night. Within 18 hours, $10 million in quick release emergency funds was delivered. Within 36 hours, emergency repairs began. The whole project was accomplished ahead of schedule and under budget in just 47 days. The seven communities that depended on this bridge were able to resume their commuting routine. This was a credit to the partnership between USDOT and the Georgia Department of Transportation.
On the policy front, it is not a coincidence that USDOT is rated number one in the cabinet in reducing unnecessary and overly burdensome regulations that needlessly delay infrastructure projects and do not contribute to safety. This has been a focus at the Department since February 2017.
Regulatory reform is important because regulations impose direct costs on the economy, and too many overly burdensome and unnecessary regulations can stifle growth and hamper job creation. For example, employers say repeatedly that the regulatory burden was a key factor in why the economy did not recover as quickly as it should have following the 2008 recession.
From 2009 to 2016, USDOT alone imposed about $2–3 billion in new regulatory costs each year. That's why in February 2017, the President signed an Executive Order requiring two regulations to be withdrawn for every new one submitted. Since then, regulatory costs at USDOT decreased by a net of approximately $3.9 billion. The Department accomplished this by reducing unnecessary and overly burdensome regulations while ensuring that the regulatory costs that are imposed are truly necessary for safety. This is a major reason why the economy is doing so well today.
In addition, we are continually striving to achieve the goal of the President's "One Federal Decision," which aims to speed up infrastructure delivery and streamline the permitting of large, complicated projects that require approval from multiple agencies. Unnecessary delays due to permitting are depriving our country of the new highways, bridges, roads, and airports we need to remain competitive in the global economy and improve the quality of life for everyone.
Nason: What's your recipe for accomplishing so much?
Chao: Hire the right people for the right jobs. In many ways, crafting policy is easier. The toughest challenges are working through and with others, and building consensus on the path forward.
It is important to listen to diverse points of view. It is the right of every citizen and group to petition their government. It makes for better policy to listen and learn.
I try not to procrastinate. "The days are very long, but the years are short so make every day count!"—a refrain familiar to anyone who has worked with me. Administrations get a maximum of 8 years. It takes time to effect change. The rulemaking process, in particular, takes an especially long time. So, savor each day. It is a privilege to serve our country.