Female Innovators in Transportation: Yesterday and Today
Learn how women have contributed to transportation history through innovation, and meet some of FHWA's current female leaders.
Women have played important parts in the Nation's ever-expanding transportation system since its earliest days.
"Women have been critical to transportation history, but they must play a larger role in transportation's future," says FHWA Administrator Nicole R. Nason. "We have come a long way, but there are still miles to go."
According to the U.S. Census Bureau, women make up 51 percent of the U.S. population. Women earn more than half of college degrees and nearly 60 percent of master's degrees. Women account for 47 percent of the U.S. workforce and 50.5 percent of the college-educated workforce. For each of the last 15 years, data from the Federal Highway Administration show there have been more women drivers than men.
"Women are the majority in literally every walk of American life, except in the world of transportation," Nason says. "Our workforce should reflect the population we serve. When there is balance in the workforce, everybody benefits."
Female Innovators in Transportation History
Women have played a greater role in transportation history than perhaps is common knowledge.
In 1825, Rebecca Lukens took over the Brandywine Ironworks after the death of her husband, Charles Lukens. Under her leadership, the business overcame near bankruptcy and went on to produce boiler plates for ships and trains and to manufacture rails. Today, nearly 200 years later and now owned by an international steel company, the former Lukens mill is the oldest continuously operating steel mill in North America.
In 1872, Emily Roebling was the wife of Washington Roebling, the chief engineer overseeing construction of the Brooklyn Bridge—then the Nation's tallest structure. When her husband fell victim to caisson disease—decompression sickness, now often called the bends—she managed the project on his behalf for the next 11 years until it opened to the public. She even crossed the bridge with President Chester Arthur to prove it was safe. More than 140 years later, its impressive network of wires, masonry, and iron bars makes the iconic Brooklyn Bridge an enduring testament to Roebling's strength and perseverance as the Nation's first female bridge engineer.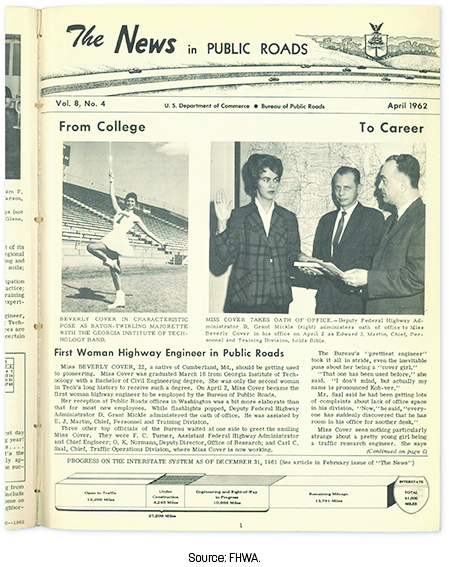 As automobiles became increasingly common nationwide at the start of the 20th century, women played other roles in transportation. In 1903, Mary Anderson invented the windshield wiper, which improved safety for those driving in bad weather. During the next two decades, 175 other patents were issued to women for inventions related to automobiles, traffic signals, and turn indicators.
For 40 years, American road and bridge building remained very much a men-only industry. On April 2, 1962, FHWA's predecessor—the Bureau of Public Roads—hired Beverly Cover, the Bureau's first female highway engineer. She made headlines for being the second female engineer to graduate from Georgia Tech. At the time, "The News in Public Roads"—the agency's in-house newsletter—called the 22-year-old Cover the "Bureau's prettiest engineer" and ran a photo of her in a cheerleading outfit twirling a baton.
Cover worked for the Bureau for 2 years before leaving to start a family, shortly before the agency hired two more female engineers, Karen Porter and Judith Carlson. In an interview, Porter said her teachers encouraged her and took pride in the fact that a girl was studying civil engineering.
Not long after, in 1972, Janet Bonnema made history by becoming the first woman to work in a tunnel. After graduating from the University of Colorado–Boulder, she was hired in 1970 by the Colorado Highway Department as an engineering technician and was assigned to the Eisenhower Tunnel (then called the Straight Creek Tunnel) project on I–70, in the mountains west of Denver.
Despite having the proper training and being an avid rock climber, a downhill skier, a licensed pilot, and in better condition physically than many of the men on the project, Bonnema was assigned to a desk job because the workers in the tunnel would not work with a woman, believing that a woman's presence in the tunnel would jinx it and cause men to die. In November 1972, Colorado changed its equal employment laws, and, after 18 months at a desk job, Bonnema was allowed to work in the tunnel. Her presence there prompted 66 workers to walk off the job in protest, although they returned the following day.
She stayed with the project until its completion on March 8, 1973, and went on to earn a master's degree in civil engineering from the University of Colorado–Denver. She later moved to Florida where she spent many years working for the South Florida Water Management District. For her work in equal rights in the workplace, Bonnema was inducted posthumously into the Colorado Women's Hall of Fame in 2012.
FHWA Women Changing Transportation Today
Valeriya Remezova
Dr. Valeriya Remezova describes herself as "driven," which is appropriate for anyone who has earned a Ph.D. in technical sciences. Since joining FHWA in 2005, she has worked in the New York, Maine, and Vermont Division Offices and the National Highway Institute, and is currently the Deputy Division Administrator in New Jersey.
Remezova grew up in Turkmenistan and Ukraine and spent nearly a decade in various music- and sports-oriented schools. She was a junior quadrathlon champion at 13 and a concert pianist at 15, before being accepted to the prestigious Odessa State Academy of Civil Engineering and Architecture. She says, "My parents raised me as a strong and ambitious child," hoping she would grow up to be "a happy, successful, and productive member of work and family communities."
When not working, Remezova enjoys golf and yoga. "Golf helps me to rationalize or re-evaluate critical decisions I've made during the work week, as well as think about lessons learned," she says. "Yoga helps me to let go of negative thoughts, release stress, and bring my focus back to what is the most important for me—finding inner power to balance my personal and professional life."
For women interested in a career with FHWA, Remezova says, "Go for it—I promise you will not regret it....One cannot have a better job anywhere else. The work schedule flexibilities, emotional intelligence support from your peers and supervisors, and opportunity to grow professionally while earning a great pension are outstanding."
Gail Edwards
Gail Edwards has been part of the FHWA family since 1991. She currently works in FHWA's Office of Public Affairs, handling social media and editing a variety of publications. In her free time, she is an accomplished marathon runner and, though deaf, she has run six marathons since 2017 as a guide for a deaf-blind runner.
"I'm not sure I love running even to this day," she says. "I'm not very natural at it. I used to play racquetball and tennis a lot....I played competitively in college one season. After college, I started working at FHWA, and, after a while, I found myself out of breath just climbing two flights of stairs. That bothered me so much that it spurred me into working out and running. The rest is history!"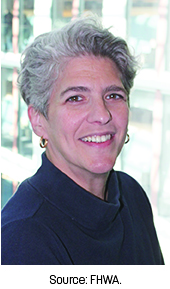 In her many years of running, Edwards has completed a full "century"—sports parlance for a ride that is 100 miles (160 kilometers) or longer—and several "metric centuries"—rides that are 62 miles (100 kilometers) or longer. In 2018, she ran three marathons within a few weeks of each other. "I've gotten better over the years, but not faster," she says. "That's perhaps my next goal."
Growing up on Long Island, NY, and in south Florida, Edwards said her parents never pushed her into a specific career. "They just wanted me to be financially independent and comfortable," she says.
For 2 years, she studied architecture at the University of Florida, but explains that her interest was actually in historic preservation. "[The university] didn't have that concentration until later," she says. "Otherwise I probably would have stayed. I transferred to Gallaudet University in Washington, DC, and graduated 3 years later with a degree in English writing with a minor in TV, film, and photography. I'm not going to mention how many goal and major changes I've made along the way, but law school was one of them."
She explains that when she began work at FHWA, it was at the end of a predominantly male engineering climate. "The Interstate [system] was more than 95 percent complete then, so I've constantly seen female leadership within the agency ever since," she says. "During that time, we've had several female administrators and deputy administrators, and many female associate administrators and directors. We have good career programs for newcomers and career employees, such as professional and leadership development. All I can say is the agency is one big welcome mat for women who want to make a difference."
Jasmy Methipara
If knowledge is power, Jasmy Methipara is one of FHWA's most powerful people. She has earned an impressive trio of master's degrees: one in chemistry from the University of California–San Diego, another in engineering from the University of Maryland, and a third in teaching from the City College of New York. Additionally, when she lived in Santiago, Chile, she earned a certification to teach English as a foreign language.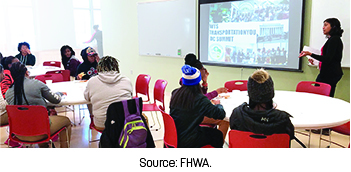 "I don't think very many people wake up and decide to enroll in three separate graduate programs," she says. "I did not plan this—life took me along various twists and turns. I've never shied away from learning and school, so I followed interests and opportunities as they presented themselves."
When she is not busy with a women's basketball league or her school's parent-teacher-student association, Methipara (who joined FHWA in 2017) is an active member of Women's Transportation Seminar (WTS) International. In 2018, she was named Member of the Year by its DC chapter.
"The mission of WTS is to advance women in the field of transportation," she says. "Though it is important to provide mentorship to professionals who are already in the field, it is also important to plant the seed early so young ladies envision themselves as transportation professionals from a young age."
"As a former high school teacher," Methipara says, "I understand the need for students to not only master academic curriculum, but also see how various classes can be applied in the real world by real people."
Between her many family, work, and personal obligations, she says her time-management skills are constantly put to the test. "Basketball has contributed to my ability to work in a team in addition to improving my overall physical and mental health, but I also enjoy crocheting and cooking, which teach me creativity and resourcefulness," she says. "Mentoring and parenting teach me patience, communication, time management, negotiation, and—after multiple broken bones—crisis management as well."
Her experiences have given her insights into how to succeed in balancing family and work. "It is important to pull from all your experiences, both professional and personal," Methipara says. "Most of your life experiences contribute to your set of skills."
Gloria Shepherd
Associate Administrator Gloria Shepherd just celebrated her 20th anniversary working for FHWA and demonstrates an impressive diversity of accomplishments. She has run marathons; earned a master of law degree, juris doctorate, and a doctorate of humanities; and climbed Mt. Kilimanjaro only days after having appendicitis.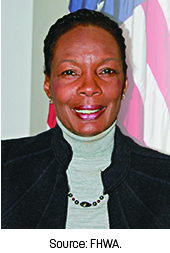 "The main reason I climbed it was to honor my best friend of more than 30 years who had recently died of ovarian cancer," she says. "I thought that because I was fit that I could make it even if it was a week or two after surgery. It was a journey I needed to take from a spiritual perspective. Also, it takes a long time to prepare for Mt. Kilimanjaro."
"The preparation of the gear, especially clothing, is challenging because of the number of climate zones," she says. "Hikers begin in fairly warm weather and have to adjust to rain, hail, snow, and, of course, freezing temperatures near the summit. I did not want to wait another year, because I had prepared and was mentally psyched to do it."
Shepherd's interests vary widely. Apart from running, mountain climbing, and traveling, she also enjoys reading history, particularly about events from the 18th and early 20th centuries. "I really enjoyed reading Robert Massie's Peter the Great: His Life and World," she says, adding that she also likes music, "especially gospel, modern jazz, and rhythm/blues."
"Being a lawyer definitely helps me because of the policy work we do—such as drafting language for reauthorization, congressional requests, and the like," she says. "Also, because I like to read, I think reviewing language thoroughly helps to find flexibilities in areas that we administer."
Shepherd advises women to be choosy about their mentors. "Chemistry is important, so people should choose mentors with whom they can work well," she says. "I also encourage women to learn as much as they can or need about other disciplines, especially ones that interact with theirs. An employee is more attractive if they have broad knowledge and skills rather than being pigeonholed. This agency rewards multiskilled staff."
"Finally," she says, "I read a saying that 'A person should chase performance and not success because, if you perform, success will come.' "
Amy Lucero Earns Inaugural Award
In 2019, FHWA introduced the Women Leaders in Transportation Award. The award aims to honor female FHWA employees who serve as outstanding role models in transportation through their extraordinary contributions, personal passion, and commitment to advancing the agency's mission. FHWA grants the award to individuals who have demonstrated outstanding contributions to the transportation industry and have advanced women and minorities through programs or opportunities in the transportation field. These women have made a significant impact toward the accomplishment of the strategic goals of FHWA, USDOT, and the transportation industry.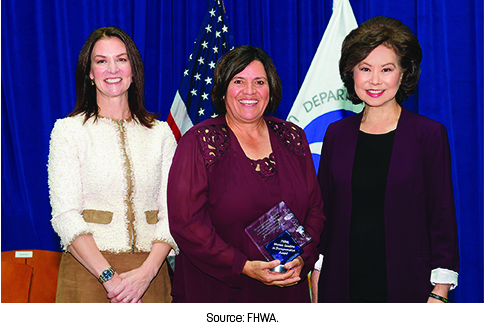 In a ceremony on December 4, 2019, FHWA Administrator Nicole R. Nason presented Amy Lucero with the inaugural award. Lucero, who joined the agency in 1989, currently serves as FHWA's first Chief Technical Services Officer. In this role, she is responsible for the FHWA Resource Center, the National Highway Institute, and the agency's focus on knowledge management, assuring a coordinated approach across FHWA for developing and enhancing the transportation workforce through technical training, technical assistance, and technology deployments.
In her remarks, Administrator Nason said that Lucero's "outstanding leadership and vision have played a critical role in building and strengthening the Nation's transportation workforce....Her contributions are helping to ensure that FHWA's employees and the Nation's transportation workforce are prepared to meet current and future transportation challenges and demands."
Pam Kordenbrock and Sabrina David: The Tennessee Titans
Pam Kordenbrock and Sabrina David—FHWA's Tennessee Division Administrator and Deputy Division Administrator, respectively—are the first two women to ever lead a division office. This year, they will celebrate their 10th anniversary of working together in leadership roles. When FHWA partnered them together as Division Administrator and Deputy Division Administrator (then titled Assistant Division Administrator), it was the first time in the agency's history that had happened.
"I didn't think FHWA would ever put two women together," says Kordenbrock, who also speaks Spanish, "but here we are 10 years later, still together."
"The Tennessee Department of Transportation celebrated us for this achievement," she said, "as did the Tennessee Road Builders Association, which even put us on the cover of its magazine. By the way, it is only the second time women have ever been on the cover of that magazine."
Paving the Way to a Better Tomorrow
FHWA's Offices of Human Resources and Civil Rights are actively working to attract, recruit, and retain more women—from visiting job fairs at more colleges and universities to running a progressive social media campaign to boost the agency's online presence.
"At the peak of the 2016–2017 construction season," Administrator Nason says, "there were more than 25,000 Federal-Aid Highway projects underway—employing nearly 389,000 journey-level men and women. Despite all those thousands of jobs, on thousands of projects, women made up less than 7 percent of the workforce."
"That is obviously too low, and it is something I plan to address," she says. "As Administrator, I want to do everything I can to ensure FHWA reflects the population it serves. Our agency's workforce should mirror that of the American people."
Women make up a third of all positions at FHWA. "Without question, the roles for women in transportation are growing," says Administrator Nason, "but making it possible for women to build the future is up to each of us."
---
Doug Hecox is the senior career spokesman with FHWA's Office of Public Affairs. He has a journalism degree from the University of Wyoming, has published two books, and teaches journalism and public relations writing at American University.