Establishing Public-Private Partnerships
Addressing the complex transportation problems facing State and local governments has been the Federal Highway Administration's focal point for improving project development. To address this issue, the National Highway Institute collaborated with the U.S. Department of Transportation's Build America Bureau and FHWA's Center for Innovative Finance Support in the Office of Innovative Program Delivery to offer a new instructor-led training: Public-Private Partnerships (FHWANHI-231033). Public-private partnerships (P3s) are an efficient, risk-aware contract method that can help overcome project development concerns. This course was designed to ensure that local, State, and regional transportation agencies gain the knowledge they need to incorporate P3s in their appropriate projects.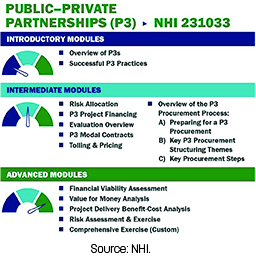 A Customized Program
The P3 course is unique in its modular approach, as it is customized to each agency's training needs. Hosts may choose from 13 modules, which range from basic to advanced workshops. Participants at all levels of understanding benefit from this customized learning experience. An agency might choose the basic course, the basic plus some intermediate or advanced lessons, or only more advanced topics; the choice is made to meet the needs of each agency's specific requirements. The basic modules teach participants how to successfully use P3s, while the more advanced courses integrate FHWA's P3-VALUE Analytical Tool to better understand the analysis and evaluation of P3s from both public and private perspectives. The tool is intended to assist practitioners in the planning and high-level screening evaluation of P3 procurements, not the detailed evaluation of actual projects. Visit www.fhwa.dot.gov/ipd/p3/toolkit/analytical_tools/p3_value for more information.
In addition to offering flexibility in the content selected, this course is available for as few as 20 participants in the introductory and intermediate-level programs and has a minimum of only 5 participants for advanced programs.
FHWA Support
Depending on the options selected, the instructor-led training can range from half a day to 3 full instructional days. FHWA experts collaborate with each agency to develop an agenda and choose the training modules that best meet the agency's needs. Once the courses are selected, one or two FHWA and contractor instructors will present the training at the agency's site. As this training is tailored to address the needs of each requesting agency, the instructors' expertise and the quality content provided are selected to help bridge the project development gap by drawing from both public and private sectors.
How to Attend or Host a Course
NHI invites professionals interested in earning continuing education units or professional development hours to visit their website and browse the complete digital course catalog, which lists more than 400 courses spanning 18 program areas. To sign up for alerts when a course session is scheduled, visit the individual course description page and select the "Sign Up for Session Alerts" link.
Interested hosts can submit a Host Request Form or find more information about hosting NHI courses by visiting www.nhi.fhwa.dot.gov/home.aspx.
NHI is approved as an Accredited Provider by the International Association for Continuing Education and Training (IACET). As an IACET Accredited Provider, NHI offers continuing education units for its programs that qualify under the ANSI/IACET Standard.
"States have appreciated the flexibility of the training agenda to meet the busy schedules of their staff and to target their specific needs relating to topic areas to be covered," says Patrick DeCorla-Souza, a program manager at FHWA's Center for Innovative Finance Support.
---
GAY DUGAN is an NHI training program manager.
VANESSA ALMONY and AMBER CLARK are contractors for NHI.