Building A Bridge to Sustainability
How did Ohio use FHWA's INVEST to make a major project more environmentally and socially conscious? To find out, read on.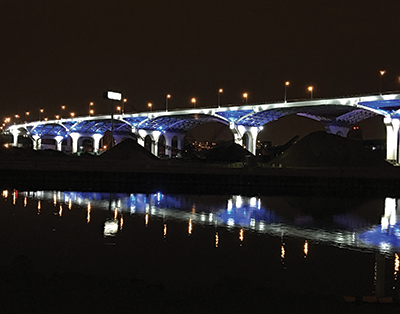 By the early 2000s, a section of Interstate 90 through downtown Cleveland, OH, that had been constructed in the 1950s and 1960s was experiencing problems with pavement and bridge conditions, daily recurring congestion, and high rates of vehicular crashes. In addition, traffic volumes crossing I–90's Innerbelt Bridge had increased from approximately 119,000 per day in the 1970s to an estimated 150,000 per day in the 2000s. To address these issues, the Ohio Department of Transportation (ODOT) began studying ways to modernize the freeway to address safety, reduce congestion, and rehabilitate or replace aging infrastructure.
To add to the concerns, in 2008, an indepth inspection of the Innerbelt Bridge revealed conditions that prompted ODOT to restrict truck traffic on the bridge until emergency repairs could be completed. The condition of the bridge, even after these repairs were completed, spurred the agency to rate replacement as urgent. The phased replacement of the Innerbelt Bridge, now called the George V. Voinovich Bridge, involved constructing two new bridges (one eastbound and one westbound) to carry I–90 traffic and meet the growing transportation needs of northeastern Ohio.
The two structures constituted ODOT's largest bridge project ever. The agency sought to make the project as sustainable as possible to reduce costs, maximize benefits to the community, and conserve resources. Motivated by the city of Cleveland's emphasis on sustainability, which had been demonstrated at the first annual Sustainable Cleveland Summit held in 2009, ODOT set a standard of excellence in sustainable design for its projects. The agency also aimed to highlight many of the efforts that it was already carrying out.
As ODOT was looking for a way to measure the project's sustainability performance, conversations with the Federal Highway Administration's Ohio Division Office led to discussions about FHWA's Infrastructure Voluntary Evaluation Sustainability Tool (INVEST).
"We turned to INVEST to track the sustainability performance of the project and showcase our best practices," says Myron Pakush, ODOT's District 12 deputy director.
Incorporating Sustainability into Transportation
INVEST (www.sustainablehighways.org) is a Web-based tool for conducting self-evaluations of voluntary best practices, called sustainability criteria, that cover the full life cycle of transportation services, including system planning, project planning, design, construction, and operations and maintenance. The INVEST sustainability criteria are divided into four modules: System Planning for States, System Planning for Regions, Project Development, and Operations and Maintenance.
The total points that a project earns across the criteria determine its achievement level (bronze, silver, gold, and platinum), which serves as a relative benchmark for its sustainability accomplishments. For example, to reach the platinum achievement level in the Project Development module, a project must receive 76 points.
The INVEST criteria help transportation agencies consider the "triple bottom line" of sustainability-related social, environmental, and economic considerations. INVEST also encourages projects to go beyond what is required for federally funded programs or projects and to pursue innovative and ambitious sustainability strategies.
For the George V. Voinovich (Innerbelt) Bridge, ODOT used INVEST's Project Development module, which is used to evaluate projects from early planning through construction.
Retrospective INVEST Evaluation
The first phase of the replacement of the Cleveland bridge involved construction of the westbound bridge, which was completed in 2013. ODOT began the second phase, design and construction of the eastbound bridge, in 2014 and expects to finish in fall 2018. Early in the first phase, ODOT established seven categories of sustainability goals to be achieved during construction. Known collectively as the Green7, the goals relate to (1) energy and energy efficiency, (2) community environment, (3) green building, (4) waste reduction and recycling, (5) green project administration, (6) materials and resources, and (7) construction practices.
It was only after completion of phase I that ODOT first used INVEST to validate the project's sustainability achievements in reaching the Green 7 goals. The evaluation determined that the first phase met and, in some cases, even exceeded those goals. The phase I project scored 59 points on the pilot test version of the INVEST Project Development module, achieving gold level. Notably, the project accomplished the following:
Saved more than 100,400 gallons (380,000 liters) of diesel fuel with earthwork and recycling efforts—enough to power a big-rig from Cleveland to Salt Lake City and back 145 times.
Recycled more than 5.65 million pounds (2.56 million kilograms) of steel—about the weight of 1,414 average-size sedans.
Saved 22 million gallons (83 million liters) of water—enough to power a shower around the clock for almost 8 years.
Prevented more than 125,100 cubic yards (95,600 cubic meters) of waste from entering landfills—more than twice the concrete it took to build First Energy Stadium, home of the Cleveland Browns.
Prospective INVEST Evaluation
For phase II, the eastbound bridge, ODOT was able to use INVEST prospectively. The agency incorporated INVEST into the evaluation criteria for the contracting process and used the tool's scoring to keep track of sustainability progress at decision points throughout the project's planning and construction.
In 2013, ODOT issued a request for proposals for a value-based design-build contract for phase II. The request required the contractor to develop a sustainability plan and use INVEST to demonstrate sustainability achievements. ODOT asked contractors to state in their proposals how many INVEST points they could deliver and to commit to achieving a certain sustainability level. ODOT considered sustainability as part of the technical score for each proposal, representing 5 out of a possible 100 points.
"When FHWA developed INVEST, we believed that it would help State departments of transportation learn about the importance of sustainability and what types of sustainable practices could be implemented to improve their transportation systems and programs," says Mike Culp, team leader of FHWA's Sustainable Transportation and Resilience Team. "The decision by ODOT to make sustainability in general, and INVEST in particular, an integral part of its contracting process has gone beyond even our own expectations of how INVEST can be used and how beneficial it can be. ODOT's approach was acreative and innovative application of our tool that has become a model for other State DOTs to follow."
ODOT selected the winning contractor team using a best value formula with price contributing to 70 percent of the final score, schedule 10 percent, and technical score 20 percent. The winning contractor committed in its technical proposal to achieving 95 INVEST points out of a possible 118, higher than the 76 points necessary for a platinum achievement level. The contractor bid $273 million, which was $19 million below the ODOT official engineering estimate. As such, the value-based design-build process yielded a winning proposal with higher sustainability and lower cost than the department had estimated.
Collaborative and Ongoing INVEST Scoring
After the award of the project, the contractor, ODOT, and FHWA held an eco-charrette to discuss how to implement sustainability practices during phase II using INVEST. At the eco-charrette, the contractor and ODOT formed breakout groups based on subject matter expertise, and the groups reviewed the INVEST Project Development criteria. Looking at each scoring criterion, the groups determined whether the likelihood of obtaining points for the project was Yes (it is in the project), Probable Yes (it is likely and under consideration), Probable No (it is unlikely but still under consideration), or No (it has been evaluated and is not in the project or is not applicable).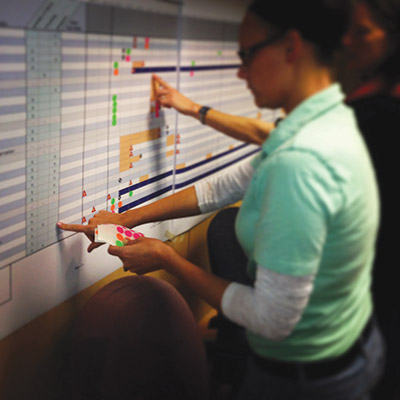 The eco-charrette participants identified responsible parties to follow up on action items after the workshop to help gather any necessary information to finalize each scoring criterion. Because the project was design-build, many scoring items could not be fully scored until later in the project. By bringing together all of the key stakeholders from the contractor and ODOT to walk through INVEST's nationally vetted sustainability criteria, the eco-charrette enabled the team to integrate sustainability into the numerous decisions to be made during the project's design and construction.
At the end of the eco-charrette, the project stood at 67 Yes points, 22 Probable Yes points, and 17 Probable No points. This meant that for the project to achieve a platinum score (76 points minimum), the team would need to move 9 of the Probable Yes points to Yes over the course of the design and construction. For the team to achieve the contractor's original goal of earning 95 points, the team would need to move all 22 Probable Yes and 6 Probable No points to Yes.
As the project progressed, the team met every 6 months to rescore the project using INVEST to track progress toward sustainability goals. To ensure that each criterion was addressed at the optimal time, the contractor developed a sustainability schedule intended to overlay the project schedule. The schedule highlighted action items and key dates to ensure that the team made efficient use of time and did not miss windows of opportunity to fulfill INVEST criteria.
Based on the final scoring workshop in August 2016, the team determined that the project should receive 95 points, achieving the committed platinum scoring level and the contractor's goal.
"We were surprised, and somewhat skeptical, when the contractor committed to reach the INVEST platinum level on the project," says Pakush. "We knew that achievement level was going to take a lot of work, and quite a bit of project collaboration. We think the project team was challenged by our initial skepticism. The team worked very hard, and I am happy to say that they achieved the platinum level status—the highest level attainable under the INVEST program."
George V. Voinovich Bridge: Sustainability Accomplishments
Phase II of the George V. Voinovich Bridge project incorporated a number of exemplary sustainability strategies and scored highly in many INVEST Project Development (PD) criteria, some of which are highlighted below.
PD-07 Habitat Restoration. The Innerbelt Bridge, before it was demolished, hosted a known peregrine falcon nest. Prior to the demolition, the project team worked with the Ohio Department of Natural Resources to construct a new habitat where the birds could be relocated. The project also restored natural river function and improved habitats for fish whose life cycles demand that they migrate downstream. The improved habitats involved constructing a "green" bulkhead wall along the Cuyahoga River to provide food, shelter, and oxygen for the fish.
PD-08 Stormwater. The project improved water quality and the management of stormwater runoff, using technology that mimics natural hydrology. The enhancements included detention ponds and biofilter swales for treatment of stormwater. The contractor treated all of the runoff from the construction areas, and that treated area is significantly greater than any impervious area added by the project.
PD-17 Energy Efficiency. By using LED lights for all of the lighting on the bridge, the project reduced the lighting system's energy consumption while still meeting safety standards. The switch to LED lighting reduced the bridge's energy use by 57 percent.
PD-19 Reduce and Reuse Materials. ODOT reused or recycled 100 percent of the materials from the old Innerbelt Bridge. In all, the phase II project reused more than 4.6 million pounds (2 million kilograms) of rebar and more than 26 million pounds (11.7 million kilograms) of concrete. In addition, the project preserved existing pavement where possible, refurbished the bearings on one of the bridges to reduce the need for new materials, and used slag (an industrial byproduct) in the concrete mix used for the bridge.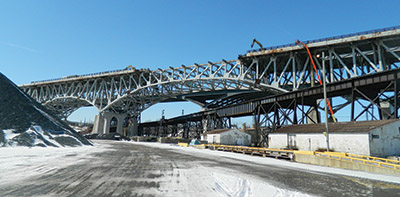 Summary of INVEST Scoring for Phase II of the Innerbelt Project
Criteria
Score
Maximum
Possible Score
PD-01: Economic Analyses
5
5
PD-02: Life-Cycle Cost Analyses
1
3
PD-03: Context Sensitive Project Delivery
5
5
PD-04: Highway and Traffic Safety
8
10
PD-05: Educational Outreach
2
2
PD-06: Tracking Environmental Commitments
5
5
PD-07: Habitat Restoration
3
3
PD-08: Stormwater
8
9
PD-09: Ecological Connectivity
3
3
PD-10: Pedestrian Access
2
2
PD-11: Bicycle Access
2
2
PD-12: Transit & HOV [High-Occupancy Vehicle] Access
2
5
PD-13: Freight Mobility
4
7
PD-14: ITS [Intelligent Transportation Systems] for System Operations
5
5
PD-15: Historical, Archeological, and Cultural Preservation
3
3
PD-16: Scenic, Natural, or Recreational Qualities
3
3
PD-17: Energy Efficiency
4
8
PD-18: Site Vegetation
2
3
PD-19: Reduce and Reuse Materials
8
8
PD-20: Recycle Materials
2
8
PD-21: Earthwork Balance
3
3
PD-23: Reduced Energy and Emissions in Pavement Materials
3
3
PD-25: Construction Environmental Training
1
1
PD-26: Construction Equipment Emission Reduction
2
2
PD-27: Construction Noise Mitigation
1
2
PD-28: Construction Quality Control Plan
5
5
PD-29: Construction Waste Management
3
3
Total
95
118
Source: ODOT, www.sustainablehighways.org/files/3647.pdf.
Note: PD-22 Long Life Pavement Design and PD-24 Contractor Warranty were not used for this project.
Next Steps
"We hope to continue using INVEST on ODOT projects in the future," says Pakush. In fact, ODOT District 12 plans to use INVEST to track sustainability improvements on two upcoming projects.
One project, an estimated $228 million rehabilitation of the I–480 bridge over the Cuyahoga River, 7 miles (11 kilometers) south of downtown Cleveland, was awarded in October 2017. ODOT used a two-step, low-bid, design-build process for the contract. The design-build team is required to use the INVEST process and to track sustainability practices through the life of the project to meet at least the INVEST silver rating.
The second, section 3 of the Opportunity Corridor Project, is an estimated $200 million new roadway alignment project within the city limits of Cleveland. The Opportunity Corridor Project is a community partnership to develop a planned boulevard that will run from East 55th Street at I–490 to East 105th Street in University Circle. For section 3 of the project, which will be awarded in 2018, ODOT plans to use a value-based design-build process, and teams will be required to use FHWA's INVEST or the Envision rating process of the Institute for Sustainable Infrastructure to track sustainability practices through the life of the project. Teams will be required to meet at least a silver sustainability rating in their selected rating system.
"ODOT's use of INVEST helped them integrate sustainability throughout the project development process, from design through construction, as well as in contracting," says FHWA's Culp. "It is encouraging to see ODOT use the lessons learned from the George V. Voinovich Bridge project to expand the use of INVEST to other projects. Using INVEST, ODOT and other transportation agencies can measure the sustainability impact of their projects and strive to build transportation infrastructure that is cost-effective, long-lasting, and minimizes environmental impacts."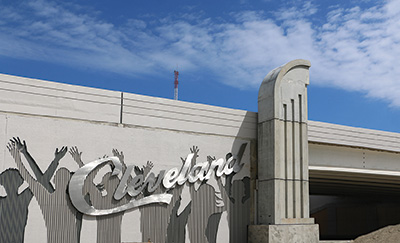 ---
David R. Lastovka, P.E., is the project manager for Cleveland's Innerbelt Project at ODOT District 12. Lastovka is responsible for overall project management for the proposed $2 billion reconstruction of I–90 in downtown Cleveland. He has a bachelor of science degree in civil engineering from Ohio State University and has been with ODOT for 25 years.
Amy Plovnick is a community planner at the U.S. Department of Transportation's Volpe Center. Her work involves research, coordination, and policy analysis for projects related to resilience, sustainability, active transportation, and transportation planning. Plovnick has a master's degree in city planning from the Massachusetts Institute of Technology and a bachelor's degree in political science and environmental studies from Washington University in St. Louis.