Are We Ready for Connected and Automated Vehicles?
Through an ITS training program, USDOT is seeing to it that transportation workers are prepared for the new world.
The Nation's transportation system is accelerating toward a trailblazing transformation. Technological advances such as connected and automated vehicles that were once deemed in the realm of science fiction are becoming a tangible reality. Innovative connected and automated vehicles are merging the physical and digital worlds of transportation and yielding new opportunities to improve the safety, mobility, and efficiency of the U.S. transportation system.
"Successful deployment and operation of these new technologies depend largely on a knowledgeable, trained, and skilled workforce to support them," says Egan Smith, managing director of the Intelligent Transportation Systems (ITS) Joint Program Office in the U.S. Department of Transportation. "One cannot advance without the other."
To fully capitalize on the technological innovations and ensure successful deployment, the current and future transportation workforce must advance and evolve. The USDOT staff in the ITS Joint Program Office understands this need. For more than 20 years, the Joint Program Office has led efforts to offer a variety of learning opportunities to the current and emerging workforce to support successful ITS deployments and more efficient operations. The Professional Capacity Building Program, housed within the Joint Program Office, is the Department's primary vehicle for educating transportation professionals about ITS technologies. The vision is to prepare transportation industry professionals for a connected and automated transportation system.
To achieve this vision, the Professional Capacity Building Program has developed a new strategic agenda to guide its path forward over the next 5 years. The program's staff has developed a course plan and core curriculum for those interested in careers in connected automation. Finally, the program has partnered with others within the training industry to expand the slate of course offerings.
Thus, the program is gearing up for what's next in transportation.
Transportation on the Verge of Transformation
The power of wireless communication is already being demonstrated, and its potential to improve the transportation system is tremendous. Connectivity will enable drivers to better navigate roads and allow agencies to manage the transportation system more effectively, thus reducing crashes, lessening congestion, and providing travelers with improved mobility, accessibility, and overall quality of life.
The private sector is piloting connected vehicles on U.S. roads right now. The vehicles use wireless communication technology to talk to each other and operate more safely and efficiently. But racing toward the world of connected vehicles also means moving closer to automating them. Today, many models of passenger cars already include low-level automation features, such as cooperative-adaptive cruise control, automatic emergency braking, and lane-centering assistance. More advanced, higher level automation features, such as driverless operation under certain circumstances (for example, self-parking), also are available on some models. Numerous manufacturers aim to have autonomous driving capabilities that are commercially viable by 2020 in multiple models of vehicles.
Inside a Connected Vehicle
The transportation industry is pushing the boundaries of innovation to bring the future of transportation within reach of the average consumer. Now that imagination is becoming reality, the industry must prepare to ensure the safe and efficient deployment of connected and automated vehicles. A crucial part of those preparations includes training the current and emerging workforce to offer support to that deployment.
The ITS Workforce in Flux
Transportation professionals must be able to adapt to the continuous introduction of new and emerging vehicle technologies. The pace at which these technologies are evolving is creating workforce challenges for the transportation industry, as new skills are quickly becoming essential to deploy, operate, and maintain the network of connected and automated vehicles. As the technologies progress, the ITS transportation workforce will need progressive knowledge, skills, and abilities. Therefore, new and modified training opportunities are critical for the ITS workforce to acquire the advanced skill sets needed to support a transportation network populated by emerging technologies.
Within the field of connected and automated vehicles, these skill sets must span across multiple competency areas, including architecture, data management, legal considerations, operations, procurement, standards, systems engineering, system security, and more. In addition, the evolving ITS workforce must acquire a basic understanding of connected and automated vehicle concepts, technologies, and applications.
USDOT's Role in Preparing the ITS Workforce
The USDOT staff in the ITS Joint Program Office has long recognized the need to advance the workforce in parallel with the advancement of the Nation's transportation system. In 1996, the Joint Program Office established the Professional Capacity Building Program to develop a workforce capable of developing, operating, and maintaining innovative ITS technologies.
The 1998 Transportation Equity Act for the 21st Century legislation codified the need for an ongoing program, specifically calling for the development of a capable ITS workforce. The Safe, Accountable, Flexible, Efficient Transportation Equity Act: A Legacy for Users legislation in 2005 further reinforced the charge to USDOT to support the development of a well-prepared current and future ITS workforce.
The Professional Capacity Building Program provides ITS professionals with flexible, accessible learning through a variety of training opportunities and educational resources. They include technical assistance, webinars, workshops, online training modules, classroom courses, educational materials, peer-to-peer exchanges, and academic support—most of which is freely available to the public. For more information, visit www.pcb.its.dot.gov.
Planning a Capacity Building Strategy
The Professional Capacity Building Program recently established a strategic plan for 2017 to 2021. The plan highlights the program's vision, mission, and roles in both the development and delivery of training products and the facilitation of the efficient exchange of knowledge and learning among all necessary stakeholders. Key program stakeholders provided input to the strategic plan to ensure that it reflects the needs and perspectives of others within the training and capacity-building industry.
The plan emphasizes the program's current focus on coordinating training and educational opportunities for all levels of current and future transportation professionals to accelerate the deployment of connected and automated vehicles. To achieve this vision, the plan identifies four program goals focused on training, partnering, outreach, and evaluation. The plan also provides a framework around which the program's staff will conduct activities to achieve these goals and corresponding objectives—to support the ongoing functions of the staff and prepare for the road ahead.
One of those objectives is implementing a core curriculum with courses that explore how to deploy, operate, and maintain a transportation network of connected and automated vehicles and infrastructure. Public agencies support deployment by investing in infrastructure that enables data transfer between connected vehicles and the infrastructure.
As the technology evolves and deployment of connected and automated vehicles advances, training should be considered in the short- and long-term management of infrastructure assets, including pavements, bridges, pavement markings, and other ITS assets, to ensure the safe and efficient movement of people and goods in the most cost-effective manner.
Plotting Courses for the Road Ahead
The program offers several training opportunities specifically related to connected vehicles, including the following courses in the core curriculum:
Connected Vehicle (CV) 101 Basics Workshop and eLearning Course
CV 102 Applications and Planning for Implementation Workshop and eLearning Course
CV 200 Workshop and Course Series for Developing a Deployment Plan for Implementing CV Projects
Advanced Transportation and Congestion Management Technologies Deployment Program Solicitation Webinar
CV Awareness Webinar Series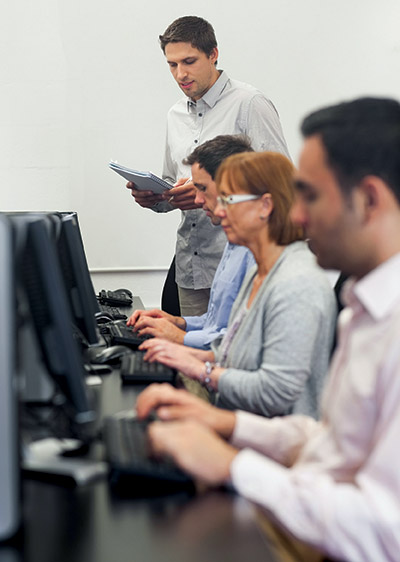 In addition, the program offers training modules that focus on the standards needed to support the deployment of communications technology for connected vehicles. The program also has developed an ITS ePrimer that serves as both a stand-alone reference document for the practitioner as well as a text for use in educational and training programs. Within this primer are modules dedicated to connected vehicles, automated vehicles, and smart communities.
Despite this variety of resources and course offerings, gaps do exist in currently available training and education, particularly related to connected automation. The program's staff is working aggressively to address the most pressing training needs. One initiative involves promoting a shared vocabulary and universal understanding of ITS and connected and automated vehicle technologies.
"A more comprehensive, shared understanding of these concepts can help accelerate informative conversations, extend the reach of training offerings, and ultimately enable more effective deployments," says David W. Jackson, transportation industry analyst with USDOT's Volpe Center, which works to improve the Nation's transportation system by anticipating emerging issues and advancing innovations.
Other near-term activities of the Professional Capacity Building Program include implementing the core curriculum, modifying existing courses, and creating new courses focused on cybersecurity, data management, and procurement of systems using methods that facilitate rapid innovation.
In addition to developing the core curriculum, the program's staff is directing the attention of transportation professionals to appropriate courses. Members of all audiences interested in playing a role in the deployment of these technologies should complete the core curriculum to build the knowledge base necessary for productive conversations and ultimately deployment, operation, and maintenance.
The core curriculum narrows the assortment of available connected automation courses to target 21 that collectively cover general training needs. These courses may address one or more competency areas, such as architecture, data management, legal, operations, procurement, standards, systems engineering, and system security. They are best suited for connected and automated vehicle concepts and aim to provide audience segments with an introductory and basic understanding.
Partnering to Achieve Success
The Professional Capacity Building Program also is addressing gaps in training by continuing to partner with organizations such as Federal modal offices, academic institutions, and industry associations. The program and these partners are exchanging information on existing and planned training and are developing and delivering training, both jointly and separately depending on the course.
The ITS field contains numerous learning providers and educational offerings. A variety of organizations provide courses, including State and local agencies; Federal training partners such as the Federal Highway Administration, National Transit Institute, and National Highway Institute; and universities, professional associations, and private-sector vendors of ITS technologies.
Through outreach, coordination, and instructional products, the Professional Capacity Building Program is aiding these partners in developing new tools and concepts in education and training to deploy the advanced technologies inherent in connected and automated vehicles. These partners play a critical role in helping the program address any gaps in training offerings; coordinate efforts, where possible, to avoid overlap and offer a consistent curriculum in ITS and connected automated technologies; and reach an expanded set of stakeholders.
"Workforce development is the foundational element to advancing the use of ITS technologies focusing organizations on transportation systems management and operations," says Patrick Son, managing director of the National Operations Center of Excellence, a partnership of the American Association of State Highway and Transportation Officials, the Institute of Transportation Engineers, and the Intelligent Transportation Society of America, with support from FHWA. Son adds, "The ITS Professional Capacity Building Program's leadership in cultivating partners to advance a wide range of topics and varied facets of transportation technology is key to lifting up the entire workforce, from secondary education to post-employment training."
In line with this focus on partnering, the program and some of its partners collaborated on a panel session held at the 2018 South by Southwest (SXSW) EDU Conference on March 5–8, 2018, in Austin, TX. The SXSW conference conveners selected the session proposal submitted by the Professional Capacity Building Program out of more than 1,400 submissions. The session, "Smarter Workforce, Smarter Car, Smarter Community," discussed USDOT's vision for what comes next in transportation and the knowledge and skills that students need to be ready for it.
The Road Ahead
Going forward, the program also is working to fill a handful of priority gaps by developing new courses or modified delivery methods, such as virtual/online options for courses currently provided only through in-person/classroom training formats. Likewise, the program's staff will develop new courses in a modular format to facilitate easier updates and use of smaller sections for individualized, user-led trainings.
Automation and connectivity are expected to substantially transform the Nation's transportation system in the very near future. For this transformative technology to be successful, the USDOT program, external training providers, and USDOT and State and local modal agencies must all be key partners in expanding the transportation workforce's knowledge, skills, and abilities in ITS and connected vehicles—so that the entire transportation community is accelerating toward the future of transportation together.
---
Michelle Noch is the program manager of USDOT's ITS Joint Program Office's Professional Capacity Building Program. She manages program coordination among all modal administrations and disciplines within USDOT. She began her career with FHWA in the southern California office as the primary lead for all Federal, statewide, metropolitan, and tribal planning-related issues. Noch earned bachelor of arts and master's degrees in urban and regional planning from Virginia Commonwealth University and a master's degree in liberal studies from Hollins University.
For more information, see www.pcb.its.dot.gov or contact Michelle Noch at 202–366–0278 or michelle.noch@dot.gov.